FROM: Hullabaloo Published Every So Often
Walt Disney's Love of Steam Trains
To help publicize the "Magic Behind the Steam Trains" tour at Disney World's Magic Kingdom, the Mouse turned to well-known Disney historian Jim Korkis to put together (and star in!) a short promotional video. All aboard...
Our friend, Disney historian Jim Korkis, is back with the Mouse.
Jim told me yesterday that Walt Disney World Marketing asked him to promote the "Magic Behind the Steam Trains" tour at the Magic Kingdom.
His job was to write and narrate a short video about said steam trains. The video - "Walter E. Disney's Love of Steam Trains" - is just under five minutes, and you can view it here:
http://disneyworld.disney.go.com/news/steam-trains
The production values are top-notch. After an opening train montage, Jim narrates the story of Walt Disney's lifelong fascination with steam trains, interspersed with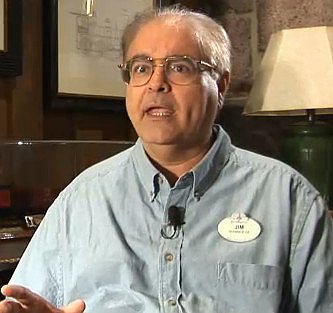 marvelous still pictures and videos.
Jim clearly finds the subject fascinating, and that comes through in his upbeat, avuncular narration. Disney should have him do more of these short videos. Jim makes a good 'face' for the company.
Since we're talking Korkis, let's also mention his book, The Vault of Walt, available at many places, but most conveniently on Amazon.
I reviewed the book earlier this year, shortly after I interviewed Jim and learned, among other things, that he had performed on The Gong Show (and won) and appeared on The Dating Game (and lost).
Here's more of what Jim is up to:
On July 13, Jim (with another Jim - Jim Hill) will be at the Disneyana Fan Club convention at the Crowne Plaza Hotel in Anaheim to make a presentation called the Creation of Walt Disney World.
On July 23, Jim (solo, this time) will be at the Disney Family Museum in San Francisco to speak about Walt Disney's fascination with outer space.
Truly, it's the Year of the Korkis!
For further fantastic fun, check out:
Comments