Disney Swag: The T-Shirt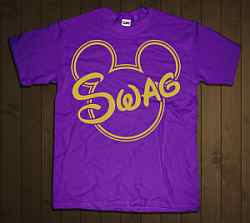 Get yours now!
Disney Swag: The T-Shirt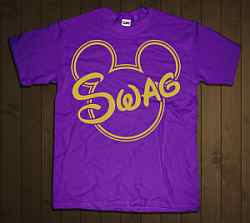 Get yours now!
Classic Disney Dispatch Content
Disney Dispatch Columns
More Disney Dispatch Features
Subscribe to Disney Dispatch Digest
And receive a daily email summary of new stuff on the site.
Review: A Walk in the Park with Rolly Crump
Bob listens as Rolly takes him on a tour through Disneyland
The world doesn't lack for audio and video tours of Disney Parks. Some are good, some are not - but what most lack is gravitas, the sense that the person doing the tour really knows what it's all about.
Introducing: Rolly Crump
Look no further for gravitas than Rolly Crump, a retired Imagineer, an official Disney Legend (class of 2004!), and a truly cool guy with great stories to share in a clear, confident, enthusiastic voice that evokes the competence, the friendliness, the camaraderie that was the hallmark of 'old school' Disney.
Rolly joined Disney Studios in 1952. His work there included art and animations for Peter Pan, Sleeping Beauty, and other classic movies. In 1959, he became an Imagineer, helping to create such seminal Disneyland attractions as the Enchanted Tiki Room and the Haunted Mansion. Later, he contributed to the initial designs for Disney World and EPCOT Center, and served as Project Designer for both The Land and Wonders of Life pavilions at Epcot. Rolly retired from Disney in 1996.
How's that for gravitas?
Introducing: 'A Walk in the Park'
'A Walk in the Park with Rolly Crump' is an audio tour of Disneyland with Rolly Crump as your guide. For 52 minutes, Rolly shares his wonderful stories, keen insights, and gentle humor. The tour is available as an MP3 file for $4.95 (plus tax) from Kenbow Communications.
I've listened to 'A Walk in the Park with Rolly Crump' twice, straight through each time. I wasn't sure, at first, what to expect, but when it was over I had two reactions: where did the hour go and don't bother me for another hour because I'm gonna listen to it again.
The best place, obviously, to listen to Rolly's tour is at Disneyland itself: load the MP3 into your iPod, position yourself on Main Street, press play, and 'take' the tour as you hear it.
Even if you're not at Disneyland, Rolly's stories are vivid enough that you can close your eyes and imagine you're there.
Really? Really. Let me prove it to you...
Some Sights Heard Along the Way
After an initial musical flourish and short introduction, Rolly kicks off the tour in Town Square and relates a few stories that were new to me, including one about Walt Disney, two nuns, and a single-file group of children 'attached' to the two nuns by a rope. Walt saw them walking through Disneyland and naturally asked the lead nun why the children were roped together. You'll love the happy ending to this story!
Rolly ambles down Main Street, explaining that the two sides of the street were designed to 'hug' guests so they'd feel not only cozy but drawn inexorably toward the Castle. In the early days, Walt himself stayed in an apartment above Main Street and enjoyed wandering
inconspicuously through the park. Rolly relates a neat story about how Walt one day needed to use the facilities but found all the free toilets occupied and didn't have a dime for the pay toilets. What to do? Rolly will tell you.
Rolly makes sure to point out 'his' window on Main Street (try to find it next time you're there!) before venturing into Tomorrowland and continuing to It's A Small World, one of the attractions that Rolly helped design. The facade for It's a Small World was originally built in seven days from cardboard for Walt's review. As Rolly describes it, Walt came early for the review, leading to an unexpected result.
Not surprisingly, Rolly spends quite a bit of time in It's a Small World relating several more stories about his role in its creation, then heads to Frontierland (where he tells how a team of painters had to touch-up the targets in the Shooting Gallery every night for years because in those days the guns used real shells), New Orleans Square, and Adventureland.
Rolly finds time for extended interludes in three other attractions: Pirates of the Caribbean, the Haunted Mansion, and the Enchanted Tiki Room.
While in the Mansion, Rolly tells the story of how a technique pioneered in the 1860s by Pepper the Magician inspired the ball-room scene. But some of Rolly's best stories are reserved for the Tiki Room, one of the attractions he helped design.
Is there more? You bet there's more. Rolly keeps a brisk pace and covers more ground than you'd think possible in a scant 52 minutes.
Bob's Bottom Line
The production values are top-notch. Each word spoken by Rolly is crystal clear. The download is a big one - over 60 MB - but that's not an issue unless you're still on dial-up.
The hour I spent 'walking' through Disneyland with Rolly Crump was a real treat. Once you've taken the tour, your next visit to Disneyland will be so much more special than your last. Don't miss it!
(And check back soon for columnist Jeff Heimbuch's interview with Rolly Crump.)

Don't stop there! More Features Await...