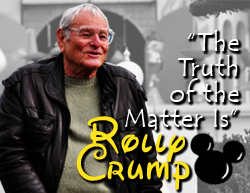 About the Column
The best way to learn Disney history is to get it from the people who helped make it. Rolly Crump made a lot of Disney history.
Rolly was hired by Walt Disney Studios in 1952 to work as an artist and animator on such classic movies as Peter Pan, Lady and the Tramp, Sleeping Beauty, and 101 Dalmations. In 1959, Rolly joined WED ('Walter Elias Disney'), the original name for Walt Disney Imagineering. At WED, Rolly became one of the chief designers for such classic attractions as Haunted Mansion, Enchanted Tiki Room, and It's a Small World.
Rolly worked closely with Walt Disney for many years. The friendship between the two men and Rolly's long tenure with the company puts him in an increasingly rare position: he can relate important episodes of early Disney history first-hand, and he can do so without notes or sources because he experienced it himself.
Disney Swag: The T-Shirt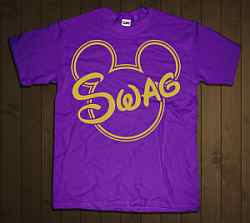 Get yours now!
Disney Swag: The T-Shirt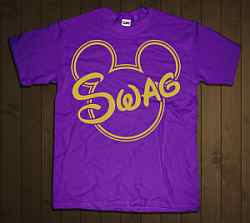 Get yours now!
Classic Disney Dispatch Content
Disney Dispatch Columns
Subscribe to Disney Dispatch Digest
And receive a daily email summary of new stuff on the site.
FROM: The Truth of the Matter Is Published Mondays
The Tower of the Four Winds: Part 2
Rolly Crump drives Walt Disney to meet the engineers
This is the second of a three-part recollection by Rolly Crump about how he designed the Tower of the Four Winds, a 120 foot high, 200,000 pound working mobile that stood near the entrance to It's A Small World at the 1964 New York World's Fair.
(Don't miss the first part!)
In the second part, Rolly drives Walt Disney to meet the engineers...
Walt Disney never forgot about my propellor exhibit in the Disney Library Art Gallery.
I had also designed a little model of the Tower of the Four Winds, and Walt had seen that, too. He asked me to build a larger scale model because he wanted to use the Tower for the 1964 World's Fair.
Walt always wanted to see things in models. He said that models never lie, renderings do. So, back then at WED, he wanted large-scale models of everything we did.
The Tiny Tower
I built a half-inch scale model of the Tower. It actually worked! All the propellors turned - I think I put 80 propellors on it, and each of them worked.
This is the same model they used for Disney Goes to the World's Fair, a 1964 television show in which I stood next to Walt beside the model.
"What's this, Roland," he asked me.
My line was: "Walt, it's the Tower of the Four Winds".
From there, we gave the model to an engineering firm in Los Angeles called Tigert and Cast. They would draft the plans for the full-size Tower and then another company called Electrical Products would build it. After they built it, we'd arrange to have it shipped to New York for the Fair.
Rolly Has a Problem with the Tower
I had gone down to see the Tower while it was being built and I was really upset because they made the pipes too big. They lost the delicacy I had in the model. So I didn't like it, didn't like it at all.
Then Walt wanted to go down and see it. One of his assistants said, "we'll have Rolly take you down there", and so we both got into a company car for the short trip.
As we were hooking up our seatbelts, Walt said: "Now, Roland, make sure we have the seatbelts on, but we don't want to use them, do we?" And I said, "no, sir, we don't". Walt had a real sweet sense of humor.
Walt Tells Rolly It's Not a Problem
Anyway, we drove safely down to the engineers and we stood looking at the Tower.
Walt said, "Well, Roland, what do you think of it?"
And I said, "Well, I think it's a piece of crap."
"What?" Walt said, a little louder than usual. "It's a piece of crap", I told him again.
Walt paused for a moment, looked at me, and said: "No, it can't be, it cost me $200,000, Roland. It can't be a piece of crap."
So I explained to Walt how the engineers had made the pipes too fat. Walt understand, but he told me: "Roland, you've got to deal with the engineers when you want something designed, and you have to bow to what they want to do."
He was absolutely right. We had to bow to them, and in fact they had some tremendous wins at the World's Fair. They had to consider many factors, such as weather conditions, that we could ignore.
The Tower in the High Winds
One day, while I was working on the Tower model in the Machine Shop, Walt came in and asked me how the full-size Tower would hold up in hurricane conditions.
"Walt", I said, "I don't know".
Walt, as usual, was thinking ahead.
The engineers had tied two large back-to-back propellors, each about eight feet in diameter, onto the Tower. During a storm with high winds in New York, those propellors broke loose, and one of them flew right off the Tower and into the World's Fair building.
Had the engineers built my delicate pipes, the entire Tower might have collapsed.
In the end, Walt loved the Tower of the Four Winds, and I got to where I liked it, too.
Next Monday:
How Rolly made sure the Tower did NOT return to Disneyland.
If you'd like to hear a few stories directly from Rolly himself, buy 'A Walk in the Park with Rolly Crump', an hour-long audio tour available from Kenbow Communications in which Rolly takes you for a stroll down Disneyland's Main Street through the areas of the park that he had a hand in creating. It's the best $4.95 you'll ever spend.
You can also hear on iTunes Rolly's interview with DisneyDispatch columnist Jeff Heimbuch on iTunes for free (or download it if you don't have iTunes), and you can read an excerpt of it in a recent installment of Jeff's column, From the Mouth of the Mouse.
More: THE TRUTH OF THE MATTER IS