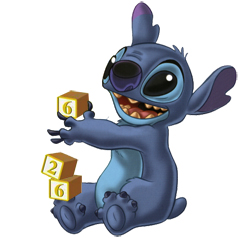 The 626
About the Column
For years, Jeff Heimbuch has been writing about Disney. Many of his articles have appeared in Celebrations Magazine. But Jeff has always had a little '626' inside him anxious to come out. Unlike his column's namesake, Stitch, he might not paint the Castle blue, but he will paint the park red with entertaining stories, fascinating insights, and daring ... experiments.
Learn about the author, too!
Disney Swag: The T-Shirt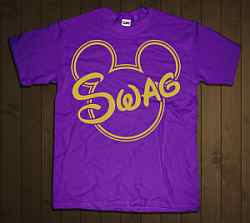 Get yours now!
Disney Swag: The T-Shirt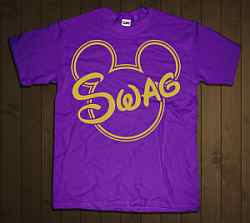 Get yours now!
Classic Disney Dispatch Content
Disney Dispatch Columns
Subscribe to Disney Dispatch Digest
And receive a daily email summary of new stuff on the site.
Oswald the Lucky Rabbit
Jeff Heimbuch traces the sad history of Oswald the (Un)Lucky Rabbit
"I hope we never lose sight of one thing - that it was all started by a rabbit."
That's one of Walt Disney's most famous quotes. Quite striking and humbling, isn't it? Walt never forgot his humble roots. He knew that, by a stroke of luck, an animated rabbit by the name of Oswald helped him buil...
Wait. What?
That's NOT the quote? Are you sure? Because I'm pretty sure that's how it went in... an alternate universe.
Sorry, I just caught up with Fringe, and this flip-flopping between universes got me thinking. If you're a fan of Fringe, you know that things are slightly different 'over there'. I mean, if Eric Stoltz starred in Back To The Future on that side, who's to say that Oswald the Lucky Rabbit wasn't the one to rise to Mickey Mouse-like stature? Over there, at least.
But since we're over here and not over there, just what happened to make Oswald disappear from the Walt Disney Company for almost 80 years?
I'll tell you what happened. Business happened.
Oswald at Birth
In 1927, shortly after his Alice Comedies, Walt Disney
contracted with Carl Laemmle, head of Universal Studios, to produce a new cartoon series for Charles Mintz and George Winkler called Oswald the Lucky Rabbit.
After an unsuccessful first attempt, called Poor Papa, Walt and Ub Iwerks produced Trolley Troubles, which proved to be a great launching pad for the series. The team went on to produce a total of 26 Oswald shorts for Universal.
The series was a huge success, and both parties knew it. It even produced the first 'Disney' merchandise, including a stencil set, a candy bar, and a push pin button!
In 1928, Disney went to Mintz to ask for a bigger budget. Mintz instead demanded that Disney take a 20% budget cut, and told Walt that he didn't own the rights to the character - Universal did! This came as quite a surprise to Disney. Mintz had also begun to hire some of Walt's animators in case he had to continue the series without Walt himself.
Walt knew he
couldn't produce quality cartoons with a severe budget cut, and he also didn't want to work under such a sneaky tyrant as Charles Mintz.
So he left Universal and established his own studio, taking along with him Ub Iwerks and Les Clark, two of the few animators he had left who remained loyal to his vision.
Around this time, as the story goes, Walt took a train back to California from New York and during the trip came up with the idea for a cartoon mouse. The rest you probably know.
Oswald at Universal
But that wasn't the end of Oswald.
Mintz shortly opened his own studio and continued to produce Oswald cartoons, but his animation skills were not on par with those of Walt Disney, despite having many of Walt's animators on his payroll.
Universal boss Carl Laemmle wasn't happy with the new Oswald cartoons and shortly fired Mintz. He decided to produce future Oswald cartoons on the studio lot, and offered Walter Lantz (best-known later for Woody Woodpecker) the job. Lantz, an honorable guy, asked for Disney's blessing. Now that the Mickey Mouse shorts were becoming popular, Walt didn't have a problem with the other Walt taking over Oswald. The two Walts even became good friends.
Lantz produced 142 of Oswald's 194 short films. During that time,
he gradually changed Oswald into a different character. He gave the character white gloves, shoes, a shirt, and other things to set him apart from Disney's version. By 1935, Oswald had emerged as a realistic looking rabbit, with white fur replacing his old black fur. Oswald now looked less like a cartoon, more like an actual rabbit.
Lantz also gave Oswald a voice. Many people voiced the role over the years, including animator Bill Nolan, actor Mickey Rooney, and even Lantz himself. June Foray provided the voice of Oswald for his final short, The Egg Cracker Suite.
Other than a few cameo appearances over the years, that short was the end of Oswald's screen career.
But Oswald conntinued to appear in comic books both during his time at Universal and in a series of one-page features for DC Comics' 1935 comic, New Fun. Eventually, Oswald made it to Dell Comics' New Funnies, where in 1948 he adopted two bunnies, Floyd and Lloyd.
Soon, however, Oswald faded even from the comics, except for those produced overseas and in Mexico, where Oswald's adventures continued well into the 1970s.
Oswald at Large
In 2006, Disney CEO Bob Iger wanted to bring Oswald back into the fold.
Disney struck a deal with NBC Universal. In exchange for sportscaster Al Michaels, who wanted to join his former broadcast partner John Madden on Sunday Night Football, NBC would return to Disney some minor assets that included the rights to Oswald and Walt's original 26 Oswald cartoons.
And so, the rabbit came home.
However, despite being home again, Oswald wasn't thrust immediately back into spotlight. Instead, Disney slowly reintroduced him with merchandise such as
shirts and figurines, and with a DVD set of his original cartoons.
Oswald's big comeback was in late 2010, when he appeared as a main character in the Epic Mickey video game.
In the game, Mickey is transported to the Wasteland, a world of forgotten Disney creations that was crafted by the wizard Yen Sid (from Fantastia!). After Mickey replaced Oswald, the (un)lucky rabbit had become the first resident of this new world, and eventually its benevolent ruler. Over time, though, Oswald came to resent Mickey's popularity, especially when Mickey accidently releases the Shadow Blot into the Wasteland. The two must work together to overcome the Shadow Blot and restore the Wasteland to its former glory.
This was a great way to reintroduce Oswald to a modern audience, especially because it used a bit of Disney history to make it happen. Based on the success of Epic Mickey, I'm sure we'll see more of Oswald in future.
But will he ever achieve Mickey's level of fandom? Probably not, though I can foresee Oswald one day joining the core group of Disney characters, which would then no longer be the Fab Five but the Sensational Six!
Oswald Filmography
Walt's original 26 Oswald cartoons were produced in 1927 and 1928. Here's a list:
1927
Poor Papa
Trolley Troubles
Oh, Teacher
Great Guns
The Mechanical Cow
All Wet
The Ocean Hop
The Banker's Daughter
Harem Scarem
Rickety Gin
Neck 'n Neck
Empty Socks
The Ol' Swimmin' 'ole
Africa Before Dark
1928
Rival Romeos
Bright Lights
Sagebrush Sadie
Ride 'em Plow Boy
Ozzie of the Mounted
Hungry Hoboes
Oh, What a Knight
Sky Scrappers
The Fox Chase
Tall Timber
Sleigh Bells
Hot Dog
Feel free to follow me on Twitter for updates!

For more, visit the homepage for THE 626