FROM: Squeak of the Week Published Fridays
Falsehood of Disneyland First Day Fiasco
Opening day at Disneyland was a fiasco. Right? That's what most everyone thinks, after having read the horrible stories written by 'those there'. But was it really so bad? John Donaldson presents a much different view of opening day.
Much has been written of a Dismaland Disneyland opening day - and much has been incredibly incorrect.
One example is with the weather - said to have been an unbearable heat blanket. But, according to archives, readily available, July 17, 1955 was an ordinary day in Anaheim.
Only seventy-three degrees; low of sixty-two, with a high of eighty-four.
There was no heatwave when Disneyland hit the airwave over the ABC television network. While dry ice was applied to keep camera tubes cool, it is only because the steel-boxed, studio equipment had not been built to be even moderately baked.
A massive amount of counterfeit admission tickets also lives on in legend. But, I would think, given technique, metallic ink would have made this difficult to do. This story was started by C.V. Wood - perhaps as some coverup - as Wood would be shown as a shyster.
And, the woes of women - pulled from loose shoes by sticky, Main Street asphalt. On that day, a parade was presented - any horse hooves or tires in tar?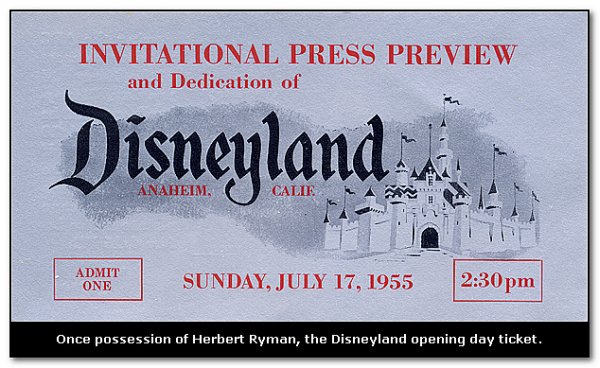 But, a few true, untold items are even of better story.
Walt, for instance, was to arrive in style, at a specific time, at the Santa Fe railroad station - but would be delayed, when he, at throttle, stalled the train at a slight upgrade on the tracks. It was good that emcee Art Linkletter had a gift for gab - he also stalled, while awaiting, in order to cover the gaffe.
Those twenty-nine television cameras, tapped to sixteen miles of cables, were capped by a jumble of call letters - having been begged, borrowed, and possibly purloined from stations as far as Chicago - in order to serve the nationwide broadcast.
Such signals were fed through five separate control rooms, comprising forty monitors, twenty audio mixers, and an interlock for film inserts. Thirteen hydraulic forklifts were hired to give the view added heft.
In all, enough equipment for twelve complete stations.
ABC need beam through an NBC truck to an audience in estimate of ninety million - largest live broadcast to that date.
Robert Cummings and Ronald Reagan, serving as co-hosts, were each assigned a guide to help them cut through the crowd. One by one, however, in the fray of the day, the escorts fell off - leaving the stars to fend for themselves. Fifteen seconds before telecast, Cummings need hustle, and then tussle with a guard, in order to get to a microphone.
And from Frontierland, the future President of the United States would run a fort rung to get where he need be.
That was some of "Black Sunday."
John Stanley Donaldson, once the protege of Disney Legend Herb Ryman, is the author of Mr. Ryman's biography, Warp and Weft: Life Canvas of Herbert Ryman, which you can purchase directly from the author's site.
More: SQUEAK OF THE WEEK
Comments