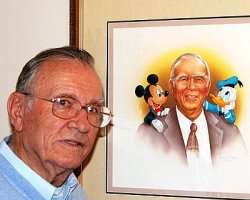 About the Author
Charlie Ridgway was hired in 1963 to write press releases about Disneyland. Over the next 30 years, he wrote quite a few press releases, and he also shaped Disney's public image. He rubbed shoulders with politicians, presidents, and potentates, not to mention Hollywood stars: when Bob Hope, for example, wanted to visit Disney, he called Charlie. As one of Walt's point men for the 'Florida Project', Charlie arrived in Disney World when it was still a swamp and retired when it was the most famous theme park on the planet, something for which Charlie is due quite a bit of credit. For much more on Charlie, see his profile on Disney's official Legends site.
Disney Dispatch Columns
Disney Swag: The T-Shirt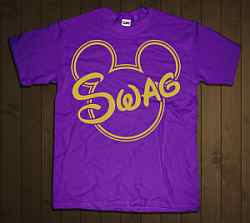 Get yours now!
Disney Swag: The T-Shirt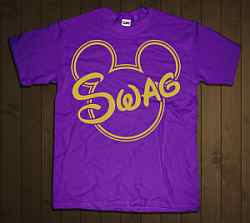 Get yours now!
Classic Disney Dispatch Content
Subscribe to Disney Dispatch Digest
And receive a daily email summary of new stuff on the site.
No Event Too Small
by Charlie Ridgway
Disney Legend Charlie Ridgway's window on Main Street proclaims: "No Event Too Small". From his start in 1963 at Disneyland, through his retirement over 30 years later as Disney's Director of Press and Publicity, Charlie organized many press events, both big and small, not to mention quite a few celebrations, spectacles, and galas. Here on Disney Dispatch, Charlie will share some of his memories of Walt Disney and the original Imagineers, of movie stars and politicians, and of his day-to-day life as the man in charge of Disney's public image. Bona fide Disney history? You bet. And Charlie's style makes that history crackle and sing.
JULY 20 On Walt Disney World's opening day, park executives hoped for crowds - but not big ones. They didn't want a repeat of the barely controlled chaos of Disneyland's opening day. An endless line of cars heading toward the park was NOT on the agenda...
JULY 6 You'd think a theme park like Disney World would want as many people coming through the gates as possible. Now, they do; but for the grand opening in 1971, Charlie Ridgway explains why they did everything possible to ensure low attendance.
JUNE 29 I'm sure it wasn't funny back then, but the mental image Charlie Ridgway describes of the passenger trams at just-opened Disney World not being able to putt putt up the slight incline to the Contemporary Resort is now... pretty funny.
JUNE 22 With something the size and scope of Disneyland, you expect a few snags, a few glitches, on opening day. But when unexpected mobs appear at the gate, and when a window crashes down on the head of a state senator, well, it's a problem.
JUNE 15 On the day before Disneyland opened to the general public, Charlie Ridgway was there with other reporters and Hollywood celebrities to get first peek at what Walt had built. Disaster! Press coverage of the event was cruel. But Charlie saw through it.
JUNE 8 Ask any reporter: the 'hook' for a story is as important as the story itself. Disney Legend Charlie Ridgway, then a feature writer for the Los Angeles Mirror-News, had a great hook for covering Disneyland, then being built: sneak a kid under the fence.
JUNE 1 In the second and final set of stories about Charlie Ridgway's life before Disney, he recalls how a lucky break landed him a job at the Los Angeles Mirror, and how his weekend road trips to the beach gave him a birds-eye view of Disneyland construction.
MAY 25 Charlie Ridgway began writing press releases at Disneyland in 1963. Before that, he was a journalist; before that, a radio broadcaster; before that, a soldier in WWII. And before that? Well, we're back to Disney...