FROM: It's All in a Nametag Published Thursdays
Disneyland Tour Guides
The Tour Guides at Disneyland, as Benson Myers explains, are the cream of the Cast Member crop, but winning your way into this role - which stretches back to the late 1950's - requires a bit more than just the ritualistic sprinkling of pixie dust.
If you've ever been to Disneyland, you have no doubt seen the Tour Guides working their way around the park, with a large gaggle of guests in tow. They wear distinctive plaid outfits, quite similar to the outfits worn by horse jockeys or polo players.
Among all the Cast Member roles at Disneyland, the Tour Guide is probably one of the most desired. But you might not realize that the role is also one of the most difficult to obtain, and one of the most demanding.
Origins of the Disneyland Tour Guide Program
The program got its start in late 1958, a few years after Disneyland opened. Walt Disney realized that many people got lost when they first came into the park. Disneyland was a revolutionary concept, and he decided that a guided tour of the park would be beneficial.
So to get a clear picture of why the program was started, I will take a page or two from the Tour Guide procedures manual that was issued back in the early 1960's:
Once upon a time at Disneyland, there was a single gate admission. Our guests paid their way in and then bought tickets for individual attractions. Shortly after opening, our audience research revealed that our guests would prefer some kind of package plan that would include both gate admission and certain attraction. Such was the birth of our famous ticket books which, over the years, have been redesigned to meet the needs of our guests.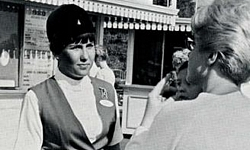 A Tour Guide answering guest questions outside the Disneyland main gates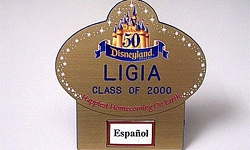 The Disneyland Bilingual Nametag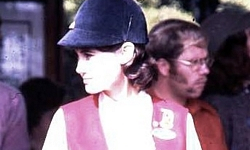 The Tour Guide costume at Disneyland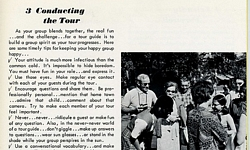 A page from the Tour Guide Manual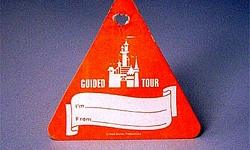 An orange guided tour tag from the 1950's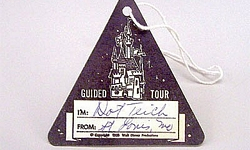 A black guided tour tag from the 1950's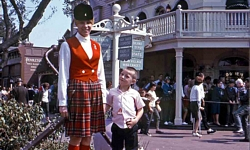 A Tour Guide with a guest. You can see the boy is wearing a red tour tag.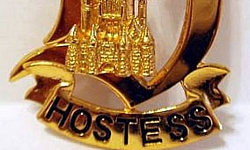 The coveted Disneyland Tour Guide pin
A cartoon from the back of the Tour Guide Manual
As time went by, our continuing research indicated that there were many guests who were interested in having a guide to introduce them to our giant Disneyland stage. We found that these guests fell into several groups, a few of which are:
Those suffering from freeway fright ... we sometimes forget that a person from a small town in Texas or Canada finds our freeway system a thing of terror. By the time they make it to Disneyland through this cement maze, they want a friendly guide to take them through the Magic Kingdom.
Those who feel lost ... you'll get to know the 70 acres of our Disneyland stage intimately. But for many people it's huge and confusing.
Those from foreign lands ... we have many guests from foreign lands. Some can neither speak our language or read our signs. They are thankful to find a guest who can converse in their language.
That last bit provides us with an interesting side point. Disneyland today (as well as Walt Disney World) has an extensive program for Cast Members who speak multiple languages. After taking a test to prove their proficiency in the language, and mastery of the customs of guests who speak that language, Cast Members can earn a special nametag. It bears the name of the language on an extended tab at the bottom of the nametag.
Acting the Role
But let's get back on track. The physical appearance of a Tour Guide follows strict guidelines. The Tour Guide Manual says:
Your costume, created by our Disney artists and the Disneyland Wardrobe Department, was designed to fit the role that you play in our Disneyland Show. It's essential that you wear it as the designer planned it.
It's essential that you report to work in ample time to give the care and attention you need for your pre-curtain preparation. We take it for granted that you know the important essentials of good grooming and etiquette. But here, perhaps a reminder about eye shadow or eye liner is essential. When you are off stage, outside of Disneyland, you may handle your makeup as you please. But as a Tour Guide, you must have a wholesome, natural look, and this disallows eye shadow or eyeliner.
As you leave Wardrobe and depart for the Tour Garden, check every little detail. Your appearance depends on making sure that every detail is just right. Remember you're stage front ... and on stage.
Once a Tour Guide has their costume in place, and a proper appearance, it's not quite time to go. There's the matter of the script that the Tour Guide must follow.
The script is carefully constructed to present guests with an informative and entertaining experience on their tour. Depending on the number of guests, an average guided tour lasts around two hours. This requires a Tour Guide to master the script, which is some twenty-five full pages in length. And the Tour Guide is not allowed to improvise or in any way deviate from the script. This can be quite a challenge, since each tour group is unique. A Tour Guide must be able to always think on his or her toes, and adapt their presentation to the needs of the group, while following the official standards.
The Tour Guide Manual offers some pointers to make this a bit easier:
As your group blends together, the real fun and challenge for a Tour Guide is to build a group spirit as the tour progresses. Here are some timely tips for keeping your happy group happy:
Your attitude is much more infectious than the common cold. It's impossible to hide boredom. You must have fun in your role, and express it.
Use those eyes. Make regular eye contact with each of your guests during the tour.
Encourage questions and share them. Be professionally personal. Mention a hometown; admire that child; comment about that camera. Try to make each member of your tour feel important.
Never, never, ridicule a guest or make fun of any question. Also, in the never-never world of a Tour Guide, don't giggle, make up answers to questions, wear sunglasses, or stand in the shade while your group sweats in the sun.
It's all right to point, unless the subject is Walt Disney. We must respect his need to travel the park without interruption.
Know your inside information. One of the real plus values of a tour is to learn the details that the average 'man on the street' would not know. Know your facts, and share them.
Landing the Role
Being a guest wrangler, as Tour Guides are sometimes called, can be a difficult task. To make the task easier for the Tour Guides, guests receive a special badge to set them apart. In the first ten years or so, these were in the form of triangular hang tags. Different colors were given out on different days of the week. Colors included green, blue, yellow, orange, and black, and red.
So after all this, you can see that becoming a Tour Guide at Disneyland is no easy feat. First, you have to work your way into the position. Just as one does not simply walk into Mordor, a Cast Member does not simply walk into City Hall and begin giving tours. They must first work at the park for six months to a year in another role, then earn a transfer into the Guest Relations Department. If they make it this far, they aren't a Tour Guide. They first have to 'earn their chops' by staffing the answers desk inside City Hall, or answering phone calls from guests. Then they can take a test to see if they have the professional ability to maintain the high standards required. Passing the test proves they have done so, and proves their mastery of the knowledge of all things Disneyland. With that mastery comes the coveted pin that Tour Guides wear to identify themselves.
The pins are hand-created works of art. For many years, they were made by the N.S. Meyer Company in New York. Plated in gold, the pin bears the likeness of Tinker Bell as she spreads pixie dust over Disneyland's Sleeping Beauty Castle. They are also not the personal property of the Tour Guide. The pins must be returned when a Tour Guide leaves the department or quits their job at Disneyland.
So now when you see a Tour Guide in their distinctive plaid costume, wearing the glittering D pin, you know what it took for them to get that role. They are the cream of the crop of the Disneyland cast, the "best of the best of the best", so to speak. The part of the Manual we read earlier, "it's all right to point, unless the subject is Walt Disney", really strikes a chord with me. I like to think that the Tour Guides, when they wear their D pins and lead guests around the park, are carrying Walt's spirit along with them.
More: IT'S ALL IN A NAMETAG
Comments