FROM: It Came from Disney! Published Tuesdays
40th Anniversary Magic Kingdom Mickey Ears
The question is posed not by Ivory Tower academics but by Disney World fanatics: can you ever have enough pairs of Mickey ears? The answer is a resounding 'no', especially when you consider this latest set of ears, sure to spur some memories.
In two weeks, I will be walking under that wonderful Disney archway and onto the property of the Happiest Place on Earth! It will my first time there in almost a year, and I am SO excited to be visiting the Mouse!
So excited, in fact, that I was checking out the new Disney Park merchandise for sale on DisneyStore.com!
(Wait, you mean not everyone preps for shopping?)
As I was browsing the site, I came across those iconic Mickey Ears hats. I have a few pairs of my own, including a graduation cap, a classic black pair with the Mickey Mouse Club logo on the front, and a special golden pair from 2005's Happiest Celebration on Earth.
I hadn't planned on purchasing another set of ears on this trip... until I saw them! The most wonderful, memory-filled ears are being sold right now in Walt Disney World, and my shopping sense are a-tingle with excitement!
As described on the Disney Store site, these ears celebrate the 40th anniversary of the (October 1, 1971) opening of the Magic Kingdom and feature a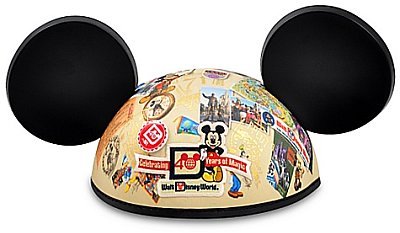 montage of pictures from the past 40 years.
The front of the cap has a patch with Mickey on it and the phrases: "Celebrating 40 Years of Magic" and "Walt Disney World". Next to the patch, and attached to the hat (nice touch!), is a 40th anniversary pin.
This item has gone on the top of my 'Must Buy' list while I'm at Disney World!
(If you want your own but won't be at Disney World any time soon, you can buy the ears on-line from the Disney Store!)
More: IT CAME FROM DISNEY!
Stuff Not to Skip
Comments