FROM: Happiest Tips on Earth Published Fridays
Mickey's Not So Scary Halloween Party
Every year, at Walt Disney World, kids dress up in the Halloween costumes and come to Disney World for a special trick or treat celebration. Lesley talks about whether this special ticket event is worth the additional investment.
Is the Mickey's Not So Scary Halloween Party Worth the Extra Ticket Cost?
I have people ask me all of the time, is it really WORTH the ticket cost to go to the Mickey's Not So Scary Halloween Party? I never knew how to answer that question until my family and I experienced it last year and now I can answer with a resounding YES!
The ticket prices vary upon what time you go, if you purchase them ahead of time or the day of and if you have a DVC or Florida resident discount. I recommend purchasing them in advance if you are going around Halloween time because these parties DO sell out.
The party starts at 4pm and lasts until midnight which has many people asking what makes the cost worth it since you are only in the park those limited amount of hours. I can fill you in on why my family thought it was worth every dime:
Trick or Treating through the park. We had so much fun as a family getting dressed up in our Halloween costumes and experiencing trick or treating throughout Magic Kingdom. The candy stations are plentiful and every one of us enjoyed it very much
Free Face Painting. My daughter and I found out that they offer free face painting during the party so we jumped in a short line and had our faces painted for free and were THRILLED with the results. My daughter begs for this to be done at the parks daily so for us this was a fun perk that they were offering for sure!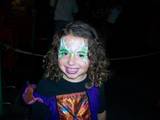 The dance parties! My kids LOVED the dance parties they held with the DJ and characters. They were able to get up close and personal with Donald and Daisy in their Halloween costumes and dance with them which they really enjoyed
The Villians Show in front of the Castle was great and better yet they had a meet n' greet with your favorite Villians that you never have the opportunity to meet during normal park days. I had my picture taken with Malificent and that thrilled me to no end!
We were able to have another once in a lifetime picture opportunity by waiting in line to see Snow White and ALL 7 dwarfs! My kids are huge Snow White and 7 drwarf fans and I have asked many times if there is an every an opportunity to meet all of them at once and I had been told numerous times by Cast Members that the only time is during the Halloween party, it did not disappoint. That family picture of us in all of our Halloween costumes surrounded by the Dwarfs and Snow White will be something we will cherish for a long long time!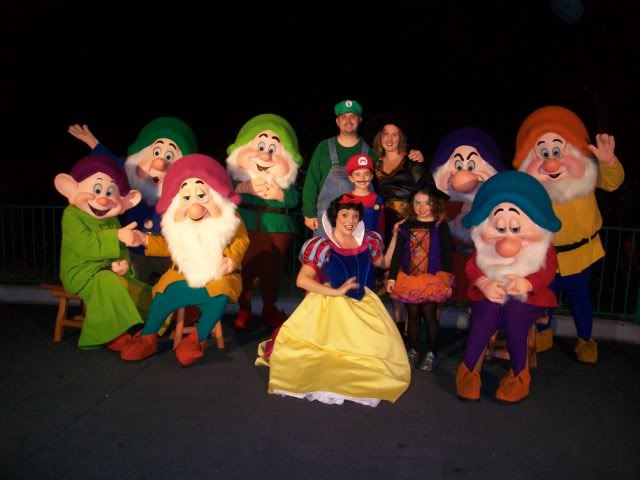 The special parade that is only done at the Halloween party is BEYOND amazing. It kicks off with the headless horseman flying through the streets and amps up from there, the parade and fireworks are worth the ticket price alone
That leads me to the special Fireworks presentation. When we were headed from Fantasyland back to the Main Street to view the Villians show and see the fireworks we were confused why the normal paths were closed off and we couldn't find our way back to Main Street. Some very friendly cast members explained to us they have to close them off because of the fireworks display and showed us an alternate route to the front of the castle. We found out why they closed them off mid way into the fireworks show when we were literally SURROUNDED on all sides by fireworks, this display is INCREDIBLE!!! I have seen the fireworks shows at the Disney parks all times of the year and the Halloween display in my opinion is the most elaborate.
Soooooooooooooooo do I feel the ticket price for the Halloween Party is worth it!? ABSOLUTELY!!! We made a special trip to Disney surrounding Halloween to experience this time of year and the party as a family and we are so happy that we did. I hope your family is able to experience it as well and has as much fun as we did.
Find out what folks are saying about Lesley: Pixie Vacations.
More: Happiest Tips on Earth...
Comments