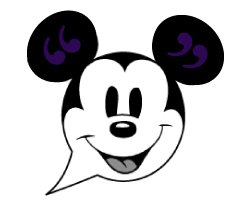 About the Column
The folks who know the most about Disney aren't always the Imagineers but rather the 'regular' people who manage the lines, serve the food, clean up the trash. Jeff Heimbuch has interviewed dozens of them. Their fascinating stories present Disney from new perspectives: you'll learn what it's like to work for the Mouse on the front-lines. And, of course, you'll hear from the Imagineers, too. So buckle up! What comes From the Mouth of the Mouse may surprise you...
Disney Swag: The T-Shirt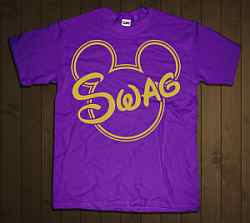 Get yours now!
Disney Swag: The T-Shirt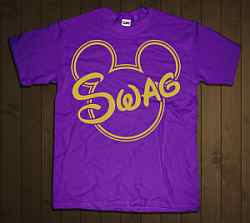 Get yours now!
Classic Disney Dispatch Content
Disney Dispatch Columns
More Disney Dispatch Features
Subscribe to Disney Dispatch Digest
And receive a daily email summary of new stuff on the site.
Interview: Bruce, Contemporary Resort
As concierge or conductor, veteran Cast Member Bruce spreads Disney magic
Hello everyone, and welcome to another edition of From the Mouth of the Mouse!
Last week, I got a lot of great comments and emails from folks saying how much they enjoyed the column. It really brought a smile to my face to know that other people enjoy reading these interviews just as much as I love conducting them!
Today's Guest...
This week, we'll be talking to Bruce, a Cast Member who has worn many different hats since joining the company over ten years ago. Without further ado, here's Bruce!
So, Bruce, where do you work and what do you do there?
Bruce:

I've been on cast for just over ten years now. In that time I've had three major roles at WDW:
First, I was a Conductor on the Walt Disney World Railroad in the Magic Kingdom, which is part of Main Street Operations. I did that for about seven years, part-time. My duties included operating trains, staffing stations, occasional work in Parade Audience Control (PAC), and directing auto traffic backstage.
Second, I was a Show Quality Monitor for Main Street. I watched over the turnstiles, Walk Around the World by Magic Kingdom, the WDW Railroad, and anything else visible from Main Street and the Railroad - which is basically half the Park! I did that for four years, working about one shift a week. My other duties were finding and documenting maintenance issues and coordinating repairs with the seventeen different maintenance departments before guests noticed that whatever it was needed repairs. I also corrected some inconsistencies on Main Street and helped with rebuilding the 'City of Tomorrow' display.
Third, and currently, I'm a Lobby Concierge at the Contemporary Resort. I've had this job for three years. My duties include booking dining and recreation, selling tickets, answering guest questions, resolving problems, and backing up the Front Desk cast for check-in and check-out.
Over the years I've had other minor roles such as trainer for the Railroad and for Lobby Concierge, working for Main Street Vehicles (everything other than horse cars), and doing merchandise stock (during a temporary disability).
What made you decide to work at WDW?
Bruce:

I could never afford to work for Disney, though I had long daydreamed about doing it. When I retired, my wife and I moved to a home eight miles from Disney World since we enjoy the parks and restaurants.
I lasted ten months.
Realizing that uninterrupted retirement was likely to cause my wife and I to kill one another, I decided to take a part-time job, and Disney was the obvious choice.
You have a very apparent love for Disney! Is it still as magical for you now that you work there as it was when you were just a guest?
Bruce:

I never understood why anyone would put up with the low pay, bad costumes, erratic hours, and general abuse if they didn't get the chance to make magic happen.
One of the nicest things one CM can say about another is, 'He gets it'. Not all understand what we're trying to accomplish, but for those who do, it can be a wonderful place to work. (And pure hell for those who don't - hence the term 'fresh meat' applied to new hires who 'don't get it'.)
Did you choose where you wanted to work or was that assigned to you?
Bruce:

I've long had an interest in railroading, having spent eight years as the director of a railroad research library. I also had the privilege of operating a miniature steam locomotive over the track from Walt's backyard. I most definitely wanted to work on the WDW Railroad. At the time (1999), policy required one year working at the Magic Kingdom to get on the waiting list for the Railroad. Knowing this, I accepted an offer to work there as a Park Greeter (turnstiles).
During the single day off I had between Traditions and on-the-job training, I got a call from the training coordinator who said "We have a scheduling challenge and can't get you trained as planned. But I was looking at your resume and wondered what you meant by 'Passenger Railroad Conductor'"?
The item he was looking at was my experience as a volunteer at the Tennessee Valley Railroad Museum in Chattanooga. I really wasn't sure what he had meant by his question, so I asked "Which one of these three words is giving you trouble?".
Fortunately, he laughed, and reassigned me to work on the Railroad. Consequently, my first day in costume was as a Conductor.
It was the best job in the world (no pun intended) for the next six and a half years. Then, a new Area Manger (AM) came in who thought that safety was less important than sycophancy - something I'm not at all good at. About the same time, George Britton retired. George was the locomotive shop foreman who had been working on the railroad since 1969. Despite George and I recommending qualified candidates, the Company installed a nice guy with a great background in truck repair.
The final straw came when the AM sent one of the Guest Service Managers (GSM) out to find me on stage (kind of a big no-no!) and give me the message that I was "No longer welcome in Main Street Ops, and that I had better watch my ass".
I immediately asked the GSM for a thirty-day personal leave of absence, which he granted. That Friday, I put in for a transfer to hotel concierge (as there was a $1000 bonus offered for them at the time). On Monday I got the call, and on Tuesday I was scheduled for an audition. The hour-long audition lasted for only three questions before I was told: "It takes two weeks to do the paperwork so you'll start the 21st".
It seems like Show Quality Monitor would have a lot of job security! Disney is always working on something, either to improve it or repair it. You mentioned that your job was to find inconsistencies. Anything in particular?
Bruce:

Oh, absolutely, and it's a good one! When I was first cast as a Show Quality Monitor, my group was in the process of building an index to all the Windows on the Magic Kingdom's Main Street. It eventually became a file of not only the images and the wording but brief biographies of each person honored.
We had a little problem with one of the windows, though. Actually, it was a pair of adjacent windows that honored six people, three on each side. We found the information on five of them without much difficulty, but on the sixth all of our usual sources were mute.
We finally broke down and wrote to the Corporate personnel archives to ask what that person had done for the Company, when they had done it, and if possible, to provide a contact address. Corporate replied that this person had worked for Disney for only about four months! The matter became a bit clearer when we discovered that he had spent those few months working in the sign shop in WDW's Central Shops complex.
That's right, his job had included painting the windows on Main Street.
Apparently, he thought that five names didn't balance well when split three and two, so he had inserted his own name to make the pair of windows come out even. To make it even more surprising, it had been up there for almost five years, and no one had ever noticed it until we came along!
The very next morning, we were out there with razor blades scraping him off.
(Jeff's Note: While Bruce didn't identify the window, I did a bit of detective work and found out! Be sure to read my other column, The 626, next Friday, January 29, when I reveal the answer!)
Can you think of times you went out of your way to make a guest's stay more magical?
Bruce:

Oh, yes! That's what I do! That's what I live for!
What, you want a list? That could take a while. Lots of opportunities have presented themselves over the past decade, and I've grabbed as many of them as I could.
Some random examples:
A guest was crossing Main Street with hot dogs in both hands to eat at the curb during the afternoon parade. Six seagulls attacked her, scratched up her face and stole her dogs, buns and all. She was left with blood on her chin and two mustard-covered napkins. I walked her over to First Aid and got replacement dogs while she was getting patched up. I then insisted on carrying them back to her family and standing guard while they ate.
Late one night, long after the last train had gone to the roundhouse, a young woman with a leg cast and crutches limped up to the station in Toontown and asked in an exhausted voice, "Please don't tell me the last train for Main Street has left already." "No," I replied, it was just waiting for your arrival," and I grabbed a wheelchair, rolled it out to her and said, "All aboard!" "But I can't push myself up the hill." "Quiet. You're the passenger, I'm the engine," and pushed her all the way to the turnstiles.
As the train was unloading at Main Street, a young guest, about 3 years old, squatted down on the platform. "Uh oh," I thought, "Time to fill the pants!" But I soon realized he was looking between the cars. "Whatcha looking at, sport? Drop something?" He said that he was looking at the couplers and wondered how they kept the train together. Well, that was all I needed. Despite his parents' protestations, "You really don't have to talk to him, he's just a train nut," I took him down on the track behind the train and showed him the rear coupler, how it worked, and even the hose for the air brakes.
There are fewer such opportunities at the Contemporary, but I have had fun sending folks off to just the right restaurant, and even my supervisor is amazed at my knowledge of the parks. I run trivia contests whenever things get slow and stump 'em every time.
It seems like you can go on forever with those stories! Is there one moment that sticks out in your mind as the most 'magical' thing you've done for someone while working at Disney?
Bruce:

Tough one. Can I pick the day I went to the Casting Center and got hired?
Seriously, the answer is no. I might have been able to pick just one after the first year or two, but now there have been many high points, and it's hard to judge which is the 'most' magical. I could come up with a list of twenty or more that left the guest in happy tears and me with a big smooch or a twenty stuffed in my pocket (or both), but to mention only them would demean the joy of guests less demonstrative.
No, I think I'll stick with the first one, because that's what led to all of the others.
Any practical jokes you and your co-workers may have played on each other?
No, can't say that we have. The Railroad is very safety oriented (at least it was until the current AM). Anybody that tried a practical joke would have been 'encouraged to explore other employment opportunities within the Company' not only by their co-workers but by management, as well.
Not that we're all serious - we do joke around a whole lot. Lots of nicknames (on the Railroad, mine was so bad they never told me what it was!).
Partly this was due to the high average age on the Railroad. We had the usual assortment of twenty-somethings, but nearly 3/4 of the Railroad cast were either long-time CMs or people like me, retirees working part-time. We called ourselves the Old Farts Club. Made for some interesting conversations, as neither group could stand the others' music!
Any injuries ever occur on the job to Cast Members or guests?
Bruce:

One trip out of Main Street Station, I smelled cigarette smoke. I looked up along the train and saw the smoker was in the back of the next-to-last car. Electing not to disturb all of the passengers with the PA, I shouted, "Extinguish that cigarette NOW!". He responded by taking a large puff and tossing it - still lit - off the train into a pile of dry leaves.
Not wanting Adventureland to burn (we were in a very dry spell), I stopped the train to put out the fire. My Company-issue knit polyester gloves slipped on the handrails and dumped me on the ground with a torn Achilles tendon. I limped to the fire, put it out by stomping it with my now otherwise useless foot, limped back, took the train in to Frontierland, and called myself an ambulance. Management never responded.
I was off the train for six months. I spent two months at home, the rest on modified duty in merchandise and driving a van backstage. (Yeah, ripped my right Achilles tendon and they ask me to drive. Real smart.)
Guest injuries were pretty common, unfortunately. One person jumped off a moving train and tried to crawl under it while it was in motion to retrieve a $5 autograph book still in the cellophane wrapper.
One guest lifted her 8-year-old son over the balcony railing at Main Street Station to sit on top of a light fixture - which promptly broke loose and dumped them both onto the pavement, narrowly missing other guests. When she dragged both light fixture and son into City Hall, they failed to convince her to let First Aid have a look at the kid until they took a report. They took down her name, address, and driver's license number and promised to send her the bill for the new lamp - about $5000!
One elderly guest in a wheelchair passed quietly away during the afternoon parade. That's how I want to go!
Don't think I'm trying to paint a picture here and say that Disney is the bad guy when it comes to injuries suffered by either Cast Members or guests. They're really not. They just sometimes make bad decisions. Most of the time, they take care of things quite nicely!
Did you ever do anything that management may have frowned upon, but you did it anyway, either for your own enjoyment or for guests?
Bruce:

I did a good number of things on the Railroad that didn't comply with the technical rules but which did comply with the principle of "Safety First".
For instance, I've given out free stuff to replace lost items like hats that blew away, dropped popcorn, a couple of plushes, and so on, especially when I thought it was the 'Right Thing' to do. At the hotel I once comped a night's stay (about $300) for a noise complaint (as two nearby rooms had had their guests ejected by the Sheriff that night). Each time, when I informed management after the fact, the uniform response has been 'Good call'. I'm quite impressed that the Company actually means what they say about empowering front-line cast.
Now that you're working as a concierge, I'm sure your level of guest interaction has gone down a bit. Was it more satisfying for you to work with people all day at the parks? Or do you find equal satisfaction helping people at the Contemporary?
Actually, I don't find the amount of interaction is much different. But on the Railroad I was dealing with guests in bulk. At the desk, I deal mostly with one family at a time. I also get to share my knowledge and offer advice, which I consider a higher quality form of contact. So on that count, I consider the concierge role an improvement.
On the other hand, there is a sense of magic, and an ability to create magic, in the theme parks that just isn't there in a hotel lobby. Yes, I've had guests so grateful for my help they wept as they praised me to my supervisor (I didn't think I had done all that, but they did). But the brief interactions, especially with kids, the 'take fives', the 'magic moments', the opportunities to do something unexpected just aren't there as often, which is why I'm considering a transfer back to the park, probably Guest Relations.
Since you're at the Contemporary, what do you think about the new Bay Lake Tower? I know that a lot of folks (guests and Cast Members) were against it at first, but it seems to have become quite popular. I was against it myself until I saw it completed. It was absolutely incredible and seems to fit into the theme quite well!
At first, I was with the people who were against it. But its appearance has grown on me since they took down the scaffolding. It's quite visible from Tomorrowland, but so is the main tower (both by deliberate design).
The artwork has always made it look decent, but that's what 'architectural renderings' are supposed to do. It's difficult to go from that one-angle view to a gestalt of how the building works in the environment. Now, though, I agree with you. It works well, and it looks good. It was a good addition.
As you may know, the nickname for the Contemporary main tower is 'The Big Toaster'. This nickname was given to us by the cast at the Grand Floridian, who were a bit uppity when they first opened, so we started calling their hotel The Red Roof Inn. They hate their nickname, but we like ours enough that our canoe racing team last year was called 'Toaster Strudel'.
Anyway, in addition to the Big Toaster, we call the convention center the Bun Warmer and the garden wings Legoland. The jury is still out on the new tower, with Coffee Can, Crescent Roll, and DVC on Toast leading the balloting. Time will tell.
You brought up another point I'd like to address: the canoe races! Would you care to explain a little bit more about them, and where they take place?
Bruce:

The Canoe Races Of the World (CROW) are held annually in the Rivers of America during the early hours before park opening. Similar contests are held at Disneyland, and most years the winning team from one park finds the time and money to visit the other and compete there. Sadly, the two rivers, and even the two sets of canoes, are different enough that the Home Team seems always to win.
Alas, no guest participation nor observation is permitted.
Thanks for sharing with us, Bruce!
And thank you for reading - please come back each week to hear more of the magic directly 'From the Mouth of the Mouse'!
If you are (or know) a Cast Member who would like to share some of their stories and be featured here on Disney Dispatch, email me at jeff@bamferproductions.com. I'd love to hear from you!

Don't stop there! Check out more From the Mouth of the Mouse...