FROM: Because I Stinkin' Love Disney World Published Thursdays
A Bit of Disney in Your Decor
Ashley talks about how wonderful the holiday season is around Walt Disney World and how to use Disney in your home decorating for the Christmas season.
What in the world? It is the end of November already? I am back from a brief break (due to some grad work) and I am just in time to share some of my favorite Christmas decorations from Disney World! Taking a hint from the parks, today we are talking trees. If you have ever been to Disney World around Christmas then you know what I am talking about. From tin soldiers and ever green branches to sugar coated candies and twinkling lights it is a delight for your eyes! Today we are going to look at a few photos from last year's holiday season and talk about making that magic happen in your home. We'll be thinking themes and noticing and naming some commonalities. Next week I am going to try my hand at some Disney decor in my own home (on a small scale). I'll post some pictures and we'll look at how you can bring the magic alive in your own home!
Theme 1: A Twist on Mint...
The harmony that is Disney decor provides pieces that tie the whole picture together. Part of this harmony came in the form of a traditional favorite...peppermint sticks and swirls. Peeking through lush greenery, twirling along the tails of ribbons, and flanking the tin soldiers was that favorite red and white tradition! Peppermint is a smart choice for Christmas decorating because the colors are so easy to tie into. Also, peppermint gives a nod to days of childhood and provides a whimsical feel. I think finding and incorporating this into your own decor will make for a sweet holiday!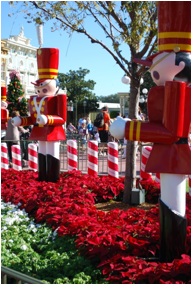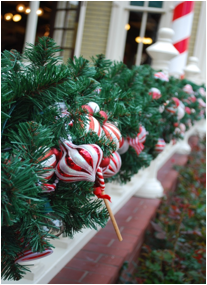 Theme 2: It's ALIVE!
Another theme I noticed last year was the use of things from nature to decorate. Now, I will say that I know most of what is hung appears to be faux fruit and greenery and that is okay. The idea here is to bring some of the outdoors in. I loved the sugared pears and pinecones decorating the street lamps and stores of Main Street USA. And you can't forget the hidden Mickey? I think this is a lovely way to incorporate seasonal plants and fruits into your home decor. Who wants to go on a nature walk?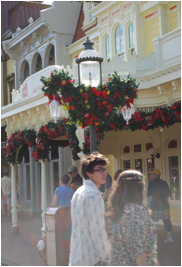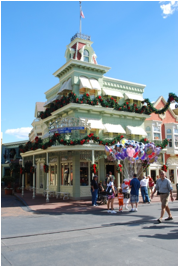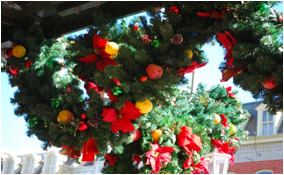 Theme 3: Find a Theme
One of my favorite parts of a Disney World Christmas was looking at the trees for each of the four parks. I love seeing the theme of the park carried out on the tree. My favorite tree was the Disney's Hollywood Studios because I just love that old Hollywood and 50s feel. The tinsel and glass ornaments gave me a few good ideas! Take a look at the trees from around Disney. Can you tell by the theme where they call home?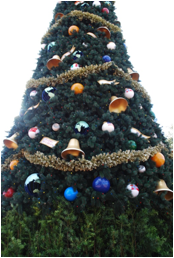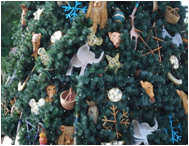 Epcot Disney's Animal Kingdom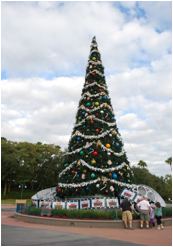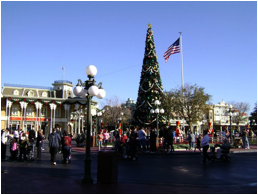 Disney's Hollywood Studios Magic Kingdom
Okay, so there's a look at how Disney World did it in the parks (well last year at least). Next time we'll see how I take these ideas and make them my own. We'll take a look at some Disney specific purchases as well as some good old fashioned Christmas decorations that put me in the mind set of Disney during the holiday season! Until then, happy decorating!
More: BECAUSE I STINKIN' LOVE DISNEY WORLD
Comments