FROM: Because I Stinkin' Love Disney World Published Thursdays
Disney Teacher Gifts
Ashley continues to be frugal AND creative with these unique and fun pointers and pencil toppers.
Move over Martha. There is a new crafter on the circuit. Today I'm getting crafty with it! Today I'll be presenting a DIY for the thrifty teacher. This DIY is so simple it only requires 3 materials and can be done without the aid of scissors, glue guns, or and embossing gun. The best part of this DIY is that includes some Disney World LOVE! This idea was shared with me by a fellow teacher when we went to Disney World for the free day of a conference we were speaking at. I took the idea and ran. Okay, okay, so what is it that we are creating? Today we'll be making an interchangable pointer (hmm, that sounds much better than it looks typed out). And Disney loving parents, this DIY makes for a great teacher gift and it provides an inexpensive way to flare up your fundamentals. Let's get crafting!

Materials needed:
-Disney Antenna Topper

- Pencil cap eraser

-3/8 inch diameter (I pretty sure this is the measurement I forgot to measure it and it is in my classroom as I am writing this...oops...Martha wouldn't do that would she?) 36 inch long wooden dowel

- Sharpened pencil

Procedures:
1. Place the pencil cap eraser on one end of the dowel. This will be the pointing end. The eraser provides a nice "point" and also provides protection from the exposed dowel end. I like to use a pencil cap eraser because I can still use this pointer on my Smartboard (if you don't know what a Smartboard is, think huge computer monitor that is used by touching the screen. You have to be gentle with the board).

2. This is the tricky part. The 3/8 inch diameter of the dowel is much larger than the tiny antenna sized hole bored into the topper. Take the antenna topper firmly in one hand and a sharpened pencil in the other hand and begin to work the point of the pencil into the antenna topper. Keep working the hole until you have a larger hole. Then begin to place the antenna topper on the uncovered dowel end until it firmly fits.
3. Change out the antenna topper as desired. I have seasonal toppers that make for a really cute change out. Just put the new topper on and put the old one away until you are ready to use it again.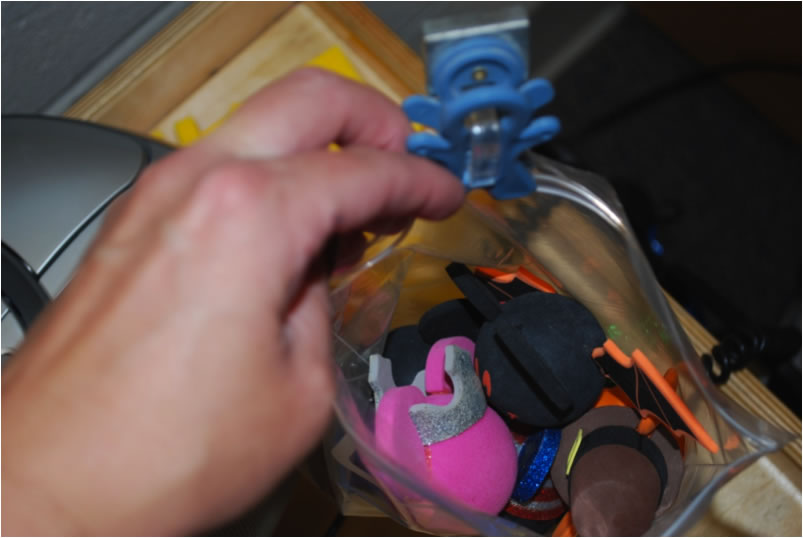 You'll be surprised at how easy and inexpensive this craft (if you can call it that) is. The children LOVE the pointer and they look forward to using it when we read together. The best thing about this pointer is that it is personalized for you! I love collecting and receiving new toppers to customize my creation! I hope you have fun creating your own!
More: BECAUSE I STINKIN' LOVE DISNEY WORLD
Comments