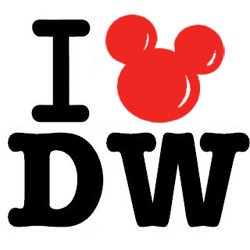 About the Column
Ashley Metz keeps a special book in her South Carolina chateau. It's called the Disney Book of Stinkin' Love. Into that book she pours her passion for the parks, her devotion to Disney World, and from that book, every week, she'll draw forth with characteristic exuberance a chapter exclusively for Disney Dispatch. Ashley welcomes questions, but no matter what you ask, the answer will always be the same, and it will always be correct: Because I Stinkin' Love Disney World!
Disney Swag: The T-Shirt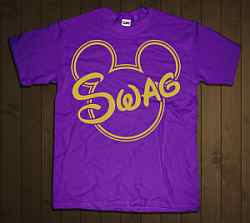 Get yours now!
Disney Swag: The T-Shirt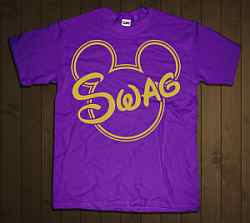 Get yours now!
Classic Disney Dispatch Content
Disney Dispatch Columns
Subscribe to Disney Dispatch Digest
And receive a daily email summary of new stuff on the site.
FROM: Because I Stinkin' Love Disney World Published Thursdays
Fairytale in the French Quarter
Ashley Metz finds her frog but not her prince
Have you ever been a part of a story? How about part of a Disney story?
The story I'm talking about has been pulled from the frames of animators, bursting with magic, and played out before your eyes - with you as the lead character!
If you were 'mousing through the web today and stumbled across this article, consider it a serendipitous event. I'm going to tell you the story of a young lady (ahem... me) who lived out a fairytale (well, sorta, anyway) at Disney World.
And the happily ever after? YOU can live out the magic and splendor of Disney, too!
So let's begin...
click an image to expand and read notes:
Port Orleans - French Quarter Entrance
Port Orleans - French Quarter Lobby
Horse Heads on Poles
French Quarter Balcony
The Frog
Ashley with the Frog
The Trailer
This week marks a time of celebration, especially in New Orleans, where Mardi Gras and Fat Tuesday are all about indulging, party life, and fun.
My real life fairytale took place at Port Orleans - French Quarter at Walt Disney World. This resort puts on Mardi Gras in a family-friendly way and sets the perfect stage for Disney magic.
It might not be an authentic Mardi Gras milieu, but it's the next best thing. Dreams really do come true - whether in Port (or New) Orleans!
And... Roll Tape!
It was a typical May. My family was in Disney World during the final days of the International Flower and Garden Festival at Epcot. Little did I know that I was in for such a treat!
The magic began as we rolled up to our resort, Port Orleans - French Quarter. I knew it was a moderately priced hotel, so you can imagine that I didn't expect to be blown away. Boy, was my moderately priced resort world rocked.
We were welcomed at the door by a greeter decked out in full Mardi Gras attire. Upon stepping inside, I felt swept into the world of Tiana's New Orleans. Everything rings true - from the masked figures and the jazz-playing gators to the Big Easy soundtrack audible inside the lobby and along the route to your stately resort manor.
It seems like Naveen and Ray might be around the corner as you pass by the elaborate iron work on each neat building. I'll admit it. This is a fun resort.
Our story now takes a turn for the magical.
Having nothing to do with location, but in the same breath only being so amazing because of the location, I returned late that night to Port Orleans.
Tired from a sun-up, sun-down day in the parks, imagine my surprise when I saw my slimy (its not slime, its mucus! Right!) little green friend perched happily on the rail in front of our hotel room.
So what did I do?
Friends, this was the opportunity of a lifetime. See, I have always, not so secretly wanted to be a princess and here was my time to shine!
Quickly, in true princess fashion, I demanded (sweetly) to have my picture taken with Naveen... I mean my prince... I mean that cutie little frog.
Now, I love nature as much as the next girl, but I was only getting so close to this hopper.
I feel as if I'm in the movie The Princess and the Frog with my prince in disguise pleased to provide me with an amazing souvenir photograph.
That's a Wrap
So the awesome news is that you can have a fairy tale experience on your next Disney resort stay.
Yay! I love a happy ending!
Don't go thinking that you'll for sure see a prince disguised as a frog or a talking crab named Sebastian. But if your mind (and heart) are open to magic, your possibilities are endless.
Looking for the small things is part of the magic. Taking in not only the sights but also the sounds, smells, tangibles, and tastes is part of noticing. Be aware of the things that are completely purposeful but often are overlooked and underappreciated. Don't pass by the street corners without looking at the names, don't miss out on getting a pair of beads from the front counter, throwing a doubloon in the fountain, eating a beignet, taking goofy pictures with the jazz-playing gators.
And by all means, go look at the toilets in the lobby (seriously, even if you don't have to go, they are neat).
If you take the time to enjoy your resort, you never know what you might find! You might just be living out a stinkin' awesome fairytale!
Extra: Prepping for the Role
I wrote a post recently on my personal blog that pairs Disney movies with resorts to help you amp up your on-site stay. Check it out!
And to put you in the mood for Port Orleans - French Quarter, AllEars has a video tour:
More: BECAUSE I STINKIN' LOVE DISNEY WORLD