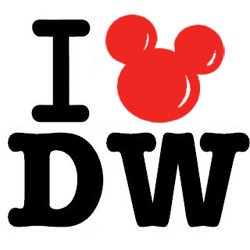 Because I Stinkin' Love Disney World
About the Column
Ashley Metz keeps a special book in her South Carolina chateau. It's called the Disney Book of Stinkin' Love. Into that book she pours her passion for the parks, her devotion to Disney World, and from that book, every week, she'll draw forth with characteristic exuberance a chapter exclusively for Disney Dispatch. Ashley welcomes questions, but no matter what you ask, the answer will always be the same, and it will always be correct: Because I Stinkin' Love Disney World!
Learn about the author, too!
Disney Swag: The T-Shirt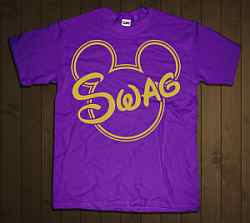 Get yours now!
Disney Swag: The T-Shirt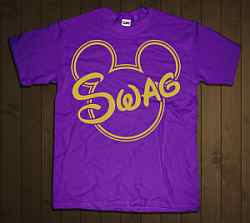 Get yours now!
Classic Disney Dispatch Content
Disney Dispatch Columns
Subscribe to Disney Dispatch Digest
And receive a daily email summary of new stuff on the site.
A Disney Goodnight Kiss
Ashley Metz reveals her magical goodnight kiss
All this month, Ashley Metz has been sending us 'love letters' from Disney World. But now Feburary nears its end. Is Ashley's love affair with Disney World nearing its end, too? Don't bet on it. For now, though, enjoy this magical goodnight kiss...
February is coming to a close. I hate that. January always seems to take FOR-E-VER to mosey its way off-calendar. I love giving January the boot and ushering in one of my favorite months, February, and it is with a sad heart that I prepare to leave it behind.
I know that the next few months will bring have their own fun and excitement, but I like this little month.
So, for my last 'love letter' from Disney World, I think we'll share a goodnight kiss. Get ready for a smooch from the mouse. No key fumbling, no awkward side hug, no cheek graze. This kiss goodnight will leave you wanting more...
The Gaze
I first read about the goodnight kiss on some Disney fan blogs while doing research for a vacation. I kept reading about a 'kiss goodnight' that followed Wishes Nighttime Spectacular and I wanted to know more. I learned that the kiss goodnight takes place a few minutes after Wishes, but there's never a definite time for when it happens.
Flash foward...
I'm watching Wishes at the Magic Kingdom. I still don't know exactly when the kiss happens. After waiting for about 10 minutes, I become concerned.
If you've been to the Magic Kingdom, you can picture the empty streets after the
crowd exodus following Wishes. Thinking that maybe I was being punked by this goodnight kiss business, I ask a Cast Member about it.
"Do you know when they do the 'kiss goodnight' ceremony?"
Clearly confused, she mumbles what sounds like "shut your filthy mouth" and then says: "What? I don't think they do that."
I walk toward the castle, baffled.
The Tilt
I had read about the kiss goodnight all over the internet. I NEEDED to see that thing. I am a Disney freak. Fellow Disney freaks would not lie about something like a kiss, right?
I regain control of my panicky self and realize that the stores are open for about an hour after the attractions close. I wasn't going to get locked in the Magic Kingdom.
Come to think of it, though, getting locked in the Magic Kingdom would be a lot of fun - especially if I were able to operate the rides and find an ice cream cart...
The Brush
Back to the kiss...
In my imagination, I picture Cinderella and Prince Charming on the stage in front of the Castle literally (and romantically - sigh) kissing goodnight before walking back inside.
A Dream Is a Wish is playing in the background and the Fairy Godmother would Bibbidi-Bobbidi-Boo away the night as sparkler-style fireworks twinkle around the base of the Castle. All would be good in the 'World' and guests would walk arm-in-arm down Main Street to the park exit.
So I was a little wrong. But my wrong was a pleasant surprise.
Now, I don't think the kiss goodnight is an Earth-shattering show. Basically, it's how Disney does closing time, and of course a 'kiss goodnight' sounds so much better than "oh, boy! you don't have to go home, but you can't stay here... huh ha!"
The simplicity of the quick presentation was something pure and perfect and just right.
So what's it all about?
The Kiss
The kiss goodnight centers around Cinderella Castle (chalk one up for me and my CIA-style Google searches!), but includes only audio narration and music, along with some simple lighting effects. It's supposed to give you the warm fuzzies and seal in the Disney magic.
I wish I had known about Steve Soares' site, World Disney World Entertainment, before my last trip because it includes a schedule for each night's kiss. Apparently, the kiss happens every 15 minutes or so to shoo the more stubborn park-goers.
I recommend the kiss goodnight on the final day of your trip. It's sort of bittersweet - but in a good way. Warning! It will make you wanna come back. Like, real soon. Seriously.
Doubt me? Check it out:
(Courtesy of DisneyAndy)
The Sigh
I love Walt Disney. I love what he stood for. I love his vision. He was amazing.
The kiss goodnight combines my love of Disney World and my appreciation for Walt Disney in a beautiful farewell.
But you know what I like the very most about this kiss? It keeps me from waiting in long lines for a bus. I don't stinkin' love waiting for the buses - especially when you wait for 45 minutes to an hour to be packed in like sweaty sardines. Not cool.
Staying for the kiss adds magic to your day, allows the bus frenzy to subside, and offers opportunities for crowd-free shopping.
That sounds to me like a pretty amazing kiss goodnight!
In the words of the Mouse: So long February, we'll see ya' again real soon!

For more, visit the COLUMN HOMEPAGE