Featuring 'a' pirata y 'a' perico
Disney Swag: The T-Shirt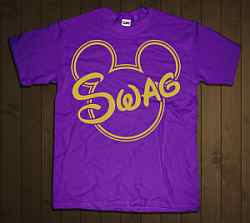 Get yours now!
Disney Swag: The T-Shirt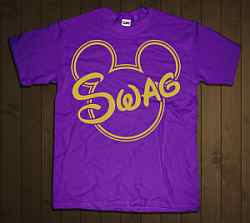 Get yours now!
Classic Disney Dispatch Content
Disney Dispatch Columns
More Disney Dispatch Tidings
Subscribe to Disney Dispatch Digest
And receive a daily email summary of new stuff on the site.
Tortuga Tavern Tells No Tales
Disney World opens 'new' restaurant in Adventureland
Disney World long-timers (the politically correct way to say 'old-timers') will remember the 'now it's open, now it's not' schizophrenia of El Pirata y el Perico, the quick-service restaurant in Adventureland that served perfectly functional Mexican chow.
I have fond memories of its empanadas.
Now, I have fond memories of the restaurant itself - because it's gone.
Disney has refurbed El Pirata y el Perico into Tortuga Tavern. The new restaurant serves the same food, seasonally, but does so in much nicer surroundings.
The Dining
Looking for Caribbean food? Nope. It's still Mexican. Close enough, I guess.
The current menu features three kinds of burritos (chicken, beef, and vegetable), a taco salad, and nachos. Kids can order a quesadilla or a peanut butter and jelly sandwich.
For dessert, you have your choice of triple chocolate cake or, well, that's it. Skip it. You'll find a much better dessert - the Dole Whip - just around the corner at Aloha Isle.
Tortuga Taverns accepts the Disney Dining Plan.
The Decor
The big changes weren't to the food but to the facade.
The new facade is, well, entirely new! The building has been given a fresh color scheme, with new flags above the entrance, new props on the upstairs balconies (including a few broken chairs leaning against the railings - nice touch!), and lots of other props scattered around to reinforce the restaurant's new pirate theme.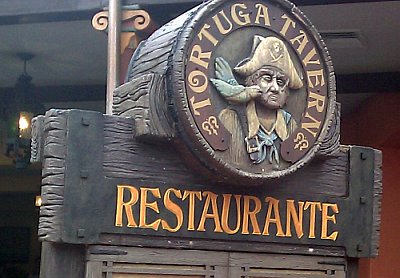 You'll even find rum barrels in a cart outside! Empty, of course, since this is the Magic Kingdom.
Inside, Tortuga Tavern is divided into two dining rooms - north and south - each with new props and decorations, and a pleasant tri-color paint scheme of beige, turquoise, and clay red. Look carefully and you'll see a book in the south dining room with the names of the Black Pearl crew.
The inner courtyard has also been spruced with some new lights and a few bullet holes in the wall. The bullet holes would explain why the rum barrels out front are empty: rum, pirates, and guns do not mix.
Meet Me in Tortuga?
Disney is still putting the final touches on Tortuga Tavern. You can eat there now, but prepare for on-going refurbs and the presence of busy but happy(!) Disney workers.
I expect the food will be equivalent in quality to that available at Disney's other quick-service restaurants. The appeal of Tortuga Tavern is its promixity to popular Adventureland attractions and its spacious dining area, one of the more pleasant places to grab a fast bite in the Magic Kingdom.
And I have to hand it to Disney: those guys respect their past. If you look at the signage for Tortuga Tavern, you'll see two things: a pirata y a perico (parakeet).
Something for the trivia mavens...
My sources for this article were Passport2Dreams (for the facts) and Jason Diffendal of WDW News Today (for the picture - actually, I cropped a section from Jason's picture, so you now have a reason to visit his site and see the Tortuga Tavern signage in its entirety).

Don't stop there! More Tidings Await...