What have I done that's so wrong?
Disney Swag: The T-Shirt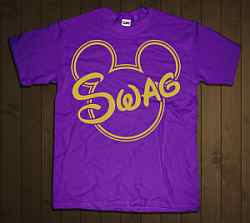 Get yours now!
Disney Swag: The T-Shirt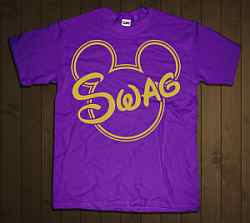 Get yours now!
Classic Disney Dispatch Content
Disney Dispatch Columns
More Disney Dispatch Tidings
Subscribe to Disney Dispatch Digest
And receive a daily email summary of new stuff on the site.
Princess, Where Art Thou?
Princesses polish up resumes as Disney pants over Potter
My millions of readers probably remember The Once and Future Princess, my take on Disney's decision not to put princesses in future films after the huge success of 'Tangled'.
I thought the decision short-sighted, but I can live without princess films, especially now that my daughter is teetering perilously close to the onset of her teen years.
But in Disney World, I like to see princesses. The initial design for the Fantasyland expansion was to make it princess paradise: a fairy tale haven for girls. As for boys ... eh.
At last night's media event, however, Disney plunged a royal dagger into the back of its princesses once again by downgrading their presence in the new Fantasyland and adding attractions like the Seven Dwarfs Mine Train coaster that have greater appeal for boys.
Disney's oscillation is odd.
It realized its mistake of over-populating Fantasyland with princesses, but its solution seems is a purge of princesses from its films and a relegation of their presence in its parks.
As far as the parks, I think they've struck a good balance.
But what's disturbing is the sense that Disney isn't innovating as much as it is reacting to the ridiculously popular Wizarding World of Harry Potter at Universal.
Disney has Potter envy. They may have scoffed when Universal announced its deal with the Potter people, but now they're desperately trying to lure that prized demographic - young male adults - back to the Disney brand.
Young male adults don't really like Disney princesses. Unless Disney debuts Princess Punkerella, complete with tattoos, piercings, and fishnet, that's not going to change.
I'm not sure the Seven Dwarfs Mine Train is going to do the trick, either.
What would do the trick is Marvel characters, but Universal seems to have a lock on them (despite Disney owning the company) and quite honestly, Marvel characters don't belong in the Magic Kingdom. In their own park, sure: a fifth theme park with nothing but Marvel superheroes and supervillains.
Don't hold your breath.
For now, Disney has to stop reacting to what Universal does, stop changing its plans mid-stream, and start having faith once more in the 'universal' appeal of its own characters, attractions, and culture.
Want to reduce the role of princesses? Go for it.
But have something fantastic to take their place.

Don't stop there! More Tidings Await...