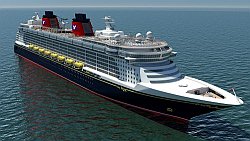 The Disney Dream Sets Sail
Disney Swag: The T-Shirt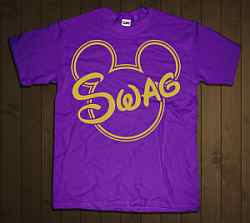 Get yours now!
Disney Swag: The T-Shirt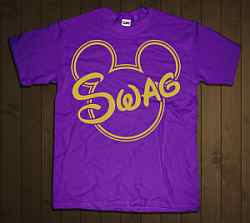 Get yours now!
Classic Disney Dispatch Content
Disney Dispatch Columns
More Disney Dispatch Features
Subscribe to Disney Dispatch Digest
And receive a daily email summary of new stuff on the site.
Disney Launches Yet Another Dream
Jeff Heimbuch Takes a Preview Cruise on the Disney Dream
Disney Dispatch columnist Jeff Heimbuch returned last week from a special 'preview cruise' aboard the Disney Dream. While there, he took hundreds of photos and wrote pages of notes. From that: his cruise report! (Which, if I might add, is the flagship of Disney Dream cruise reports, so far.)
Between the Disney Dream's christening cruise, preview cruises, and its maiden voyage, I'm sure every Disney blog out there is going to be bombarded with a LOT of Disney Dream reviews and trip reports. As a matter of fact, this even started out as a trip report. But by the time I got to page 3 and realized that I hadn't even completed the first day, I knew something had to change.
So, rather than bore you with the minute details of my entire trip, I'm going to take a page out of another article that Bob posted and break it down into two categories: what works (SWIM) and what doesn't (SINK).
First of all, I was lucky enough to attend this preview cruise because of my mom, so I must thank her. She's a travel agent who attends Disney's annual EarMarked Convention, and lucky for me, this year it held on the Dream. Even better, she was able to bring others! My girlfriend and I tagged along with my parents to check the boat out for ourselves. This was my first cruise ever, and it was definitely an experience for me.
Like everyone who took one of the preview cruises, we were (in a way) guinea pigs for the maiden voyage. The preview cruises were Disney's opportunity to work out all the kinks and get everything ship-shape before rolling down the gangplank for the paying customers.
After spending a single day at Disney (which, as I'm sure you know, is never enough!), we embarked on a three-night cruise aboard the Disney Dream.
Let me tell you what swims... and what sinks!
SWIM: The Ship
Believe me when I tell you that the ship is absolutely breath-taking. Granted, I have never been on a cruise before, so it may be hard for me to compare, but I was amazed. Everything was exactly what you would expect from Disney, and more. They truly spent the time designing a beautiful ship, and it shows. They out-did themselves.
SWIM: The Atrium
Of everything on the ship, nothing beats the Atrium. It's the first thing you see the second you come aboard, and it's an incredible site to behold. It's almost as if you're walking into your own Disney movie. From the grand staircase, to the glass elevators, to the beautifully designed chandelier, this central room is the crown jewel of the ship.
As much as I tried to capture it with photos, none of my pictures did it justice. It's something you truly need to see for yourself to understand. Watch for yourself!
SWIM: Character Interaction
When you're in the parks, seeing the characters and getting your picture taken with them seems like a rushed chore. Not on the Dream.
The characters, and their handlers, went of their way to make each and every person feel special. Sure, there may be a line to see them, just like there is in the parks, but for some reason, these ship-board meet 'n greets seem way more friendly, open, and personal than the ones in the parks.
Everyone, especially the princesses, took their time talking to you and making you feel comfortable. While there are specific times to see certain characters, don't be surprised to see them wandering around the ship, too. It brought me back to when when the characters in the park used to interact with guests in the same way.
It was truly special and flowed quite naturally - the parks can definitely learn a thing or two from the Dream!
click an image to expand:
The Boat
Atrium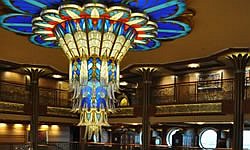 Chandelier in the Atrium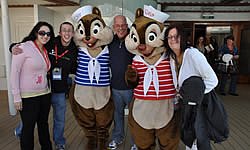 Chip, Dale, and Family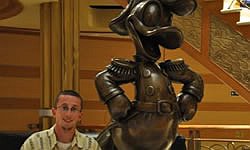 Me and Donald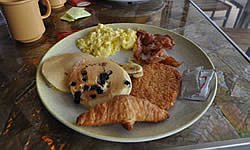 Breakfast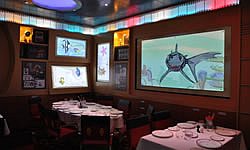 Animators Palate
Enchanted Garden
Deck 11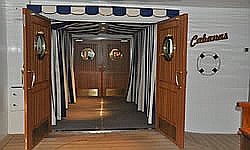 Cabanas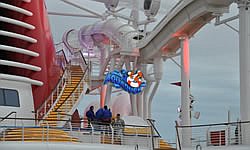 Aqua Duck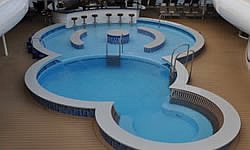 Quiet Cove Pool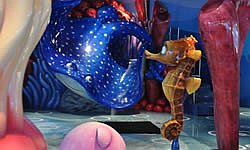 Nemo's Play Area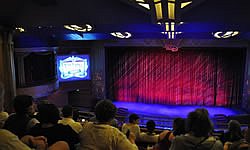 Walt Disney Theatre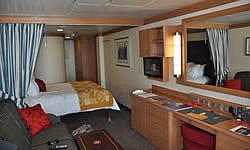 Our Room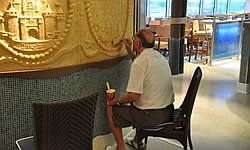 Maintainence Repainting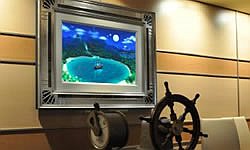 Interactive Art
Oceaneer Club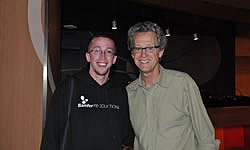 Me and Ridley Pearson
Buena Vista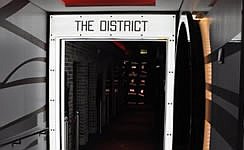 The District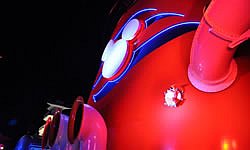 Part of the Ship's Engine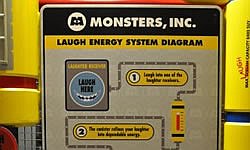 How the Ship Is Really Powered
SWIM: Food
The food was amazing. Every dinner, as expected, was delicious. It's a little more then standard Disney fare, so it was a pleasant surprise that each meal was so good. Even the buffet breakfasts and quick service lunches were above and beyond the usual. I don't think I ever ate so much and so well in my life!
SINK: Food Service
It really hurts me to 'sink' Disney Dream food service, but it baffled me why dinner every night took nearly three hours to serve. Maybe the wait staff hadn't yet been trained properly or hadn't yet fully grasped the Disney 'way' of doing things. It took them far longer then it should have to serve drinks and appetizers, even refilling our glasses was an issue.
The servers were incredibly nice and very sweet, but ours seemed not to have a clue about how to do their job. To make things worse, our 'head server' also seemed to lack a clue, and his actions seemed to unnerve the servers which further degraded their performance.
Many times we had to leave dinner early or miss dessert entirely just so we could see the fireworks or a show. Other people seated after we arrived often finished well before us. It was unacceptable and disappointing, especially since (as is traditional on cruise ships) we had the same servers every night. You would think, after awhile, they'd get better - but they didn't, even though the ship wasn't at full capacity (which is 4000 people!) and they didn't have that many tables to handle.
I really hope they get this problem fixed in time for the inaugural cruise.
SWIM: Animator's Palate
I'm sure you've heard much about Animator's Palate, and it's true. What fun to see a restaurant 'come alive' around you and turn more 'colorful' as your meal progresses! The entertainment includes table-side interaction with Crush. Definitely one of the better designed restaurants.
SINK & SWIM: Royal Palace & Enchanted Garden
While the food here was excellent, there really wasn't much else to it. Both of these restaurants were built in such a way that only a small number of patrons can enjoy their full benefit. Unless you're sitting in the center, your experience won't be much different than what you'd get at a standard restaurant.
I will give the Enchanted Garden points for their beautiful Mickey fountain. According to one server, it's the only place in any Disney owned park or ship where Mickey can be seen wearing a skirt!
SWIM: Cabanas & Flo's 8 Cafe
These two quick service restaurants were superb. Flo's is located on Deck 11, right by the pool, and service was super fast. Quick lunch before another go on the AquaDuck? This is the place to go. Excellent food!
We ate breakfast every morning at Cabanas, and on top of the food being excellent, so was the atmosphere. There were two huge Finding Nemo Murals that must have taken forever for the designers to build! In addition, sand sculptures of all the Disney castles adorned the walls, along with clocks that tell the time in every Disney Park around the world.
SINK & SWIM: AquaDuck Water Coaster
Don't get me wrong. I loved the AquaDuck. As a matter of fact, as we were sailing away from Port Canaveral, I didn't care how cold it was, I put on a bathing suit and hopped on!
It's definitely cool to look down from AquaDuck as you propelled over the side of the ship, and the water pushing you up the hills was neat, too. I loved waving to everyone as I sailed around the deck of the ship. I was even surprised that my girlfriend, who hates ANYTHING with the word 'coaster' in it, loved AquaDuck and kept asking to go on again and again!
However, for everything that Disney claimed it to be, it was not. Sure, it was fun, but it was nothing more then a glorified water slide. It didn't go nearly as 'fast' as they claimed, and it wasn't exactly a thrill ride. But for what it was, it's tons of fun. Kids will love it, and will want to go on it over and over again.
Tip: if you want to ride when the line is short, go on the day you visit Nassau. Most people are off the boat, and the lines are significantly shorter!
SWIM: Funnel Vision
How awesome is it to have a gigantic TV screen over the pool? Seriously, what kid wouldn't want that?! Funnel Vision played Disney films as entertainment during the day, then at night it was used for outdoor shows. Very, very cool.
SINK: Quiet Cove Pool
This 'adults only' area was nice, don't get me wrong, but it wasn't as quiet as Disney probably would have liked. The noise from the nearly Funnel Vision and the kids playing nearby made the 'Quiet Cove' kind of noisy. But it was nice to have a little break from the hectic kids' pools every so often.
SWIM: Nemo's Reef Pool Area
Have a younger child who doesn't want to play with the big kids in the pool? No problem! Nemo's Reef, an outdoor play area for smaller children, looked like a blast! Little kids could play on smaller water slides and in play areas themed around Finding Nemo. I wish I could have played in there!
SINK & SWIM: Stage Shows
This one was a mixed bag for me. While I enjoyed all three shows in the beautifully designed Walt Disney Theater, in the end I couldn't help but find them a bit... lacking.
Yes, they were lavish Broadway-style productions that entertained me, but I felt most of them were an excuse to sing the songs that everyone knows and loves. Sometimes, it didn't even make sense as to WHY they were singing them - maybe because they just could.
The new show, 'Believe', was fun, and there were some cool effects built into the new theater to enhance the show, but it still wasn't what I was expecting. And I know it's on other ships, but I have to say: 'Villains Tonight!' was fantastic. Hands down, my favorite show on the Dream. The guy who played Hades also played the Genie in 'Believe', and he was hilarious in both roles.
Somebody get THAT guy a Golden Mickey. He deserves it!
SWIM: The Room
We had a Deluxe Family Oceanview Stateroom with verandah on Deck 10. While it was a little small, it did fit our family of four quite well. I was a little concerned at first when I only saw the queen-sized bed, though! However, when you're at dinner, turndown service comes and converts the sofa into another bed. There is also a 'bunk' bed, hidden in the ceiling, that they ready for you as well. Very cool! The room can be divided by a curtain to allow privacy between the queen bed and the two other beds.
The design of the bathroom was very unique. One room had the toilet and a sink, and the other had the shower. I came to understand that's how it is on the other Disney cruise ships, as well. This is definitely a great idea for families, especially when you're all trying to get ready in the morning.
Since we were traveling with a large group of people, we were able to open our verandah to our friends in the room next to ours, which made it even nicer. It was fantastic to just sit out there and watch the ocean go by.
SINK: Outlet Placement
The ONLY outlets in the entire room were in the 'living area'. That's fine - except when there are people sleeping in the bunk bed. Before my mom went to her early EarMarked classes, she had to blow dry her hair in front of the mirror. It woke us up every time! I'd have preferred a few extra outlets, especially in the bathroom. Also, since we all had cell phones, we couldn't charge more than two at once. A little annoying!
SWIM: Cast Members
I can't begin to tell you how many Cast Members stop and say hello to you as you walk by. Sure, they do it in the parks, but on the cruise, it seems like they MEAN it. Everyone asks about your day, what you did, how much fun you're having - and always with a smile! They were interested and happy to lend a helping hand. They excelled.
A story: My girlfriend and I are HUGE Vinylmation fanatics. We love them. I brought a bunch with me to trade while we were at the Park, but our main goal was to find a Buzz Lightyear Vinyl for her son.
(In Vinylmation trading, there's an open box of 3 Vinyls you can see, and a gigantic box of 24 you can't. You can either trade for one of the ones you can see, or take your chances and pick one in the blind box.)
Unfortunately, while we found some other cool ones, we had no luck finding Buzz. On the very last night of the cruise, we asked a Cast Member if she could help us find him. She went out of her way to go into the back room, find one, and trade it with us. She may have broken a rule, but she went above and beyond to make our trip just a little more special. So for that, I thank her!
SWIM: Maintenance
Disney Parks have the luxury of closing at night to make repairs. A cruise ship does not. The maintenance guys were out ALL the time making things better, repainting, retouching, and redoing EVERYTHING to make it look brand new again. They did a lot of hard work, and you have to give them credit.
Take this guy, for example. I'm sure people touch those things all day long, so he was putting sand back on the wall sculptures, a little bit at a time. Quite a daunting task, and one he was doing quite happily. Kudos to them.
SWIM: Animated Artwork
This was another pleasant surprise. What I thought would be a lame enhancement turned out to be a fantastic addition. Certain pieces of art, all around the ship, come 'alive' right before your eyes if you stand in front of them. Scenes from movies play out, Walt's drawings animate, and in my personal favorite, pirates in one painting battle with a Spanish fort - in the adjacent painting! Truly amazing stuff!
To make it even cooler, kids could partake in a detective game with these paintings. They'd sign up at Mickey's Detective Agency on Deck 5, get a unique card, and use it to help them solve a mystery on the ship by visiting certain paintings. One especially cool painting has a ship's wheel in front of it that allows you to control the ship in the painting. Great little addition!
Watch both Pirates vs Castillo Del Morro and the Animated Map.
SINK & SWIM: Mickey's Pirate Party
The stage show itself was lots of fun. They closethe pools to make room for everyone to see the show. Mickey & Friends teach you how to become a pirate, and then need your help defeating Captain Hook as he tries to take over the ship. Later, Jack Sparrow makes a spectacular entrance to fight some pirates. Very fun, very typical Disney.
The fireworks, however, were extremely lacking. They seemed like an afterthought, and it definitely didn't live up to Disney standards. I know we can't have a 'Wishes' caliber spectacle at sea, but the fireworks weren't even worth it, in my opinion.
SWIM: Oceaneer's Club & Lab
Oh, how I wish I were a kid again. While my girlfriend was getting a massage at the spa, I checked out the kids' play areas, and didn't want to leave.
A Cast Member was nice enough to take me inside and show me all of the neat activities available for kids at the Oceaneer's Club & Lab. Andy's Room, Pixie Hollow, Nemo's Sub, and the Monster's Inc Laugh Factory were all designed with kids in mind, and it shows. I wanted to play in there all day! The Lab, aimed for kids a little older, boasted video games, a giant interactive floor, and a great view of the ship. They even held science experiments throughout the day.
If you bring your child with you on the Dream, they won't ever want to leave this area!
SWIM: Ridley Pearson
I know, I know, he won't be on EVERY cruise, but it was a definite win for me. For those of you who don't know, Ridley Pearson writes the incredibly popular 'Kingdom Keepers' books (which, in my opinion, should be as popular as his Peter & The Starcatchers books). Pearson was on board for a THIRD time in a row researching the fifth Kingdom Keepers book. He gave a fantastic Q&A, and then signed books. He signed my entire Peter collection (all 7 books!), and was incredibly funny and nice. If you haven't read his books, do so. They are fantastic.
(By the way, this March you can catch Pearson's limited-run play Peter & The Starcatchers in New York City.)
SWIM: Buena Vista Theater
First-run Disney movies on the ship? AND in 3D? Sold! And the Buena Vista Theater is gorgeous, to boot!
SINK & SWIM: The District
The District, an area of the ship themed as a night club, had its ups and downs. While all of the bars and clubs were amazingly designed, they were nothing special. Evolution was fun at night, though, and many good times were had. Extra points goes to Skyline: its background changes every 15 minutes. That was pretty neat. But it was a little small, and I felt a bit cramped as the night went on.
Another tip: be careful where you sit! I'm pretty sure Skyline is located right above of the engine room, and you can really feel it if you sit in wrong place!
SWIM - Castaway Cay
Again, this was my first cruise, and so it was also my first visit to Castaway Cay, Disney's own little private island. We took a very enjoyable bike ride, and got to see some sights that I'm sure most people don't even bother going to see. It was a bit windy that day, so we didn't spend too much time on the beach, but overall, it was fun to finally visit Castaway Cay. It was beautiful.
SINK: Getting Off The Boat
This is a sink for one reason and one reason only: it meant the vacation was over!
Back on Dry Land
Overall, my cruise on the Disney Dream was fantastic. It may have been a little rough around a few edges, but it was definitely worth it. I would love to come back in a few months and see how everything is doing once they get into the swing of things. We were on the boat for about 4 days and it feels as if we barely scratched the surface. I can't wait to see the rest.
Would I recommend it? Most definitely. I had a blast, and I know everyone else did, too!
(Good thing they didn't tell us untl the end how the ship is really powered.)
The photos in this article are a very small sampling of the over 1000 photos I took during the cruise. If you'd like to view more of them, please visit my gallery.
Or, if you want to see a more manageable number, I uploaded about 400 of the best ones to my Facebook page. While you're there, make sure you say hi!
Feel free to follow me on Twitter at for updates!

Don't stop there! More Features Await...