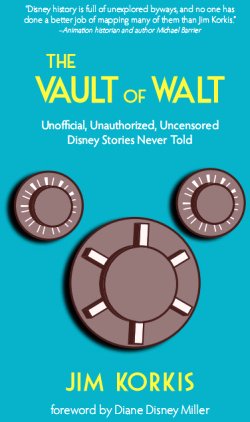 Jim Korkis knows the combination by heart
Disney Swag: The T-Shirt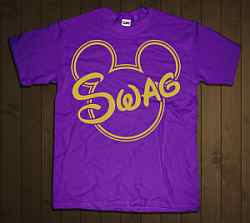 Get yours now!
Disney Swag: The T-Shirt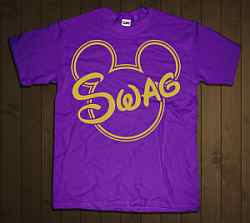 Get yours now!
Classic Disney Dispatch Content
Disney Dispatch Columns
More Disney Dispatch Features
Subscribe to Disney Dispatch Digest
And receive a daily email summary of new stuff on the site.
Book Review: The Vault of Walt
Jim Korkis takes you into the Vault - but will he let you out?
If you have a question about Disney history or park lore, who you gonna call?
Jim Korkis!
From his early years as a teenager in Glendale, California, interviewing Disney Imagineers through his various stints working for the company and now in his, well, mature years, Mr. Korkis has become the organic oracle of Disney's past, much of its present, and probably a bit of its future, too.
His talents are showcased in his new book, The Vault of Walt.
It's Full of ... Stories!
In his Introduction, Korkis describes the book as a 'Disney History companion' and himself as the author of 'forgotten but fascinating Disney stories' set in 'the time when Walt Disney was alive'. Sums it up nicely.
At over 400 pages, this is not one of those gimmicky 'trivia' books. It has no pictures, minimal formatting, nothing to distract your attention from the pages and pages of fascinating tales that Korkis weaves in his clear, friendly style.
Korkis organized the book into four parts: The Walt Stories, Disney Film Stories, Disney Park Stories, and The Other Worlds of Disney Stories. Note the repetition of the word 'stories'. Korkis does indeed write stories, not dry historical narratives or punchy superficialities. Each part of his book contains about ten of his impeccably researched stories, laden with anecdotes.
A strength of the book is that you don't have to read it cover-to-cover. Skim the contents and then turn to whatever story interests you most. Each story is self-contained: read them in order, read them at random, it doesn't matter.
The Story of Tom Sawyer Island
My first dip in the pool took me to 'Tom Sawyer Island' in Disney Park Stories.
The 'Tom Sawyer Island' in question was the one built during Walt's lifetime in Disneyland. In fact, not only was it built during Walt's lifetime, but it was Walt himself who 'single handedly designed' the attraction. Korkis picks up the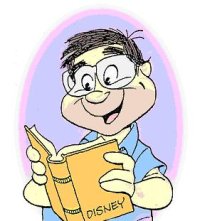 tale in 1953 and continues with it through the present, enlivening his facts with direct, often humorous quotes from Disney executives, Imagineers, and of course, Walt himself.
For example, Korkis relates an amusing anecdote of Walt fishing with some kids on Huckleberry Finn's Fishing Pier. Annoyed that he hadn't gotten so much as a nibble despite there being over 15,000 fish swimming beneath him, Walt turned to an attendant and complained that there were 'no fish in the river'. The attendant respectfully disagreed and suggested that the fish couldn't see Walt's bait because the water was so muddy. Walt, naturally, had the last word, explaining that he had "fished the Missouri River and it was a lot muddier than this, but the fish sure saw the bait". Whether Walt eventually caught a fish that day is lost to history.
What Might Have Been Better
Quibbles? A few. I wish the publisher had included a sensible header instead of repeating 'Jim Korkis - The Vault of Walt' on every page. I know what book I'm reading. It would have been much easier to find the stories in the book if their titles had been incorporated into the header. Can't blame Korkis for that.
Another quibble, more under Korkis' control, is the lack of a bibliography. I know Korkis has a huge Disney library. I'm sure he referenced many of his books in writing The Vault of Walt. I would have liked to follow in his footsteps. Even a select bibliography would have been preferable to none at all. The lack of an index is also unfortunate.
But those are quibbles. I included them mostly to show I'm a very tough reviewer.
Bob's Bottom Line
Reading The Vault of Walt revealed a lot of Disney lore that I didn't know, and I guarantee it will do the same for you. When it comes to Disney, few know more than Jim Korkis, and even fewer have more skill and style in writing about it.
But if you don't believe me, maybe you'll take the word of Walt's eldest daughter, Diane Disney Miller, who in writing the book's Foreward praised Korkis' stories as having captured her father's "personality, character, and values". High praise, indeed.
(By the way, Diane Disney Miller isn't Korkis' only connection to the 'family'. Make sure you read the short 'About the Author' section at the end of the book for a cool bit of trivia: Jim's third-grade teacher was the wife of one of Walt Disney's brothers. What he did when he learned her identity is a treat you can discover for yourself.)
If you want to learn more about Jim Korkis before you buy his book, check out the lengthy interview I conducted with him in December 2010.

Don't stop there! More Features Await...