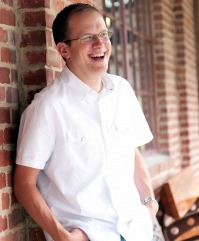 Danny Franks Finds It Funny
About the Author
Danny Franks is a Campus Pastor and Connections Pastor at Summit Church in Durham, North Carolina. He speaks, writes, and trains on First Impressions in churches and in other organizations. He also makes a life as the husband of an out-of-his-league hottie, the dad of three cool kids, and the owner of one slightly psychotic dog.
Danny brought these lessons back with him from a recent trip to Disney World. He then presented them in a six-part series on his blog, Connective Tissue. The article here is a re-package of that series sans the stuff not likely to interest the average Disney fan. If you'd like to read the series in its original form, you can find it on Danny's blog, starting with Part 1.
Disney Swag: The T-Shirt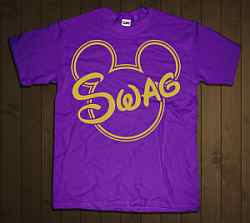 Get yours now!
Disney Swag: The T-Shirt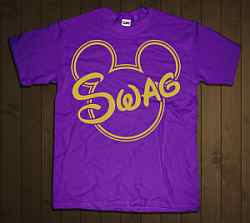 Get yours now!
Classic Disney Dispatch Content
Disney Dispatch Columns
More Disney Dispatch Features
Subscribe to Disney Dispatch Digest
And receive a daily email summary of new stuff on the site.
What the Church Can Learn from Disney
A pastor finds divine inspiration during a trip to Disney World
I'm betting that not many Disney Dispatch readers have their own churches. So it might seem odd that I'm publishing a long article by Danny Franks about what the church can learn from Disney.
I have my reasons.
First, the lessons taught by Disney (and relayed by Danny) have value not just for a church but for most organizations, and second, Danny Franks is a darn fine writer. You're going to enjoy his article.
Well, folks, I just returned from the Happiest Place on Earth: Walt Disney World, home of Orlando, Florida. Or something like that.
I've long said that as the First Impressions Guy at the Summit Church in Raleigh-Durham, North Carolina, I should be able to take one Disney trip per year, courtesy of my business expense, because nobody does first impressions the way Walt does them.
(I'm kidding, of course. No tithes or offerings were harmed in the taking of this trip.)
I gleaned some great insight into why we do what we do. Disney dispenses fun. Our 'product' is a bit different. Disney's bottom line is profit. Our bottom line isn't. Disney has ice cream shaped like mice. We have communion wafers shaped like Chiclets (but not as tasty).
So let's tackle some key principles and practical items that the church can learn from the Mouse. Along the way, we'll explore the difference between entertainment and engagement. It's gonna be a fun ride.
Anticipation
Walt Disney envisioned that his theme parks would represent a grander 'show', a living movie, if you can imagine that. As such, you are not just walking into a park, you're entering into a grand show that has fun as its theme. If you've been to Disney, you've experienced this, though you may not have realized it. Walt once said, "I don't want the public to see the world they live in while they're in the park. I want them to feel they're in another world."
When you cross out of the turnstiles and take one of the tunnels under the train depot, you're hitting the 'coming attractions' (note the movie-styled posters on the tunnel walls, highlighting park rides). As you enter the park, you smell popcorn. Those popcorn stands? They're located there more for the smell than the sales.
Once you're inside the park, you walk down Main Street U.S.A. Actually, you walk up Main Street U.S.A. The park was designed so that you'd walk at a slight elevation as you approach Cinderella Castle. The lay of the land gives you the 'wow' moment of anticipation as you exit the tunnels and see the massive castle in the distance. (Disney Imagineers employed a purposeful architectural technique known as 'forced perspective' in building the castle. It appears farther away from the other end of Main Street U.S.A. than it actually is, and it appears to be a much larger structure than it actually is.)
As you travel from the hub of the park (the Castle) to each land (Adventureland, Tomorrowland, I Ate Too Much Cotton Candy and I'm Going to Hurl Land), you're entering into different scenes of the movie. The setting helps you transition. The foliage, the music, the architecture ... even the texture of the pavement changes to signal that you're about to do something different.
So what can the church learn from Disney? Simply this: build anticipation.
We build anticipation when we create a buzz about the experience. We build anticipation when we are able to deliver what we've promised. We build anticipation when we present a clean campus and exterior music and friendly people and clear signage and an informative website. All of those things combine to build the anticipation for our guests. They give them subtle clues as to what lies ahead. They take outsiders and make them insiders.
Experience
For the rest of our lives, when we look back on Disney 2010, we'll remember Rafael.
Rafael is a waiter at the Whispering Canyon Cafe, a themed restaurant at Disney's Wilderness Lodge. We made lunch reservations there because we'd heard that the wait staff is legendary for having fun with their guests. If you ask for a bottle of ketchup, you get ketchup from every table in the restaurant. If you're caught stealing your kids' fries, the waitress will stand on a chair and yell at you to order your own dang fries.
When we checked in, I whispered to the three ladies at the hostess stand that I had some kids who needed to be royally embarrassed, and I needed their best person on the job. They all grinned, looked at each other, and said in unison, "Rafael".
Shortly after we were seated, a massive Puerto Rican came out of the kitchen and began to harass my kids. Throughout the lunch, he made them bus tables, hand out cell phone numbers to teenage girls in the restaurant, stand in the corner, and spend some time in the Whispering Canyon Jail. My wife Merriem wasn't exempt, either. She ended up with a head full of drinking straw hair weaves, courtesy of Rafael.
Rafael swiped our camera and took pictures of himself and others around the restaurant. When I ran low on lemonade, he brought me a gallon jug with a foot-long straw. He joked and teased and provoked us throughout the entire meal. We weren't just a family of diners; we were the floor show.
And we loved every second of it.
Rafael is an example of what we learn from Disney: you can't force an experience, but you can set the stage for it. He didn't have to treat us the way he did (the other servers didn't come close to his people skills and his brand of fun). He didn't have to spend the time with us that he did (he pulled up a chair - after kicking my son Jase out of it - and just hung out for a while). He didn't have to act like we were the only customers he'd have that day. But he did.
Rafael had no way of knowing if we'd had a good morning or a lousy morning. He didn't know if we were a fun-loving family or strait-laced. He didn't know if we'd roll with the punches or take offense. But he had one job, and that was to set the stage for a great experience.
Every weekend in church, we deal with people who arrive with stories. Some stories are simple: they're looking for community, looking for truth, looking for meaning in life. Some are complex: they're in the middle of high drama, broken relationships, self-sabotage.
But with every person, their story contributes to their experience. And their previous experience with churches will contribute to their expected experience with us.
Just as a reminder, the primary experience the church should provide is an encounter with the gospel, and everything we do from the parking lot to the pews sets the table for the gospel experience. If a guy has had to deal with a surly parking attendant ... if a mom is worried that the nursery worker didn't understand that her child has an allergy ... if a person can't find the restrooms or connect to a small group ... that detracts from the gospel.
What Disney teaches us is that an experience (in their case, fun) can't be forced. But it can be planned for and aimed toward. In the same way, we can't force people to embrace the gospel. It's not our job to do so. However, we can make sure that there's not a single thing in their weekend experience that would distract them from the gospel. That is something we can do.
That, and drinking straw hair weaves. I hear it's the next big thing.
Unseen Details
For a long time now, I've been saying that details matter. It matters that your facility is clean. It matters that there's toilet paper on the roll. It matters that what's announced from the stage is communicated to volunteers.
But Disney takes that a step further and teaches us that unseen details matter, too.
Now when I say 'unseen', I don't mean that nobody notices them. I don't mean that they're invisible. I mean that they are the smallish, insignificant, unnecessary things that - if you do notice them - create some real 'wow' moments. They are the things that Disney's Imagineers didn't have to take the time to do, but because they did, you know that the overall experience is going to be a great one.
Here are just a few of my favorite 'unseen' details:
Look down

It's rare to find a spot of ground that doesn't have some meaning behind it. That red-bordered pavement on Main Street U.S.A.? That's there to signify the red carpet that's been rolled out for you, the guest. The brown gravel embedded in the pavement in Liberty Square? That's supposed to look like the open sewers that would have been very present in colonial America. The entry way to Disney's Animal Kingdom? You can't tell it from where you stand, but a quick Google Earth image will reveal that you're standing on a massive tree-like mural leading to the park's centerpiece, the Tree of Life.

Look up

Nearly every shop window on Main Street U.S.A. is a tribute to a Disney Imagineer or Legend. Those folks were turned into 'shopkeepers' and given roles to commemorate the influence they had on the park's design and construction.

Listen

You're likely to hear a conversation from an upstairs room or a tap dance lesson in the next building or some grand soundtrack that signals the show that you're a part of. There's hardly a spot in Walt Disney World's parks that doesn't have some sort of piped in sound effects. You may not notice it over the noise of the crowd, but it's there.

Look again

Disney's architecture is legendary, and you're likely to find a surprise here and there. In Sir Mickey's shop in the Magic Kingdom, for example, you'll see the giant ripping off the roof to catch Mickey as he heads down the beanstalk. I don't care who you are (unless you're the random dude who thought I was taking a picture of him ... settle down, random dude), that's cool.
But perhaps one of my favorite unseen details has to do with something that I've never seen and probably never will. The Walt Disney World Casting Center is the building where people go to apply and interview for positions with the Disney company. The place is intentionally designed to be a meandering trip through Disney history. The entry doorknobs are patterned after the knobs in Alice in Wonderland. The trip from the front door to the receptionist's desk is intentionally long and winding (rabbit hole, anyone?), taking you past grand scenes from Disney films throughout the decades.
Project director Tim Johnson quoted architect Bob Stern as saying, "...you enter on the ground floor, and the first time you can ask for a job is at the other end of a hall on the second floor ... Let them wander. Let them get a taste of Disney before they get there."
So what does all of this have to do with the church? Unseen details really do matter. The stuff we do Monday through Friday has a direct impact on what happens here on the weekends. The way we plan, the way we train, the way we clean and prepare and rehearse and study and pray ... all of those things factor into the weekend experience. Our weekday game plan affects our weekend game face. When we ignore the details that we think no one will ever see ... they most certainly do. They see our shoddy prep work, they see our inattention to detail, and their overall experience suffers.
Polish
If there was one letdown of the Disney experience, it was this: not everybody who works there believes it is the happiest place on earth.
It wasn't like that on past trips. Everybody was cheerful. Really cheerful. Sickeningly cheerful. Hey-that-kid-just-ate-too-much-funnel-cake-and-barfed-on-my-shoe-but-I'm-still-freakishly-happy-about-it-cheerful.
And after all, that's the Disney Way. It's the role of the cast member to create a little magic and make somebody's day. And for the most part, that's what I experienced. Rafael was a blast. Phil the concierge was incredibly helpful. Joann the housekeeper twisted our towels into fun animal shapes.
But there were exceptions. One notable exception was the Walt Disney Railroad lady. This is an almost direct quote:
"Sir, I'm going to ask you to please swap seats with your son. If the conductor sees a deer, he has to hit the brakes. We have a lot of deer in the parks and we get fired if we hit one. So he's going to hit the brakes, and your son will go flying."
Now, there are a couple of things I need to say here:
She may not have said "fired." She may have said "fined." But either way, it was a negative impression. She may as well have said, "If you don't swap seats with your child, my child will be hungry, I will be homeless, I will pay no taxes and therefore Florida roads will go unpaved, and you don't want that."
Of course there are deer in the park. And of course it would be bad to hit one. Bambi's had a bad enough life. I hold no ill will against deer. (That's our student pastor's job ... to kill poor defenseless forest animals.)
So what does the church learn from that? Simply this: we polish our people. True, we may not be giving people directions on how to ride a train, but every weekend our volunteers interact with thousands of people. That's thousands of opportunities to design a great experience, and thousands of opportunities to turn someone away.
My friend Mark Waltz says it well in his book First Impressions. There are five things we never want our guests to hear from our team:
That's not my responsibility

If you're asked about it, told about it, questioned about it, or informed about it, it becomes your responsibility. Your issue to fix. Your time to shine. Don't hand off and forget, embrace and wow 'em.

I don't know

Volunteers are simply a representation and extension of the pastoral team. If they don't know, it's likely my fault as a pastor. Still, an "I don't know" should always be followed by a "but I'll find out."

No

Figure out a way to say "yes" when you can. Rather than dying by your policies, live by a spirit of generosity. And if the answer really is no, cast some vision as to why the "no" is there. People can accept "no" if the reason makes sense.

They, Them, You Guys

The proverbial "they" will kill a volunteer team. "They told me I had to." "You guys need to figure this out." A solid First Impressions team embraces the "we."

I'm just a volunteer

No one is just a volunteer. People either lead out of their giftings and passions, or they need to find another place to serve. And besides, guests at our churches don't see unpaid weekend-warrior volunteers. They see living, breathing people who hopefully hold the answers and the hope they need.
Celebrate
Every year Disney parks have a big theme. This year's theme centers around celebration. Every single day, I saw hundreds of people wearing Disney-issued buttons that had the name of their celebration. It might have been a first visit, an anniversary, a honeymoon, or whatever, but Disney gave people the opportunity to celebrate something, and took the opportunity to celebrate with them.
As we were preparing for our trip, we were asked that question on multiple times: Are you celebrating something? And as I walked around the park, I saw cast members taking full advantage of the celebration. A street sweeper yelled, "Happy birthday, Ben!" to a five year old kid. He lit up like a Christmas tree. A ride operator bantered with a couple about their honeymoon. The entire atmosphere was geared towards celebration.
Does it work that way at our churches? The way I see it, we have at least two things to celebrate every weekend:
A guest's attendance

Max Lucado had a killer tweet a couple of weeks ago: "Make a big deal out of guests' arrival. Swing open the door as they approach. One of God's children is coming to your house!"

A risen savior

Face it: most of our worship services feel more like a funeral. Dead songs. Dead people. Dead sermons. We forget that we don't worship a dead guy, but one who was dead and rose. That's the ticket to celebration, right there.
Memory
Nobody walks away from Disney empty-headed. They're thinking about the incredible meal, the first-class treatment, the incredible coasters. Or they're thinking about the indifferent cast members, the overpriced hotel, the favorite ride that was closed for repairs.
The truth is, we're creating a memory every time someone walks into our church. And we hold the power on whether that memory is good or bad. Plan your weekend to celebrate Jesus and with people in mind. Remember that every Sunday is somebody's first Sunday. And when people are replaying weekend memories around the Monday water cooler, make sure the things that they remember are the things you want them to advertise.
Resources
Thanks for hanging in there. If you're a Disney buff like me, you might want to check out the following resources that highlight their commitment to quality first impressions:

Don't stop there! More Features Await...