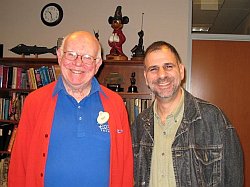 Sam Gennawey (right) with Dave Smith, Founder of the Walt Disney Archives
Disney Swag: The T-Shirt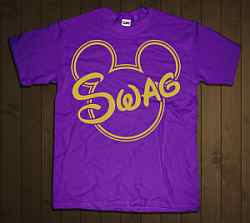 Get yours now!
Disney Swag: The T-Shirt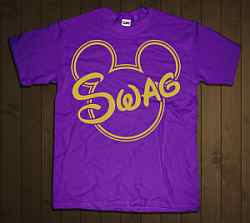 Get yours now!
Classic Disney Dispatch Content
Disney Dispatch Columns
More Disney Dispatch Features
Subscribe to Disney Dispatch Digest
And receive a daily email summary of new stuff on the site.
DIZcovery: SamLand's Disney Adventures
An urban planner's take on Disney
A DIZcovery is a mini-feature about an outstanding but perhaps not well-known Disney site and a mini-interview with its owner. If you know of a site that needs DIZcovery, please get in touch.
To keep Disney Dispatch in working order and to keep me abreast of Disney events, I visit - briefly - dozens of Disney sites on a daily basis. But each day I also visit - less briefly - a few 'special' Disney sites not because I have to but because I want to: SamLand's Disney Adventures is one of those sites.
SamLand's Disney Adventures
Sam Gennawey is a former music industry executive and current urban planner whose 'Disney Adventures' began when his mother took him in diapers to Disneyland. Those adventures have continued - sans diapers - into his adult life. When folks have such enthusiasm for Disney, they often channel their passion into a blog.
Sam is no exception.
Back in April 2009, he created SamLand's Disney Adventures as an outlet for his informative, compelling, rigorously accurate accounts of Disney history, park planning, and innovation, and his unique takes on familiar Disney topics.
Here's an example: Disneyland's Pirates of the Caribbean. Yawning yet?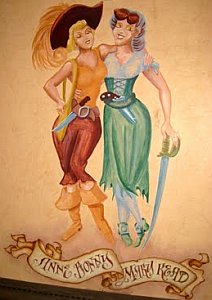 What more can be written about that ride? Quite a bit, apparently.
Sam's take had absolutely nothing to do with the ride itself but rather with the portraits of real and fictional pirates on the walls in the queue area. The portraits piqued his curiosity about the pirates, and his research led him to write an article last year composed of historical vignettes about each pirate. I call it 'bio-tainment'.
After you've read the article, you'll enjoy your next ride on Disneyland's Pirates of the Caribbean more because suddenly you know, for example, that the two smiling female pirates in one of the portraits (Anne Bonny and Mary Read) really did exist - and would have eaten Captain Jack for lunch.
That's the essence of a great Disney article: it adds to the Disney experience.
Sam's blog is stacked with stuff like that. You'll see for yourself when you click over there. But for now, let's put down the drawbridge and invite Sam into Dispatch Manor for a friendly chat.
A Chat with Sam Gennawey
The best part - for me - about writing new DIZcovery features is meeting the brains behind the blogs and plying them with rum into making all sorts of revelations about themselves and their sites.
So I'm kidding about the rum. But not about the revelations.
Spotlight on Sam Gennawey...
How long have you been having 'Disney Adventures'?
Sam Gennawey:

I started the blog in April 2009. I began writing some articles a couple of month before launching the site. I had just finished a six-year project to expand the Pasadena Convention Center, doubling its size, and helping to create the "greenest" convention center on the West Coast. I was a member of the Board of Directors. Time for something different.
Do you recall your first trip to Disney? Fondest memories? How about your most recent trip: how has the 'Disney experience' changed for you between the time of your first trip and the time of your last?
Sam Gennawey:

I grew up in Whittier, California, and I am as old as a mountain (the Matterhorn). I asked my Mom and she said my first trip might have been when I was one. For many years, my family would go to the park, pay the general admission, and my two older brothers would be set free. We couldn't afford many ride tickets but it was a safe environment and I would hang out with my mother. She said this was a monthly experience from ages three to nine.



The 1958 version of McKim's famous Disneyland map
The childhood memory that is strongest in my mind is looking at the 1968 version of Sam McKim's park map. My passion for the park helped me move from being a music industry executive to an urban planner. Every trip, I tend to find something new or different. I think that is why I keep going back.
What did you do in the music industry before the switch to urban planning?
Sam Gennawey:

A fun younger person's career. I owned a record store, ran a record label for the guy who managed the Police (and the Bears, the Balancing Act, Pato Banton, Caterwaul), then moved to Chicago to work for Alligator Records (the incredible Blues label). That led to a job at Mercury/Polygram as a promotion person (think Artie Fufkin in Spinal Tap).
Is theme park design is an off-shoot of urban planning?
Sam Gennawey:

The history of theme park design is rooted in theatrical design. Urban planning came about because it had a certain level of permanency and had to be functional. In turn, a lot of urban design has started to take on the character of theme park design. It is an interesting mash-up.
In your visits to Disney, do you ever put on your urban planner cap and say 'I could have done this better'?
Sam Gennawey:

Always. That is why working for a theme park design firm would be my dream job. Much of my planning career has been working with communities to tell the story of who they are today, help them dream of where they want to go tomorrow, and to develop the policies to get them from today to tomorrow. Collaborating with the community, I have drafted the vision statements and land use policies for over 100 projects including Riverside, Orange, Claremont, San Bernardino County, Azusa, Chula Vista, Rialto, West Hollywood, and West Covina.
Why did you decide to launch SamLand's Disney Adventures? Were you inspired by any sites that came before yours?
Sam Gennawey:

There are some amazing sites and I would be in trouble if I listed some and passed over others. Of course, the granddaddy (sorry Werner) of them all is Yesterland. But the list is huge and I have been lucky to meet many of the people behind the sites. Disney has one of the most incredible virtual communities out there and I am proud to be a small part.
In the wide world of Disney blogs, what's your niche?
Sam Gennawey:

I think it is the blend of urban design, history, and touring tips. My planning philosophy, which carries over to the site, is: "The new should always grow out of respect for what is there now and what was there before." The more I peel back the onion the more impressed I am with the folks who created the Disney parks.
Recently, you were a guest lecturer for a class at Western Illinois University taught by David Zanolla and took your students on two Disney World tours: one to the west side of the Magic Kingdom, the other to various Disney hotel lobbies. Your series about that trip was stellar! How did you get the gig? Plans for another? (And where do I sign up?)
Sam Gennawey:

David Zanolla really liked the Christopher Alexander stuff (centers and a higher degree of life) that I posted. I think he also heard me on the WDW Today podcast (I have been a guest three times). His class was all about communications and we had a mind meld when it came to expressing concepts non-verbally through the built environment. His class was amazing. The students came prepared and I had a great time.



Sam and his students at the Magic Kingdom
I was invited back for 2011 but I had to pass due to my career transition (i.e., looking for a new job since the company I worked for laid off most of the staff - if you are hiring, please let me know). If I could, I would be there in March. David is a great teacher and I can see how his students really connected with the material.
In your role as Travelling Professor of Disney, you'll soon participate in a symposium about 'invented places' for the Los Angeles Region Planning History Group. One of those invented places, I'm sure, is Disneyland. What to expect from the symposium?
Sam Gennawey:

One of my favorite planning people is Marsha Rood FAICP who invented the successful downtowns of Pasadena and Culver City through some very creative policies. We got to talking one day about the development of Southern California and I expressed my thesis that location didn't matter in the development of this region; it was all about destinations. (Not to get too deep but the LA region has none of the basics for city building: limited natural resources, no deep harbor, hard to get to because of the mountains), etc. What we had was great weather and a bunch of dreamers. Although my favorite, Walt was just one in a long line.
The symposium will be an all day affair at the Huntington Gardens and I am working with a group at USC. I will be moderating a panel. A lot of architects and planners dismiss Disneyland as an artificial piece of urbanism but I agree with James Rouse when he states it may be one of the most important examples in America. Should be a fun group of eggheads.
You review a lot of books. In the past few months, what have you reviewed that you consider essential reading for others?
Sam Gennawey:

Wow. Good question. Designing Disney by John Hench, Walt's Revolution by Buzz Price, Designing Disney's Theme Parks edited by Karal Ann Marling, The Nickel Tour, and Building a Dream by Beth Dunlop. Beth's book is a good example of how intellectuals try to process Disney and have a hard with it.
Not Disney related but two books that have a significant impact on the way I look at the world are A Timeless Way of Building and A Pattern Language by Christopher Alexander. One other book would be The Unofficial Guide to Walt Disney World Color Companion, which features a bunch of 'Disney Design by Sam Gennawey' essays. A must for every shelf. Plus, co-author Len Testa's take on the WDW resort is unique and very funny.
Many of your articles delve into Disney history. Is there any particular period of the Disney company or its parks that particularly fascinates you?
Sam Gennawey:

Of course the really early days when Walt and his team were creating a new art form. Right now I am obsessed with Walt's vision for EPCOT, his City of Tomorrow. I wrote a chapter about that topic for a book coming out early next year from Ayefour Publishing celebrating WDW's 40th anniversary.
You rub Aladdin's lamp and get a day to spend in Disney (any park, anywhere) untroubled by finances or the laws of physics: what do you ride, what do you see, where do you eat?
Sam Gennawey:

I would love to see Disneyland Paris and Tokyo DisneySea. I have the feeling a visit to Tokyo Disneyland would make me sad and realize just how far the Walt Disney Company has let its domestic parks slip in quality. Tokyo Disneyland seems like a time capsule of Walt's vision implemented by Dick Nunis, Marty Sklar, and the other greats.
All I know is that little drop in Space Mountain at Disneyland is about as close to nirvana as I can get on this earth. Gets me everytime. Now a stay in Walt's apartment or the suite above Pirates...
Time travel works. It's 2015. What are you doing? How has your blog evolved?
Sam Gennawey:

I am working on where I will be in January 2011. If anybody who works at Imagineering or Universal Creative is reading this, we should talk. I can lead brain-storming session with the best of them and have the project background to prove it. As for my writing, I would love to have a book published and make a living writing about this topic I love so much. More teaching and speaking opportunities would be the tickets as well.
Mind control works. You take control of the minds of new visitors to SamLand and have them read what first to get them hooked fast?
Sam Gennawey:

For the design stuff, I would say my Urban Design series about each of the lands in WDW. I am doing the same for Disneyland for early 2011. For history buffs, it would be the Disneyland Master Plan series featuring WestCot or the Disney's America series. I heard from one of the opponents of the Disney's America project in Virginia and he said I portrayed the whole story better than anything currently out there. That was a proud moment.


What other Disney sites do you recommend as worth daily visits?
Sam Gennawey:

Daily visits are paid to MiceAge, DisneyDispatch, and TouringPlans.
When Sam isn't having Disney Adventures, what is he doing?
Sam Gennawey:

Spending time with the most incredible wife a man could have (going on 31 years!), loving my time in Pasadena, and reading history and politics.
The Noble Exchange
Now that we've wished Sam well, given him our door prizes, and expressed hope for his speedy journey back to SamLand, let's you and I have a talk.
You hear a lot of hype about content on the Web being 'free'. Well, it is free - and it's not. Content isn't created for free. Most bloggers aren't on company payrolls. They write because they love what they do, but the writing 'costs' them. It costs them time, mostly, but that's time they might have spent with their families or devoted to more profit-making ventures like sweeping the streets.
Their choice? Sure. And they'll likely keep doing it. But every so often you see a little button sticking its rounded edges timidly above the enclosing forest of free content.
SamLand's Disney Adventures now sports such a button. It won't grab you, yell at you, shut down your Internet connection. It doesn't even blink. Its mute message may not be clear. Let's make it clear: a few bucks sent in a few minutes through PayPal won't 'pay' Sam Gennawey for his time in researching and writing the stuff you like to read. Donations aren't payments. They're nods of approval, pats on the back, reciprocations of value, numerative words of favor: in short, a noble exchange.
So when you visit SamLand's Disney Adventures and when, like me, you find Sam's content astoundingly good and unquestionably valuable, why not effect a noble exchange.
Because if you don't, that button WILL shut down your Internet connection...

Don't stop there! More Features Await...