FROM: Why Did Disney DO That?!? Published As Necessary
Monorails: Less is More Magic
Unless you've ridden the monorail, you really haven't had an authentic Disney vacation. Stepping back from the doors, taking small children by the hand - it's all part of the magic! So why, Lee Beatens wonders, is Disney scaling back monorail service.
Yes, Disney is trying to convince us once again that less is more.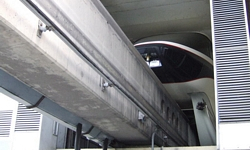 Monorail Black
Monorail Orange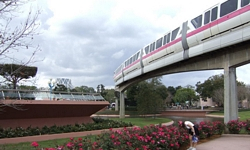 Monorail Pink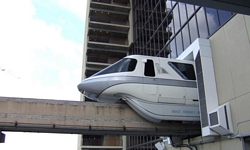 Monorail Silver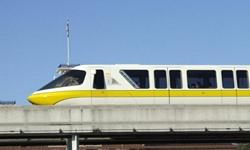 Monorail Yellow
But this time they aren't closing an attraction with no replacement in the works. They aren't making food portions smaller while raising the prices. And they're not falling behind in the repair and maintenance schedules in the parks.
After all, they've already done those things!
No, this time they are tampering with a true Park Icon. They've decided not to run the monorail during Extra Magic Hours after park closings.
Why would Disney DO this?!?
Maintenance?
The monorail, usually the safest way to get around the Magic Kingdom, has come under some scrutiny of late because of a few accidents and operational issues. I'm all for stricter regulations and more maintenance, but if this is the reason for limiting guest access to a monorail ride, I must question the reasoning.
With more monorail colors than they need to service a busy day of passenger transport, I can't see any need for additional hours of scheduled maintenance. There is always a monorail in the servicing bay and this system has worked up to now.
Economy?
Disney has been cutting corners for a while now in order to pinch a few extra Disney Dollars. All but shutting down Fantasmic by reducing its show times is just one example.
So could Disney be trying to save a buck or two on its hydro bill by running the monorails a few hours less each day? Possibly. But when you consider that they will have to run more buses and boats instead, I find it hard to believe that any real savings will result.
Convenience?
With a rumored refurbishment for the Polynesian Resort and the building of the new DVC Resort over at the Grand Floridian, could Disney be trying to lighten the traffic on the Magic Kingdom loop?
Well, unless Disney construction workers are planning on working with power tools and hammers right under the windows of sleeping guests throughout the night, this is very unlikely!
Whatever the real reason, management has once again reduced the Magic of the Disney experience. With so few opportunities in the United States to ride a monorail (keep in mind, the Las Vegas monorail is near bankruptcy), access to this one-of-a-kind attraction should be increased, not decreased.
Come on Disney, put us back in the front car and let us ride until dawn!
More: WHY DID DISNEY DO THAT?!?
Comments