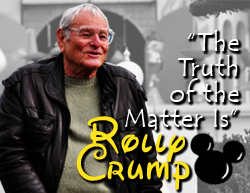 The Truth of the Matter Is
About the Column
The best way to learn Disney history is to get it from the people who helped make it. Rolly Crump made a lot of Disney history.
Rolly was hired by Walt Disney Studios in 1952 to work as an artist and animator on such classic movies as Peter Pan, Lady and the Tramp, Sleeping Beauty, and 101 Dalmations. In 1959, Rolly joined WED ('Walter Elias Disney'), the original name for Walt Disney Imagineering. At WED, Rolly became one of the chief designers for such classic attractions as Haunted Mansion, Enchanted Tiki Room, and It's a Small World.
Rolly worked closely with Walt Disney for many years. The friendship between the two men and Rolly's long tenure with the company puts him in an increasingly rare position: he can relate important episodes of early Disney history first-hand, and he can do so without notes or sources because he experienced it himself.
Disney Swag: The T-Shirt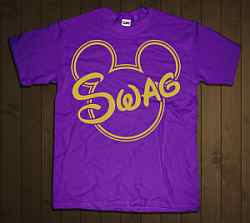 Get yours now!
Disney Swag: The T-Shirt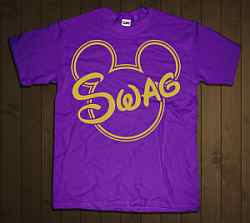 Get yours now!
Classic Disney Dispatch Content
Disney Dispatch Columns
Subscribe to Disney Dispatch Digest
And receive a daily email summary of new stuff on the site.
The Tower of the Four Winds: Part 1
How a penny propellor inspired Rolly to design his famous Tower
This is the first of a three-part recollection by Rolly Crump about how he designed the Tower of the Four Winds, a 120 foot high, 200,000 pound working mobile that stood near the entrance to It's a Small World at the 1964 New York World's Fair.
In the first part, Rolly buys a propellor for a penny...
In 1953, I was working as an animator for Walt Disney Studios, and I could not have imagined the series of events that would lead me to create the Tower of the Four Winds.
Rolly Ponders the Propellor
It all began with a small metal propellor spinning atop a pushpin. Wathel Rogers, an assistant animator, had made the propellor from an eraser clip of a Black Wing pencil. When I asked Wathel how it was done, he said it was a secret.
Finally, after weeks of trying and constantly failing to duplicate what he had done, Wathel offered to sell me the secret for a penny.
I paid him the penny.
The secret was a small, smooth indentation in the metal clip made with a ballpoint pen. The smooth surface allowed the propeller to balance properly and spin evenly.
Rolly Builds a Bigger Propellor
My fascination with this little propellor pushed me to take the concept even further.
I cut from cardboard a simple helicopter and added to it the pushpin and metal clip - my helicopter now had a propellor!
When a fellow from the art props department saw my helicopter, he was intrigued and wanted to know how it was done. I shared the secret - free of charge - and he then built his own helicopter, though with an additional element: circular, colored paper discs glued to the metal propellor.
When I realized that his propellor was bigger than mine, I was inspired to develop even more elaborate propellor designs, and my new creations eventually filled the room.
Walt Hires Rolly for WED
A fellow artist, Tee Hee, suggested that I exhibit my propellors in the Disney Library Art Gallery, which I did.
Walt heard about my exhibit and came to see it.
He then invited me to join the other designers he had recruited to work with him at his newly formed company, WED Enterprises, which would design and develop all the rides and attractions at Disneyland. In 1959, I transferred from animation to WED.
In 1963, WED was developing pavilions for the New York World's Fair.
Walt remembered my propellor exhibit and asked me to design a tower of propellors as the entrance marquee for It's a Small World.
This marquee became the Tower of the Four Winds.
Next Monday:
Rolly and Walt Meet the Engineers
Happy birthday, Rolly Crump, who turned 21 yesterday!
If you'd like to hear a few stories directly from Rolly himself, buy 'A Walk in the Park with Rolly Crump', an hour-long audio tour available from Kenbow Communications in which Rolly takes you for a stroll down Disneyland's Main Street through the areas of the park that he had a hand in creating. It's the best $4.95 you'll ever spend.
You can also hear on iTunes Rolly's interview with DisneyDispatch columnist Jeff Heimbuch on iTunes for free (or download it if you don't have iTunes), and you can read an excerpt of it in a recent installment of Jeff's column, From the Mouth of the Mouse.

For more, visit the COLUMN HOMEPAGE