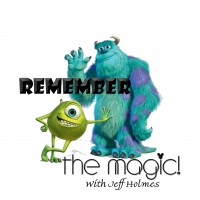 About the Author
Hello, my name is Jeff Holmes, my wife and I were married ten years ago. We have two amazing little boys that inspire our lives and share the magical love of Walt Disney and his imagination! I enjoy writing and helping others make those magical decisions that leave a mark on all of our lives, especially children. We have been to Disney World on many occasions, and we have enjoyed visits at all times of the year! I was born and raised in a little town in Southern Indiana, and when the weather starts to get too cold, we know it's time for a week of warm magic in Florida with our famous pals from the Walt Disney World Resort.

My wife Erika and I had the pleasure of enjoying our honeymoon at the Walt Disney World Resort and it has become our favorite destination! Much like other families, our children watched all the wonderful Disney classics from my favorite Beauty and The Beast to Winnie The Pooh. Having that connection with our children and just being a kid at heart, is what the very name of Disney stands for. Everyday adventures that are inspired from the books and stories of the everlasting tales from the Disney Legacy makes all of our imagination grow. There is nothing like sitting around the couch in the company of your family and enjoying a Disney movie night. I can remember when I was a young child growing up, and my family would all gather around on Sunday evening to watch The Wonderful World of Disney presentation. We would finish up supper, snuggle up on the couch, and eat our favorite popcorn as the movies came alive in front of our very eyes. Those traditions. among others, I still follow even today.

Once we bring our children to Walt Disney World and they see the magic come out of the pages of the bedtime stories we once read to them, they become a Disney fan for the rest of their life. As a child myself, my parents were never able to take me to the happiest place on earth. Growing up we managed to get most Disney films on VHS and I kept each one to have for my children. Of course, when I was old enough to have children the new age of technology brought our classic favorites to DVD. I collect the movies new and old even today, and now even began to purchase the Blue Ray DVD's for even more magic! I am truly honored to share our experiences, hopes, and dreams with all my readers and look forward to the infinity and beyond!
Disney Dispatch Columns
Disney Swag: The T-Shirt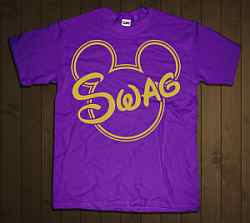 Get yours now!
Disney Swag: The T-Shirt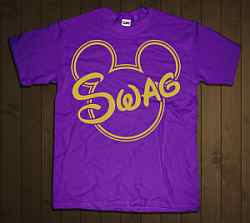 Get yours now!
Classic Disney Dispatch Content
Subscribe to Disney Dispatch Digest
And receive a daily email summary of new stuff on the site.
Remember The Magic
by Jeff Holmes
I will be writing about the experiences of Disney World and how the amazing company goes beyond what they need to in order to make every guest feel special! Delivering a combination of imagination and magic, I will let each reader relive their favorite moments of Disney. We will discuss how the magic is enjoyed with guests with disabilities and families on a tight budget! We will enlighten readers with stories of others and the information needed to make each visit to Disney another great memory! I hope to include stories of families like mine!
July 25Jeff opens up about a very personal experience. Please don't miss this. It's such a touching read. Thanks Jeff.
FEB 8Jeff talks about how magical it is for someone to get their picture with a Disney character. Young or old, that impression lasts with you for a long time and is one of the reasons Walt Disney World has the whole "customer experience" thing figured out better than anyone else.
JAN 17Jeff obviously has given up on his New Year's resolution of losing weight because he already is reviewing not one but TWO Disney eating establishments. Our mouths are already watering, Jeff.
JAN 10Jeff gives a quick overview of a ride that is at the top of the charts at both Disneyland and Walt Disney World Magic Kingdom - the newly revamped Pirates of the Caribbean.
JAN 3Breaking into the new year, Jeff talks about a couple of Tomorrowland favorite rides with Buzz Lightyear's Space Ranger Spin and Monsters Inc. Laugh Floor.
DEC 26Disney is a magical place for kids and adults alike. In his holiday column, Jeff talks about a couple of rides that are fantastic for grownups. We alllove to have a great time and these are some MUST SEE rides.
DEC 22In part 2 of his 2 part series, Jeff continues taking us through the thought and design of Disney attractions and shows and how they affect the experience for disabled guests.
DEC 19In part 1 of a 2 part series, Jeff talks from personal experience about the fantastic way that Walt Disney World interacts with disabled guests and how the company makes the Disney experience special for them and their family.
DEC 15Jeff opens up his column with a rundown on taking pictures and capturing the Magic. Welcome to site Jeff and we look forward to your point of view.