FROM: On The Edge Published Regularly
Take A Walk on the Boardwalk
KMB talks about one of Disney World's best kept secrets - the Disney Boardwalk. Loaded with food, entertainment and shopping, this is one part of WDW you don't want to miss.
How could a column be written about the "outside of the parks" things to do at Walt Disney World without covering the Boardwalk? One of Disney's best-kept secrets, the Boardwalk offers a great place to take a date or a family for an entertaining stroll or a great meal – if you can get there. Yes, Disney Resorts are not too keen on allowing the general public into their sandbox, but there are ways to enjoy what's there without shelling out one month's income on a room. The Boardwalk Resort features an eclectic mix of shops and restaurants on a .. well… boardwalk .. that can provide hours of entertainment and enjoyment.
So, for your convenience and enlightenment, please allow me to provide this tutorial for enjoying the boardwalk. If you have any need for tech support following this presentation, please contact us at the toll-free number provided. (I hope we don't forget to provide it!)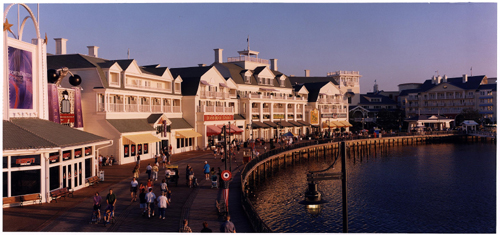 Boardwalk Access Methods
Here we provide a list of methods for anyone who is not the President of the United States to get into the "boardwalk" area of the Boardwalk Resort:
Reserve a room. (duh!)
Book a flight with a local sky diving company and make a grand entrance. (Be sure to keep your chute away from the friendships as you land in the lake.)
After you have spent your hard-earned money on a ticket to Epcot, carelessly decide to leave the park through the exit between Great Britain and France. You can access the Boardwalk there and spend hours ignoring all of the attractions you paid for at Epcot.
Make a dining reservation. This is probably the best idea yet! Reserve a table at one of the great restaurants on the Boardwalk. (We like Kouzzina.) When approached by the Gestapo at the gate to the Boardwalk Resort, tell them you have dinner reservations and they will give you the privilege of parking in their lot. Who cares if you have to walk 10 miles to get to the actual boardwalk area? It's worth it!
How about this unique idea? Park your car in the front lot of the Ft. Wilderness Campground and walk to the bus waiting area. Take a bus to the Settlement area and board a boat to the Magic Kingdom. Upon arriving at Magic Kingdom, head to the bus waiting area for the Boardwalk Resort. When your bus arrives (in about 45 minutes) get on it and take the adventurous trip to the front door of the resort. Oh.. I'm sorry. Did I say front door? I'm afraid there's still a walk until you arrive at the Boardwalk. What a wonderful way to waste your entire day!
Enjoying the Boardwalk
OK, now that you've arrive, what do you do? If you're at the front door of the resort, feel free to take the outside stairway to the right or, instead, go ahead into the lobby and wait for me there. What? You don't want to wait for me? OK – head out the back doors of the lobby and then down the stairs to the actual boardwalk area. Here is where you can start your adventure!
Rent a bike to get the lay of the land. This is a relatively inexpensive way to learn all about the Boardwalk. Be sure you have some friends with you to help with the pedaling. (Did I mention the fact that this type of trip can be great for your physical fitness? Just getting there alone can burn 5,000 calories or more!) There is a decent hill near the ESPN Zone restaurant and another between the Yacht Club and the Jelly Rolls complex. (Both hills are attached to bridges that take you over a waterway.) After traversing these hills, you usually decide you are too out of shape to have that crème brulee at the Boardwalk Bakery. Or, if you are like me, after those hills you decide that you DESERVE that crème brulee at the Boardwalk Bakery.
Stroll past the various shops and be on the lookout for a street entertainer. Yes, there are wonderful one-person shows that take place numerous times and at various locations along the waterfront. One word of advice, however, is to stand back a bit from the actual performer, unless you want to be an integral portion of the show itself. These performers have a thing for embarrassing their audience members! (If you are the type that cannot be embarrassed, start your own show just 20 feet or so down the boardwalk! Who knows, people may throw money at you! They may throw other things as well.)
Hop on a Friendship and take a tour of the waterways between Epcot and Hollywood Studios. These are fun little boats that provide a relaxing way to get off of your feet at no charge! Want to get off the boat and tour a resort? Feel free! Ride these boats enough times and you will soon learn which captains have the brightest personalities and which ones have all the charm of a garden shovel.
Have some junk food at one of the snack stands. Another way to enhance your physical condition! (See #1 above.)
Pull up a chair and fall asleep while gazing at the beautiful Florida sky. Don't sleep too long, though. Remember how you got here! If you came through Epcot, you MUST understand that the walk from Boardwalk to the Epcot parking lot is an expedition that rivals those of Sir Edmund Hillary or Magellan. Be prepared!
So there you have it - a small, yet powerful tutorial covering the Boardwalk. Who says you have to go into a park to enjoy Walt Disney World?
More: On The Edge
Stuff Not to Skip
Comments