FROM: On The Edge Published Regularly
Monorail Etiquette 101
Riding on the monorail is the first real Disney experience for alot of visitors (other than the tram from the parking lot). But there are RULES people! There are things you can and can't do on the monorail unless you want to come across like an amatuer. KMB explains.
Amazingly enough, there have never been any books written on proper etiquette for monorail passengers. This is despite the fact that nearly every day I have observed disappointing social behavior by those who should know better. The WDW monorail is NOT a city bus or subway train and, as such, should not be considered a vehicle in which common graces and manners should be relaxed. On the contrary, this beautiful and awe-inspiring machine should bring out the best in all of us, as if we were traveling in the finest limousine reserved exclusively for the rich and famous.
Because a request came pouring in from my other blog reader the other day regarding this very subject, I have decided to dedicate a complete post to some fundamental principles of monorail etiquette. Unfortunately, many of these rules fall under the category of – "Your parents should have taught you this long ago!" However, because I firmly believe that this is an issue of great importance, I will review them with you anyway and trust that it will serve only as a refresher course for my more distinguished readers.
Boarding a Monorail
One would think that something as simple as "hopping on a train" would be old hat to most and common sense to the rest. But alas, it seems that the lax social standards of today have extended themselves into the most basic of activities.
It is important to remind everyone here that when a monorail arrives in the station, it is normally full of people. Even though there are usually decorations and reflections on the windows of each car, it is fully possible to see quite clearly from inside the car to the outside. If you happen to be standing in line, therefore, it is a good idea to avoid such things as picking your nose, using the monorail window as a mirror for adjusting your hair and clothes, or bending over to adjust a stroller and making a display of your anatomy that some would rather not see. (Perhaps someday a book should be written on proper attire to wear at a theme park! But I digress.)
Once the doors have opened and the passengers have departed, it is time to locate your car for this ride. I know what everyone is thinking, "So just find a seat and sit down! How could anything be simpler?" Wrong! (Honestly, I sometimes wonder why Emily Post has not covered these things in her books!)
Recall the paragraph above and remember that people are watching you. In fact, the station's loading deck becomes a sort of "fashion show runway" in which all eyes are upon you as you stroll by each car. After all, what else is there to do for all those that are squeezed into the cars, trying to avoid staring at the person who is jammed up against them? (It is the same principle that applies to those in an elevator. When the door opens all eyes are staring forward because for some strange biological reason everyone in an elevator stares forward.)
Because you are being watched, understand the importance of choosing a car quickly. Stepping toward a car and then backing away to choose another is an immediate insult to all those in that car. What? Do we look like we have a disease? Do you think you are better than us? Did you smell something that didn't agree with you?
On the other hand, choosing a full car and then jamming yourself into the crowd is not overly pleasing either. The best advice we can give here is to walk nonchalantly past each car while sizing up the situation out of the corner of your eye. Turn toward a car ONLY when it looks as if there is a sizable location for you to stand or sit. (It goes without saying that boarding an empty monorail is far easier on the manners.)
Riding a Monorail
There is simply not enough time or space here to cover all of the mistakes made while riding a monorail. Perhaps a quick summary of the most blatant:
Don't stare! It could be that because everyone is packed into the car like sardines they cannot help but stare. After all, your only other options are to close your eyes or look out the window. As for looking out the window – see comments in the section on "Boarding a Monorail".
Gentlemen – give your seats to the ladies. OK – so I am now labeled as a sexist and a chauvinist. I prefer to think of it as being chivalrous and old-school. Any objections? (Note: It may be necessary to tell the lady that you are offering the seat. Otherwise, she may think there is something wrong with it or something wrong with you.)
Ladies – take the seats being offered to you! On many occasions I have observed a crowded car with several empty seats. This is because the gentlemen stand to offer their seat and the proud ladies do not take them. So nobody sits! What is this world coming to? For heaven's sake, someone might just as well lay down on the seat and go to sleep.
If you are standing in the center section (between the poles), try to face others in the center section, or use the elevator technique of facing the door. However, if you are standing between the poles and the seats, face the people in the seats!! This is ultra-important because breaking this rule will result in your rear end being shoved into someone's face for the duration of the trip.
To those who insist on spending the entire ride kissing and petting I say, "Get a room!" (Note: If you are on the monorail to get to the room you already reserved, or if you have just come from said room, I still say, "Get a room!")
Strollers. What can I say? Those of you in #5 above should consider what happens when you are forced to push a stroller throughout Disney property in which rides an infant who could not care less about where he or she is! Honestly people – is your trip for the child or for you? And why should we risk bodily injury from your stroller because you cannot fold it up and hold your child? And double strollers? Need I say anything more?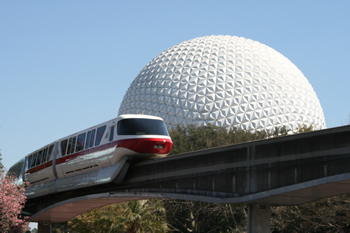 Monorail Conversation
When boarding a monorail, everyone is watching you. However, when riding a monorail, everyone is listening to you! This is just a fact of life and we must learn to deal with it. So here are some suggestions for appropriate conversation.
Even though you are staying at Pop Century (Florida resident special rate), it may be fun to say something like this. "I really preferred my suite at the Waldorf-Astoria over the one at the Grand Floridian. The Grand Floridian just seems cheap to me."
Don't sing "it's a small world after all."
Don't offer advice on the best way to enjoy Walt Disney World. For some strange reason it has a tendency to cause people's heads to turn away from you. It could be just me. Maybe I should offer to stop giving advice when they get to their stop? This was made apparent to me one day when a very polite elderly couple took the entire monorail loop 3 times before the gentleman finally said, "We'd really like to disembark here." It was the 3rd time we arrived at the Magic Kingdom station. Fortunately, I can rest assured that their minds were filled with all sorts of great WDW tips.
Well there you have it – a quick summary of proper monorail etiquette. For those who would like to request this in pamphlet form, I can make it available for a small fee. I am currently in conversations with Disney executives regarding a required class for future monorail riders to take. The fact that I have not had a returned call yet assures me that they are spending a lot of time considering my suggestion and are keenly aware of the need for this type of thing.
More: On The Edge
Stuff Not to Skip
Comments