FROM: MouseMerch Published Thursdays
Disney Tattoos
You're a Disney fanatic. You've got the shirts, the ears, the mugs. You've got the freakin' pins! But there's one type of 'merch' you can't buy at Disney, though you can display it there. Tattoos! Chris Taylor has examples and advice for getting your own.
What's the one Disney thing you see inside every Disney park, but can't purchase?
Tattoos. Real ones, not the fakes ones. And not just any tattoo. Disney tattoos. Mickey ears, Ariel, Magic Mirror, Stitch, and of course Tinkerbell. There's trivial fact that the average person is never more than seven feet away from a spider at any given time. I submit that this is also true of Tinkerbell tattoos.
I've got nine tattoos and not one of them Disney. And I'm a huge Disney fan! What gives? I'm waiting until I can afford the right artist to do the ink justice. If I'm going to get one, it better be perfect. I'd probably go for Stitch first, then a set of ears. Someday...
Haunted... Ink?
Probably the most common Disney character(s) people want for a tattoo is Jack Skellington and the rest of the citizens of Halloween Town from The Nightmare Before Christmas. Given the film's historical placement square in the middle of goth culture, some Jack or Lock, Shock, and Barrel ink is virtually guaranteed at a rock show aimed at anyone under the age of 30. Before his death last year, I heard that Glenn Shadix, the voice of the two-faced Mayor, loved to meet fans with Mayor tattoos, and would always take a photo if he had the time. I love stories like that.
Which leads me to the next super-popular Disney tattoo: The Haunted Mansion. From the portraits in the stretching room and the wallpaper in the main hallway to Madame Leota and the Hitchhiking Ghosts, you've got plenty of choices for your haunted ink.
Lets explore a few.
Haunted Mansion Wallpaper Tattoo
This tattoo shows a detail from the wallpaper that guests see as they exit the loading area inside their Doom Buggies at the beginning of the attraction.
From a distance, the wallpaper appears to have a distinct pattern and nothing else. On closer inspection, you see that it's made up of hundreds of tiny, gothic faces, eyes glowing as they watch you pass by.
I love this tattoo. The workmanship is fantastic, and it's a true fan that can wear this for the rest of his life.
Tightrope Lady Tattoo
Next, we have the tightrope lady. Seen inside the windowless, doorless 'stretching' room, she seems to be taking a leisurely stroll with her parasol. As the room stretches, you discover that she is actually balancing on a tightrope over a crocodile. Some say this girl's name is Sally Slater, though of course others say not.
(By the way, the stretching room at Walt Disney World never moves; it's the walls and ceiling that rise above you. In Disneyland, however, the room is an elevator that takes you underground and beneath the berm in Anaheim.)
Another great tattoo and a true commitment to both the art and the attraction.
Hitchhiking Ghosts Tattoo
A very popular tattoo is of the hitchhiking ghosts seen at the end of the ride.
At the time of the Mansion's opening, the ghosts were referred to as the Prisoner, the Skeleton, and the Traveler. Years later, they have become known as Gus (Prisoner), Ezra (Skeleton), and Phineas (Traveler). Until this year, they rode with guests at the end of the ride using a two-way mirror effect. Now, CGI and motion-capture technology allow the three ghosts not only to interact with guests, but even remove their heads and crawl around the Doom Buggie.
click an image to expand: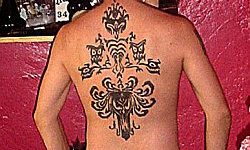 A tattoo depicting the wallpaper from the Haunted Mansion. [Credit: Ste3ve]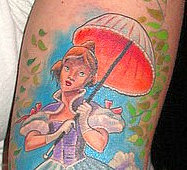 A tattoo depicting the Tightrope Lady from the Haunted Mansion's Stretching Room. [Credit: Ste3ve]
A tattoo depicting the Haunted Mansion's infamous Hitchhiking Ghosts. [Credit: Ste3ve]
I've seen a lot of hitchhiking ghosts tattoos. Some look like the poster versions on display at the entrance to the Magic Kingdom, some look like the drawings from the many books about the history of the ride, and I've even seen some green ones that mimic the effect of the ghosts as you exit the Mansion. I've never seen a bad one.
Tips on Tats
You can't get one of these tattoos - or any tattoo - in the Disney Parks as you would a haircut or face paint. You've got to venture into the real world, and if you've never gotten a tattoo before, it can be a frightening and daunting task.
Here are a few things to keep in mind: it hurts, it can be expensive, it's forever, and it hurts.
Getting any tattoo requires time, money, and patience. After you spend months poring over ideas, you're ready to visit a tattoo shop. Good hygiene is all-important. Sterilized needle are a must. A new needle for each customer. The artists wearing gloves. The chairs and tables cleaned after each use. Poke around online and you can find a list of good rule-of-thumb questions to ask if it's your first visit.
Next, meet the artist. If you've done your research and want a specific artist, that's great, but be prepared to wait, sometimes for weeks. If you're willing to go with whomever is available when you get there, look at a portfolio first.
And don't be afraid to choose one artist over another. Just like you and me, tattoo artists have different styles, tempers, and ways of working. The best tattoos come from the best artist/customer relationships.
By the way, the artist can - and will - refuse to work with you if you act like a jerk. Don't be demanding. Don't try to negotiate the price. You're paying someone to mark you for life. Don't be cheap about it. You need the artist's expertise to guide you through the process. You are not a flat canvas, and tattoos do not work like drawing pictures on paper. Take a Sharpie and try drawing on a piece of raw chicken, and you'll get the basic idea.
Tattoos are made by a needle punching ink into your skin very quickly over and over. Yes, it hurts. Some more than others. Tender places on your body are going to hurt more. Places that get a lot of sun and exposure, like your legs, may not hurt as much. A lot of people say that afterward it feels like a sunburn; others say it's more like, a bee sting. For me, it feels like getting scraped.
Depending upon how much work it takes to complete your chosen art, how much time you and the artist can devote to a session, and how much pain you can take, you may need many sessions to get the work done. People often schedule monthly sessions. My artist worked in a hair salon and she did eight of my nine tattoos. It was very convenient.
Be prepared to pay by the hour. Some artists will do small pieces for a flat fee, but your giant rendering of Spaceship Earth on your back is going to take many hours. It's only fair that the artist be paid for his time.
Where I'm from, prices range from $60 to $100 an hour. Better and more famous artists charge more. You can sometimes get better deals at tattoo conventions where the artists are there to showcase their work, but you have to book months in advance. My guess is some of the larger tattoos we've talked about cost in the $1,000 range, spread out over a period of time.
I could go through dozens more tattoo tips! I'm happy to answer any of your questions.
The bottom-line is that a Disney tattoo brands you as a Disney fan for life. For a lot of people, this is a bigger deal than buying a car or a house. Trust me, I've talked to people who come close to hyperventilating at the thought of getting a Disney tattoo.
Getting a tattoo is like joining a club - doubly so for a Disney tattoo.
Wear your Disney ink with pride, and remember to show it off in the parks.
See ya real soon!
More: MOUSE MERCH
Stuff Not to Skip
Comments