About the Column
Disney nametags: You see them everywhere but do you have any idea how many of them there are? Or how they're designed? Or their fascinating histories? Benson Myers, curator of the Nametag Museum, knows. And in his new column, It's All in a Nametag, he'll spotlight some of Disney's more interesting (and often obscure) nametags so that the next time you see a nametag pinned to a Disney Cast Member you'll know there's a lot more to that nametag than just ... a name!
Learn about the author, too!
Disney Swag: The T-Shirt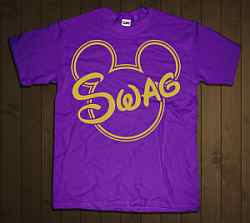 Get yours now!
Disney Swag: The T-Shirt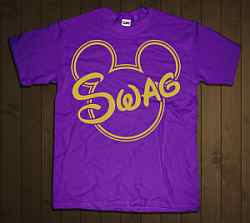 Get yours now!
Classic Disney Dispatch Content
Disney Dispatch Columns
Subscribe to Disney Dispatch Digest
And receive a daily email summary of new stuff on the site.
Set Sail for Disney Cruise Line Nametags
Benson Myers takes us to the nautical wing of his Nametag Museum
click an image to expand and read notes:
The Disney Wonder
Disney Cruise Ship Stateroom
Disney Wonder Nametag - Maiden Voyage
Disney Wonder Crew Nametag
Disney Wonder Contractor Nametag
Hello again, fellow Disney buffs!
I hope you enjoyed my first column about the nametags once worn in EPCOT's Horizons and World of Motion pavilions.
But enough with the shameless self-promotion and on with what you all came here to read.
Recently, Disney launched a third ship in the Cruise Line Fleet, the Disney Dream. So, for today's column, I thought I would share with you the nametags that were worn at the launch of the Disney Cruise Line Program.
The Cruise Line itself was conceived in 1995 when Disney decided to end relations with Premier Cruises which had been providing the cruise services for Disney. Two world-class vessels were commissioned and built by the Italian company Fincantieri - Cantieri Navali Italiani. They were christened the Magic and the Wonder.
The Disney Magic and the Disney Wonder are magnificent ships, each boasting 900 state rooms uniquely fitted to suit the needs of families. The rooms are lavishly appointed - with, of course, a Disney theme.
The Disney Wonder was launched in 1999. For its maiden voyage, a special commemorative nametag was issued to the crew.
Disney recruits its Cruise Line crew from many countries and from many walks of life. Crew sign up for tours ranging from three months to one year, and serve in all aspects of ship-board operations. Once the Cruise Line establishes its day-to-day operations, each crew member receives a general-use nametag.
Disney also outsources some specialized ship-board roles to hired contractors. These roles include personal service jobs such as working in hair salons and massage parlors. Contracted crew don't receive the same nametags as regular crew; instead, they receive a simple nametag with just their first name and home country.
(You may have seen nametags like these worn at Disneyland or Disney World, but blue in color. The same situation applies: those are courtesy nametags given to outsourced and third-party employees. Something for a future post!)
So there you have it.
These aren't the only nametags from the Cruise Line, just the first few of many. I'll share more with you later in the voyage.
Until then, keep reading!
You never know what strange and unusual division of the Walt Disney Company might be featured next. And believe you me, there are plenty to talk about.

Don't stop there! Check out more It's All in a Nametag...