About the Column
Disney nametags: You see them everywhere but do you have any idea how many of them there are? Or how they're designed? Or their fascinating histories? Benson Myers, curator of the Nametag Museum, knows. And in his new column, It's All in a Nametag, he'll spotlight some of Disney's more interesting (and often obscure) nametags so that the next time you see a nametag pinned to a Disney Cast Member you'll know there's a lot more to that nametag than just ... a name!
Learn about the author, too!
Disney Swag: The T-Shirt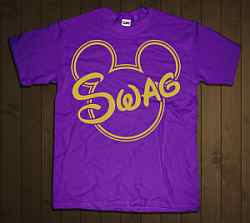 Get yours now!
Disney Swag: The T-Shirt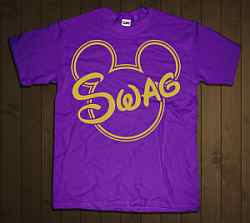 Get yours now!
Classic Disney Dispatch Content
Disney Dispatch Columns
Subscribe to Disney Dispatch Digest
And receive a daily email summary of new stuff on the site.
Disney Nametags: Horizons and World of Motion
Benson Myers shares some rare Disney nametags of tomorrow
Welcome to the first installment of my new column about Disney nametags.
click an image to expand and read notes:
The Horizons Pavilion
Horizons: Nametag
Horizons: Another Nametag
The World of Motion Pavilion
World of Motion: Nametag
I've been collecting Disney nametags for about seven years. In that time I've gathered varieties from all over the world and from many divisions within the Walt Disney Company.
Each nametag is a unique piece of Disney history. Some are used for a few years, and some only once for a special event. Many have never been seen by people outside the company.
In this column, I'll share with you a small part of the vast number of nametags, badges, and similar items that have been used by Disney over the past 50 years.
Epcot Pavilions
To start off, let's look at some little-known nametags from two pavilions (both now closed) at EPCOT in Walt Disney World.
Since EPCOT opened in 1982, several major corporations have hosted or sponsored pavilions. A unique feature of the pavilions is their VIP lounges where the corporate sponsor can host guests and other visitors. The lounges contain couches, televisions, and refreshments.
Horizons
The Horizons pavilion, sponsored for most of its existence by General Electric, had a long run from 1983 - 1999. Disney replaced Horizons in 1999 with Mission:SPACE.
Horizons used Disney's Omnimover conveyance system which took guests past show scenes depicting visions of the future and how future families might relate to technology.
GE sponsored the attraction from its opening in 1982 through 1994. (The pavilion re-opened in 1995 without GE sponsorship.)
Inside the VIP lounge, Cast Members and GE staff wore two types of nametag: one emblazoned with the GE logo on top, the other emblazoned with the GE logo on the right side.
World of Motion
The World of Motion pavilion, sponsored by General Motors, also had a long run, beginning in 1982 on EPCOT's opening day and continuing until 1996. Disney replaced World of Motion with another GM-sponsored attraction, Test Track.
World of Motion gave guests a humorous look at the history of transportation and its many achievements from the invention of the wheel through the present day and beyond.
Inside the VIP lounge, Cast Members and GM staff wore a nametag with the GE logo emblazoned on top.
Plenty More Tags to Come
There you have it! A small taste of things to come.
Over the next few months I will be presenting nametags from all the Disney parks and resorts, Imagineering, and many more. So keep reading, and thanks for tuning or clicking in!
(For immediate gratification, visit my Nametag Museum where you'll find photos of hundreds of different Disney nametags.)

Don't stop there! Check out more It's All in a Nametag...