FROM: It Came from Disney! Published Tuesdays
40th Anniversary Travel Mugs
Jessica gives us a look at the hot/cold travel mug and how well it works for the Disney fan who is on the go.

Walt Disney World has so much 40th anniversary gear this year, from notebooks to pens to Mickey Ears! What I will talk about this time around though is a travel mug that my father purchased for his trips to work.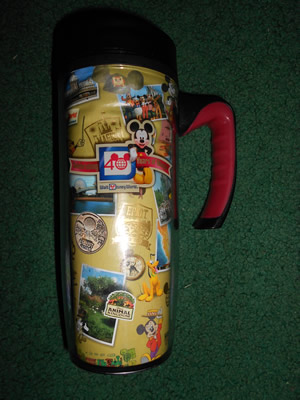 The front side of the mug. I am really loving the 40th anniversary pattern!
He purchased it because it looked strong and had a twist on cap. The cup is tall and holds about 16 oz. Just like the Mickey Ears, the pattern of the cup is a scrapbook type pattern with lots of photos and memorabilia celebrating the 40 years of Walt Disney World. The cup is not microwave or dishwasher safe. They are available in hotel stores and all around property where 40th anniversary items are being sold.
As awesome as this cup looks, we have unfortunately had some problems with it.
Even with the lid tightened well, the cup leaks. My father and I both have had problems with this; no matter how tight the lid is, liquid will still come from the seam.
The lid is a good style, now if only it wouldn't leak...
I would be interested to hear if anyone else who has gotten this cup has had this problem. We know that there is always a chance that the cup that we have is a dud and all of the others work just fine, but I am still disappointed in the travel mug turned pencil holder.

More: IT CAME FROM DISNEY!
Stuff Not to Skip
Comments