FROM: It Came from Disney! Published Tuesdays
Disney Leather Wallet
Jessica shows us an item from a unique seller of Disney products and someone you might not expect to have your favorite WDW items at - Bradford Exchange.


Whenever I look through magazines, regardless of what kind of magazine it is, I am always on the search for anything Disney. One magazine and website that has some gorgeous and high-quality Disney items is The Bradford Exchange. The few items my family has bought from them have always been of great quality for the price, which can be rather expensive.


One item that I had gotten recently was a leather wallet with a Disney character print. The wallet matches a purse that my mother had gotten me for a birthday in the past. The outside is very smooth and features pictures of many different Disney characters and the name Disney. The wallet is a tri-fold that unsnaps to reveal a zipper pocket, credit card section and a matching checkbook cover. The trim and inside is a light brown color and the inside has a couple extra pockets easily used for money or storing pictures.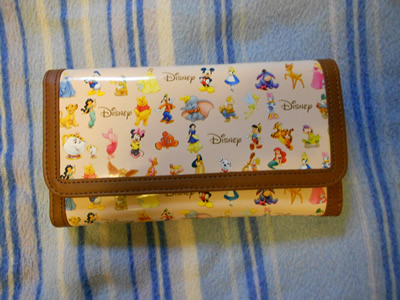 The wallet put together.

I have enjoyed the use of this wallet so far and have gotten several compliments on it. The snap is very secure and there is plenty of space for what I need.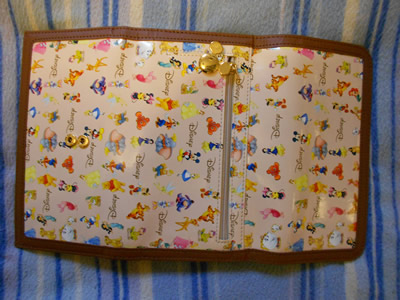 Full Outside of the Wallet showing all of the awesome characters.

The one downfall that I had with the wallet was the ID pocket. When you have a few other cards in the slots above it, it makes getting out your identification practically impossible. There is a seam just before the plastic front that the license gets stuck against and it is a fight to get it out. The first time this happened, it took me a few minutes to actually get the license out and I had to remove some of my cards from the upper pockets in order for me to get it out of the pocket. This has not caused me to throw the wallet aside of course; I have taken to not putting my license in the pocket completely, just leaving a tab of it out so I can remove it easier.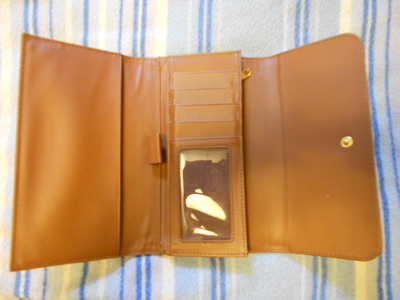 The inside is a lovely color.

Overall, I think this is a great looking product that wears well and handles all of my wallet needs. It is available on the Bradford Exchange website for $59.95 plus $8.99 shipping.

Website to buy it.
More: IT CAME FROM DISNEY!
Stuff Not to Skip
Comments