FROM: It Came from Disney! Published Tuesdays
Disney Trivia: Games on the Go CD
Nowadays, long car rides aren't so fearsome because most of us have iPods, cell phones, and other time-busters. But if your long car rides terminates at Disney World, you probably want a DISNEY time-buster. Maybe a trivia game? On CD...
Traveling by car to Walt Disney World is long, but if you have ways to occupy yourself, it can be a smooth ride. During a recent car trip to Disney, my sister and I occupied ourselves with a Disney Trivia CD that I had bought on eBay. The CD is touted as a "family game" for two to six players, ages six and up.
click an image to expand: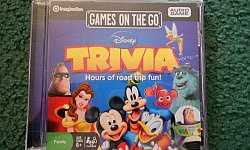 CD Front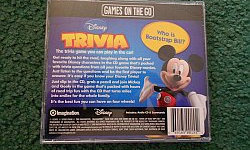 CD Back
The game card that comes inside the CD for your gaming pleasure.
The first two tracks on the CD are the introduction and the rules for the game, each lasting about 45 seconds. Goofy, Mickey, and a male host explain that each of the six different games on the CD last for six rounds of six questions. (666? Let's not go there.) The CD includes a score card, but to use it someone must be designated as the scorekeeper.
The first player to shout out the answer gets the point for that question, and the player with the most correct answers after six rounds wins. The trivia is related to Disney movies. Each game lasts for about 10 minutes, give or take.
My sister and I played the first game in the car en route to Disney World. As seasoned Disney veterans, the questions were not very difficult, but they would challenge children and adults unfamiliar with the Disney classics.
The questions are posed by the male host in the form of multiple choice or true and false questions. The difficulty of the questions does seem to increase as the rounds go on, which I thought was good. One flaw is that not enough time is given to consider and answer the questions; the host jumps in after about three seconds and answers it for you. To avoid this problem, pause the CD after each question.
Overall, my sister and I got some great laughs out of this game and really enjoyed it. For us, the fun was about who could say the answer the loudest and the fastest!
Want to get this CD for your family's next road trip? You'll find it on eBay or BoardGameExpress, where it's currently on sale for $3.72.
More: IT CAME FROM DISNEY!
Stuff Not to Skip
Comments