FROM: It Came from Disney! Published Tuesdays
Lion King Water Bottles
Earth Day is April 22, but Jessica Clawson wants to celebrate it early, and in style, with an eco-friendly Lion King aluminum water bottle (though it might hold bourbon, too) that Jessica tests both for durability and drink-worthiness.
In honor of Earth Day this week, here is a review of a rather eco-friendly Disney Device!
Aluminum water bottles are all the rage recently, and Disney has quite a variety to choose from. The one that I'm reviewing is the Lion King: the Broadway Musical Aluminum Bottle.
click an image to expand: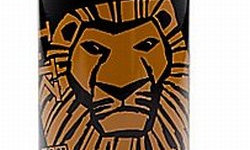 The Lion King: The Broadway Musical Aluminum Water Bottle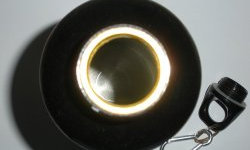 Peering into the as yet empty depths...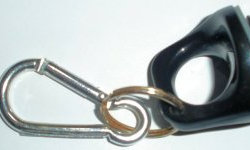 Leashing your Lion King...
The bottle is about 10 inches tall and almost 3 inches in diameter, holding 24oz of water. I say water because the website states that the bottle is 'designed exclusively for water'. It was only used in my house for water or for flavored water, so I cannot say how it would be hold up under any other liquid. It is made out of aluminum and plastic, and has a leak-proof screw top with an attached toggle clip. The website also says that it fits in most car cup holders and is strictly hand wash (which I'm guessing is to prevent the Lion King logo from fading or scouring).
This bottle was given to my little sister as a Christmas present from my boyfriend, and was very useful to her this past winter during her indoor color guard season. She found it lightweight and odor-free. She also liked the clip feature for attaching the bottle to her guard bag.
I did some general testing to see how well the bottle would handle pressure. (I wanted to throw it against the wall, but the family objected... not sure why.) One concern I always have with metal bottles is how easily they can be dented. This is not a problem with the Lion King bottle! The metal is thick, and even when I put it between my hands and applied pressure, I couldn't get the metal to give much at all. It's made well.
My boyfriend bought the bottle on the DisneyStore website, and I see that it's only picked up two ratings: one with four stars and no comment, the other with two stars and a comment that the top of the bottle isn't big enough for ice. That might be a problem, but you can buy trays that freeze ice in cylindrical shapes especially suited for insertion into water bottles.
Verdict: Do your part to save the Earth and get yourself a reusable bottle! And if you don't like the Lion King, no worries, Disney has plenty of other designs, including Minnie Mouse, Grumpy, and Tinker Bell.
More: IT CAME FROM DISNEY!