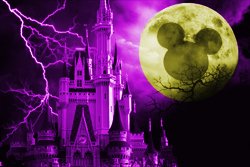 It Came from Disney!
About the Column
If Disney piled all its themed merchandise in one place, it would likely reach to infinity - and beyond. You see it everywhere: at the parks, online, in your neighbor's house. And you're tempted, sorely tempted, to make it yours: not always because you need it but because it came from Disney. For many people, that means irresistible. But fight the urge, just for a moment, until you've read what Jessica Clawson thinks about that irresistible piece of Disneyana. Chances are, she has already succumbed to the urge - and now, temporarily recovered, wants to tell you whether it was worth it.
Disney Swag: The T-Shirt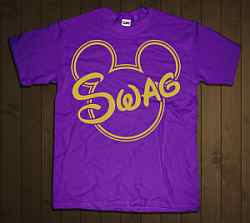 Get yours now!
Disney Swag: The T-Shirt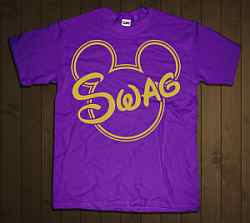 Get yours now!
Classic Disney Dispatch Content
Disney Dispatch Columns
Subscribe to Disney Dispatch Digest
And receive a daily email summary of new stuff on the site.
World Traveler Wallet
Jessica Clawson keeps her cash and cards in Disney style
Being the Disney person that I am, I like to make my love of Disney stand out in every way possible. Whether it's shoes, a t-shirt, a purse, or a pair of earrings, I make sure that people know that I'm a Disney girl!
Last week, I shared my Disney backpack; this week, I'm talking about my Disney wallet.
Wallet Sought
For a few years, I used a Disney wristlet as my wallet, but it was getting worn. So, when I was in Walt Disney World this past August, I was on the search for a suitable replacement. I say 'suitable' because I'm relatively picky when it comes to wallets.
Disney has a wide variety of wallets, from the small wristlets to the large tri-fold variety. The biggest requirement for my wallet was that it had to be a tri-fold wide enough so that I wouldn't have to fold my dollar bills. (I'm not a fan of the single zipper pocket for change and bills.) As long as the wallet had sufficient width and somewhere for me to put pictures and member cards, it would work for me!
click an image to expand and read notes:
World Traveler Wallet: Outside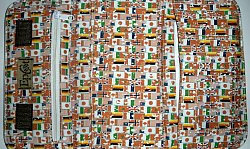 World Traveler Wallet: Inside
My search proved difficult, especially now that smaller wristlet type wallets have become trendy, but after a bit of shopping, I found exactly what I wanted in World Traveler, a small store in Epcot's International Gateway.
Wallet Found
Measuring 7.25 inches long and 3.75 inches high, this tri-fold wallet not only fits my style, but it shows off my love for both Disney and Epcot!
The outside of the wallet is gray with a white canvas trim. It has leaves, flowers, and what looks like a frayed patch of Mickey's head with the flags of World Showcase printed on his face.
In contrast, the inside of the wallet has a colorful array of all the World Showcase flags and a tag with the Epcot logo near the opening. There's no tag, but the wallet seems to be made of cotton.
To hold all my things, the wallet has three deep pockets (one on each tri-fold and a third with a zipper pocket for change), four pockets for cards, and a clear window for an ID.
The wallet closes with Velcro, which concerned me at first: I was afraid the wallet would open up on its own in my bag. So far, though, it's held together tight.
My new wallet has proven strong and durable, putting up with my wear and tear over the last six months. The pockets hold all of my crazy membership cards, and while the wallet does get bulky with everything I put inside, it still closes and stays closed.
Take It Home?
So would I recommend this wallet? Yes, indeed!
Unfortunately, you can't buy it on-line, only in Epcot, and there only at World Traveler in the International Gateway between the United Kingdom and France Pavilions.

For more, visit the column homepage IT CAME FROM DISNEY!