FROM: Disney Travel Tips from Mouseketrips Published Saturdays
Secret Disney Cruise Staterooms
Thanks to Keith Anderson, the secret is out: the secret staterooms, that is. When you book your next Disney cruise, you can save money by asking for either a secret porthole room or a secret veranda room. Of course, there's a slight catch...
Everyone loves getting something for free, and while nothing about a Disney Cruise is anywhere close to free, there are a few staterooms where you do get something for free.
Kind of.
Secret Porthole Rooms
On board the Disney Magic and the Disney Wonder, there are a few deluxe inside staterooms that you can book, but they were built with portholes, which means the view from each is obstructed in some way.
These staterooms are booked as category 10A deluxe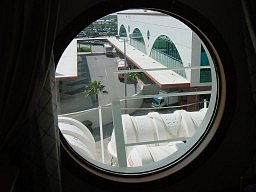 inside staterooms, but in every other way they are identical to the adjacent category 9A deluxe ocean view staterooms. Typically, the price difference is a few hundred dollars, so if you don't mind a partially obstructed window view, you can save some money.
All of the secret porthole rooms are located on deck 5, toward the front of the ship. The secret porthole staterooms are #5520, #5522, #5524, #5020, #5022, and #5024.
Note that #5522 and #5524 connect to each other, as do #5022 and #5024.
A few notes about these staterooms:
#5524 and #5024 have very obstructed views - you are basically just getting some light in the window. The other staterooms have pretty decent views, blocked only by a few small bars or posts.
Secret porthole rooms are not very secret, and for some reason are super popular. They are often the first staterooms booked on any given Disney Cruise. If you happen to find one, book it; you can always change stateroom types later on.
These staterooms are right on the front elevator lobby, so they can be a bit noisy (outside the door, not inside your room).
If you are planning on booking an inside stateroom, and happen upon one of these, it is worth the negatives just to get a bit of natural light in the room.
Super Veranda Rooms
On the Disney Dream and soon the Disney Fantasy, the category 5E staterooms are known as the super veranda rooms. They're the least expensive veranda staterooms with clear walls (all of the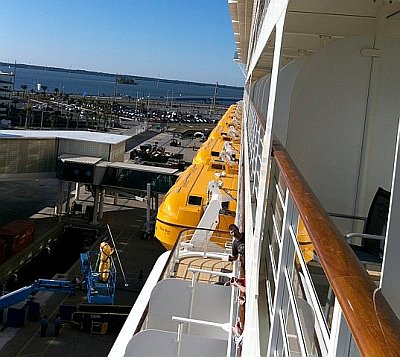 Category 6 staterooms have solid white veranda walls).
The Category 5E staterooms are all located on deck 5. Think of the Dream and Fantasy as a two-layer wedding cake. Decks 1 - 4 are quite a bit wider than the upper decks. Since deck 5 is more narrow than the deck below it, there is quite a bit of extra space beyond where the varanda would normally end.
So, rather than push the staterooms out, Disney just left huge verandas that extend all the way to the edge of deck 4 below.
As you can see from the photo, we are on deck 7, two decks below, where you can see the verandas extending way out. Rather than a veranda that is 4 feet deep, you get one closer to 15 feet deep.
One note about these verandas: everyone above you can see right onto your veranda. There is a covered area the same size as the standard verandas where you are safe, but you wouldn't want to be walking around on the extended part in flagrante delicto.
If you are going on a Disney Cruise, you will love it, regardless of whether your stateroom is secret. Enjoy!
While you're waiting for Keith's next Disney tip, why not ask him to plan your next Disney trip? Mouseketrips does nothing but Disney - and they're really good at it! Hook up with them at their website, through Twitter, or on Facebook.
More: DISNEY TRAVEL TIPS FROM MOUSEKETRIPS
Comments