FROM: Disney Travel Tips from Mouseketrips Published Saturdays
Single Rider Lines: Not Just for the Lonely
The single rider lines at Disney theme park are not, as Keith Anderson points out, for singles. It's highly unlikely you'll get lucky in the single rider line, since most of the folks in it are married - and probably not dating.
Several years ago, Disney started introducing single rider lines at some of the attractions in their theme parks.
Now, the single rider line isn't a way to meet your future soul mate, but it is a way to get onto the ride a bit quicker by filing in space on ride vehicles left vacant by groups who don't meet the exact specifications of the ride.
For example, on Test Track, the cars have two rows of three, so if you have a party of two, you'll be put in a row with an empty seat. Rather than letting the ride run partially full, Disney allows you to go through the single rider line and take that space. The ride runs at a higher occupancy and more people can board in the same amount of time.
A few caveats:
Your group will get split up. Don't go through the single rider line with your entire family if your kids won't ride with strangers, and without you. Cast Members will not show mercy and seat you with your crying 5 year old. They will split you up or point you to the exit.
The single rider line is not always faster than the stand-by line. This is often true on Test Track. If there isn't a line inside, don't bother with the single rider line. Check the stand-by line first.
Rides are not as fun ridden alone as they are when ridden together. I'm fine riding many rides by myself, but I would rather ride them together with my familiy or group, and to do that we have to wait in the stand-by or FastPass lines like everyone else.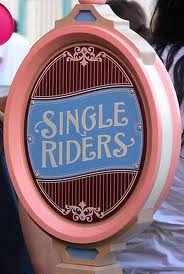 Walt Disney World offers three rides at the moment with a Single Rider line:
Test Track
Expedition Everest
Rock 'n' Roller Coaster
Disneyland has quite a few more:
California Screamin'
Soarin' over California
Grizzly River Run
Goofy's Sky School
Splash Mountain
Indiana Jones
As long as you understand the pitfalls of the single rider line, it's a great way to see an attraction with usually very little wait.
While you're waiting for Keith's next Disney tip, why not ask him to plan your next Disney trip? Mouseketrips does nothing but Disney - and they're really good at it! Hook up with them at their website, through Twitter, or on Facebook.
More: DISNEY TRAVEL TIPS FROM MOUSEKETRIPS
Comments