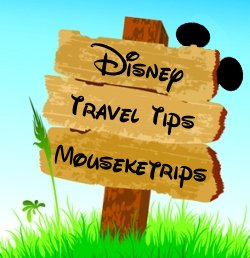 Disney Travel Tips from Mouseketrips
About the Column
Is it possible to have too many Disney tips? Well, yes, if they're from your crazy uncle Louie, but not if they're straight from the experts, the folks who plan perfect trips for others day-in, day-out: Disney travel agents! Keith Anderson, an Authorized Disney Vacation Planner and co-owner of Mouseketrips, has been doing that for years. He's learned a lot about Disney, especially how to save money on a Disney vacation without skimping on the frills or the thrills. Every week, in Disney Travel Tips from Mouseketrips, Keith will distill new Disney wisdom - just for you! Don't tell Uncle Louie...
Learn about the author, too!
Disney Swag: The T-Shirt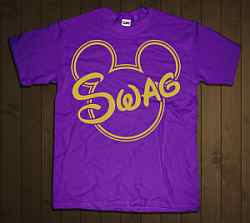 Get yours now!
Disney Swag: The T-Shirt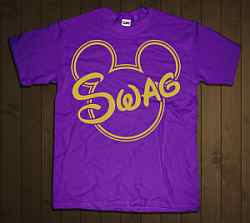 Get yours now!
Classic Disney Dispatch Content
Disney Dispatch Columns
Subscribe to Disney Dispatch Digest
And receive a daily email summary of new stuff on the site.
The Family of Five Challenge
Keith Anderson makes life easier for families of five at Disney World
One of the most frustrating situations we encounter on a regular basis is families of 5 wanting to visit Walt Disney World. A family of 4 or less can stay anywhere on property without limitations; however, if you have 5 in your group, the available choices decrease dramatically. It seems like once your group gets to 6 or more, you are used to the consequences, and deal with it. But families of 5 pose a special challenge.
If you're a family of 5, or maybe a family of 4 planning to bring along a lucky nephew or friend, here are your options at Walt Disney World, from least expensive to most expensive. (The rates listed are a nightly cost during value season, not including the 12.5% room tax.)
Port Orleans Riverside ($154) - The only moderate resort that will sleep five. Many of the rooms in the Alligator Bayou section feature two double beds and a trundle bed. This option works well if you have three small kids since the rooms are pretty small for
five people, and the tiny trundle bed is meant for kids under 9 years old.
Disney Value Resort ($164) - With a family of 2 adults and 3 kids, you can book two rooms at one of the value resorts, and Disney will guarantee that they will be connecting. For only a few more dollars per night, you get 4 double size beds, 2 bathrooms, and a bit of privacy if you want it. You also have a place to put the kids to bed at night, and you can stay up a bit later. Remember, though, it is also a step down in terms of resort amenities - for example, you'll lose the slide at the pool, nicer restaurants, etc.
All-Star Music Family Suite ($194) - Several years ago, Disney converted some of the rooms at All-Star Music into Family Suites. They took two rooms, opened up a doorway between them, and called it a suite. You do get a 'master' bedroom with queen size bed and kitchenette, plus a living area with fold-out furniture. This option is great with kids, but please note that the furniture does not work well for sleeping adults.
Fort Wilderness Cabin ($275) - These stand-alone 'cabins' in Disney's Fort Wilderness sleep 6 total. They feature a bedroom with double bed and a set of bunks, one bathroom, a full kitchen, and a living room with Murphy bed. The space is great, though the resort is huge, and the cabins are a bit far from anything: to get to a park, you have to ride the internal Fort Wilderness bus, then transfer to a theme park bus. Another downside is that the cabins really should be called mobile homes, as that is what they are. Some people really
don't care, others really, really dislike them.
Disney Deluxe Resort ($300+) - Disney has six deluxe resorts that will sleep five: the three monorail resorts (Polynesian, Contemporary, and Grand Floridian) and the three resorts closest to EPCOT (BoardWalk, Beach Club, and Yacht Club). Most rooms feature two queen beds and a day bed. The Contemporary has the least expensive option, a wing room with standard view, though to get one you usually have to book it well in advance. The EPCOT resorts are less expensive and their proximity to EPCOT makes them attractive choices.
Animal Kingdom Villas or Bay Lake Tower ($490+) - These two DVC resorts feature one bedroom villas that sleep five. They offer a master bedroom with king bed, full kitchen, and living room with fold-out sofa and chair. They also feature two full bathrooms and laundry facilities in the room. If you are looking for something with some space and privacy on the deluxe level, these two resorts are beautiful, and great places to stay.
Obviously, there are other choices, including 2 bedroom villas, two rooms at a moderate or deluxe resort, and so on. But for most people, the options listed make the most sense.
One other thing to consider is that Disney often releases discounts or special offers that might make one resort much more attractive than another for that particular time.
For example, when Disney does its free dining offer, guests at the value resorts get free Quick Service dining but guests at other Disney resorts get for free the full Disney Dining package. (Of course, Disney's next free dining offer might have different perks!)
Remember, in 2012, the Art of Animation resort will open up adjacent to Pop Century.
Art of Animation will give families another option in the form of 1120 family suites in three themed wings: Lion King, Cars, and Finding Nemo. These suites will be custom-built as family suites, not retro-fitted like they had to do at All-Star Music.
From what we have seen, these new suites may be smaller than the current suites, but hopefully a less expensive option, as well.
While you're waiting for Keith's next Disney tip, why not ask him to plan your next Disney trip? Mouseketrips does nothing but Disney - and they're really good at it! Hook up with them at their website, through Twitter, or on Facebook.

Don't stop there! Check out more Disney Travel Tips from Mouseketrips...