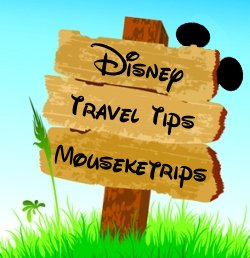 Disney Travel Tips from Mouseketrips
About the Column
Is it possible to have too many Disney tips? Well, yes, if they're from your crazy uncle Louie, but not if they're straight from the experts, the folks who plan perfect trips for others day-in, day-out: Disney travel agents! Keith Anderson, an Authorized Disney Vacation Planner and co-owner of Mouseketrips, has been doing that for years. He's learned a lot about Disney, especially how to save money on a Disney vacation without skimping on the frills or the thrills. Every week, in Disney Travel Tips from Mouseketrips, Keith will distill new Disney wisdom - just for you! Don't tell Uncle Louie...
Learn about the author, too!
Disney Swag: The T-Shirt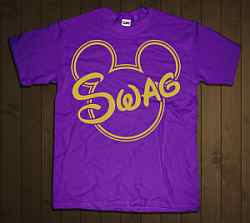 Get yours now!
Disney Swag: The T-Shirt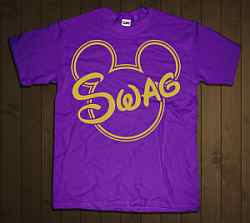 Get yours now!
Classic Disney Dispatch Content
Disney Dispatch Columns
Subscribe to Disney Dispatch Digest
And receive a daily email summary of new stuff on the site.
Disney Gift Cards
Keith Anderson suggests a better way to pay for your Disney trip
Paying for a Disney trip, for most of us, is all about the cost: how much and how to whittle it down. It's virtually a given that you'll pay by credit card. But is that really the best way to pay?
Today, Keith Anderson of Mouseketrips (and the newest columnist here on Disney Dispatch) weighs the pros and cons of using a different kind of plastic to pay for your next Disney vacation: gift cards!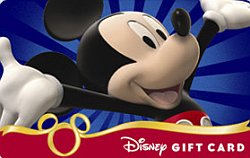 When booking your Disney vacation, Disney provides several ways for you to pay for your package: major credit card, personal check, Disney Rewards card, and even Disney Gift Cards.
Most guests use credit cards to make their payments, either for financing purposes or for the cash back or miles they'll receive.
Recently, we have seen a huge increase in the use of Disney Gift Cards to pay for trips. While it may not ever have crossed your mind to use them to pay for a Disney vacation, there are some advantages to purchasing and using gift cards.
Advantages
Many schools or youth groups sell Disney Gift Cards as a fundraiser. They sell them at face value but keep a small percentage. While this may not save you any money, your child's school or group benefits from keeping some of the money that would normally have gone to Disney.
Sam's Club and Costco often sell Disney Gift Cards at a small discount, or else include a gift with their purchase. As recently as December 2010, Sam's Club had a special deal: for $98.87, you received a $100 Disney Gift Card and a $10 Disney Store Gift Card. So, if your trip costs $3,000, you would receive $300 in Disney Store Gift Cards at no additional cost.
You can also buy Disney Gift Cards directly from Disney - and for a discount, if you take an extra step. To get the discount, you have to find a rebate site with a link to the DisneyStore. If you buy through the rebate site, you get back a small percentage of the cost for the Gift Card. I use Ebates.com, and they're currently offering a 5% discount on DisneyStore purchases. (The amount does change from time to time.) Shipping is free, and you can order gift cards with a face value of up to $500 each.
Disney Gift Cards are also a great way for friends and family to help out in paying for your Disney vacation. Newlyweds planning their honeymoons often ask family members to purchase Disney Gift Cards as presents.
What a great way to save money on your Disney vacation! But before you run out and buy several thousand dollars worth of Disney Gift Cards, be aware of the disadvantages.
Disadvantages
Disney Gift Cards are non-refundable. If you buy them and then decide you're not going to Disney after all, you'll be stuck with a lot of Gift Cards that you won't be able to redeem for cash.
If you've already paid for your trip and then decide to cancel, Disney will issue any refund in the same manner in which it was paid. So, if you paid by Disney Gift Card, you'll get your refund in the form of another Disney Gift Card. For most people, that's not a problem, but imagine if you're due a $5000 refund - your only real option would be to use your new Gift Card to book another Disney vacation or else go on an insane (Disney) shopping spree.
Consider the pros and cons of using Disney Gift Cards to pay for your Disney vacation. They can save you money, but they can also trap you with unwanted Gift Cards if something goes wrong and you're forced to cancel your trip.
While you're waiting for Keith's next Disney tip, why not ask him to plan your next Disney trip? Mouseketrips does nothing but Disney - and they're really good at it! Hook up with them at their website, through Twitter, or on Facebook.

Don't stop there! Check out more Disney Travel Tips from Mouseketrips...