FROM: Disney P.I. Published As Uncovered
Cinderella's Wishing Well
Cinderella's Wishing Well Coin Toss Makes Disney Wishes for Charity
One of the mysteries I thought I'd never solve is the fascination guests have with throwing coins into fountains at Walt Disney World. Guests will toss their spare change into many different water areas, perhaps most famously the Cinderella Wishing Well at the Magic Kingdom.
Sure, I've always understood the general impulse to toss a penny and make a wish. But my coins are usually saved for one of the cult things about Disney I do understand – eating a Dole Whip.
And in the past, I've thought about finding a way to fish those coins out of the water, padding my expense account by following the old adage "a penny saved is a penny earned."
But before I put that wad of chewing gum on the end of an unbent hanger, I decided to look into what happens to all those coins. I though, Maybe the spare change helps Disney with operational expenses or providing ambitious Cast Members with pocket change.
No, my brief investigation turned up even more magical news. Disney collects the monies thrown into various fountains and donates it to various charities. Among the organizations that benefit from guests' spontaneous coin-throwing and wish-making are different children's charities and, more recently, Disney's Wildlife Conservation Fund.
Appropriately enough given the theme of the film that is its inspiration, Cinderella Wishing Well is even designated as the spot where guests' coins go to charity. A plaque on the well reads, "Your wishes will help the Dreams of Children come true."
(Disneyland's Snow White Wishing Well serves the same function for the Anaheim theme park.)
Equally delightful, other Walt Disney World theme parks and resort fountains where guests throw caution to the wind and coins to the water end to be cleaned out frequently Those monies, too, are donated to charities.
That said, Disney might not frequently collect from all the different attractions and strange places guests toss their coins – until they're so corroded as to be unrecognizable as currency.
I am officially closing this case, now inclined to empty my pockets at one of the fountains at Walt Disney World or Disneyland. And there's really no mystery where – I'll always aim for the fountain. Not because I can't hit other more obscure spots, but because I like knowing my wishes are about others as much as myself.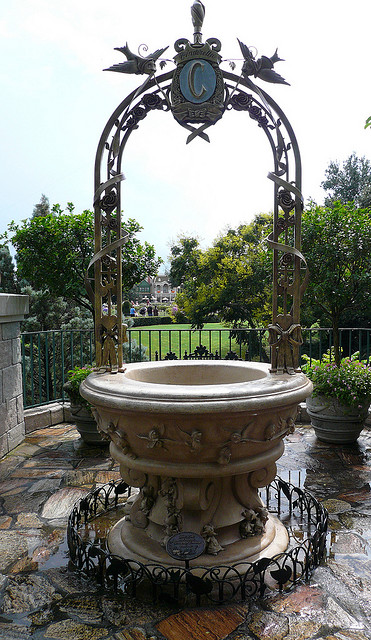 Until next time, consider me on the case.
More: DISNEY, P.I.
Comments