FROM: Disney Ink Published Saturdays
Pirate Auctioneer and Redhead Tattoos
Just when you think you've seen every Disney tattoo there is to be seen (another Tigger? joy...), you run into ink you've never imagined, ink that features a famous scene from Pirates of the Caribbean - the ravishing redhead!
Last week, I featured a sweet pair of tattoos: kissing Mickey and Minnie.
What set these tattoos apart were that two people shared them: one person had Mickey on his shoulder, the other Minnie on hers. Given the right position on the part of the people, the tattoos would face one another and appear to be kissing.
Sweet, eh?
Welcome to another pair of shared tattoos. This time, however, there's no kissing. But there is a whip.
Lori Burke and her husband sport 'matching' tattoos.
His is the devilish auctioneer from the market scene in Pirates of the Caribbean. The auctioneer is holding his whip high and pointing to something not seen.
Not seen, at least, until Lori enters the picture with her tattoo: the redhead!
Yes, we wants the redhead.
You got your wish.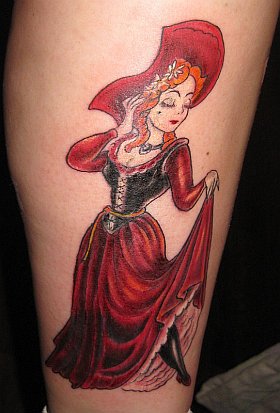 CLICK IMAGES TO ENLARGE.
For further fantastic fun, check out:
Comments