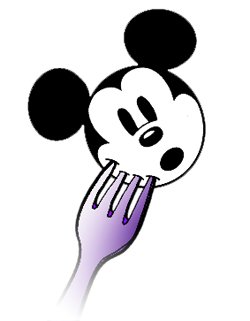 Disney Dining Discourse
About the Column
At Disney, you probably think more about dining than you do anything else: where to dine, what to eat, how to do it in style - and preferably under-budget. Dining Discourse is a collective effort by chow hounds and gourmands alike to deconstruct the sometimes complex considerations of dining at Disney and to plate candid reviews of their meals - whether turkey leg or tenderloin - with plenty of pictures.
Disney Swag: The T-Shirt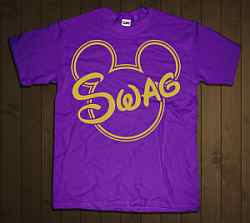 Get yours now!
Disney Swag: The T-Shirt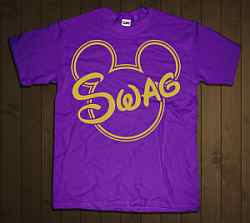 Get yours now!
Classic Disney Dispatch Content
Disney Dispatch Columns
Subscribe to Disney Dispatch Digest
And receive a daily email summary of new stuff on the site.
California Grill: Dinner Review #2
Helen Young braves the elements for a taste of California cuisine
Dining reviews are, by necessity, subjective. Your taste buds are different from the reviewer's taste buds. Your experience is never the same as theirs, and sometimes it's so different that you wonder what the reviewer could have been thinking - or eating.
One of my goals for this column is to publish multiple reviews about each Disney restaurant. I think it'll be fascinating (and useful!) to read how different people react to similar meals in similar settings.
Here's the kick-off! Earlier this month, I published Amanda's California Grill dinner review. Now here's another California Grill dinner review, this time by by Helen Young. Amanda liked her meal - but didn't love it. As for Helen, let's find out...
For our first night back at Walt Disney World, I wanted to start off with a bang and eat at the much-hyped California Grill.
A Thunderous Start
The weather was fierce that night: rain, thunder, lightning, even a tornado watch. Still, I put on my little black dress, my husband Luis donned a polo shirt and khaki pants, and we took a cab for the five minute ride from the Wilderness Lodge to the Contemporary. (We would've taken a boat, but they weren't running because of the weather.)
A concierge at the Lodge told us that the cab ride would cost $6.00 and that the driver would accept a credit card - essential, since we only had $4.00 in cash.
But when we arrived at the Contemporary, the cabbie told us the fare was $4.40 and then became upset when we told him we wanted to pay by credit card. Eventually, he told us we could have the ride for free.
I wanted to give him something, so I handed over our four bucks. No tip, unfortunately, but we had no choice. Before we checked in at the California Grill, we stopped at an ATM in the Contemporary to make sure we had cash to pay for the cab ride back.
Shelter from the Storm
We arrived 15 minutes early for our 7:45 PM ADR. Carol, a friendly Cast Member, took us in the elevator up to the California Grill and told us a little about the restaurant.
When we walked into the main dining room, it seemed total chaos. We were handed our buzzer and told we could wait in the bar or the lounge area. Both were totally full. We finally found a small open spot by the windows and waited.
There were quite a few groups upset about having to wait for their tables. But our table was ready at 7:42 PM, a bit ahead of our ADR, probably because it's easier to get a table for two at most Disney restaurants.
click an image to expand and read notes: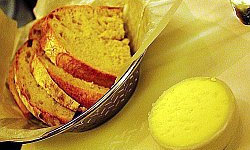 California Grill Bread Basket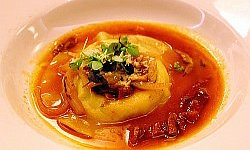 Sonoma Goat Cheese Ravioli with Sundried Tomatoes, Pesto, Shiitake Mushrooms, and Basil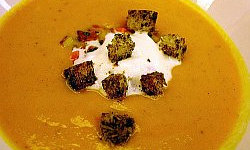 Cinderella Pumpkin Soup with Bacon, Apple, Pumpkin Seed Croutons, and Cider Creme Fraiche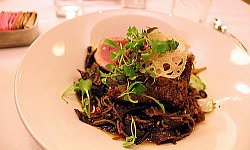 Seared Rare Tuna with Szechuan Peppercorns, Buckwheat Soba Noodles, Cashews, and Ginger Miso Broth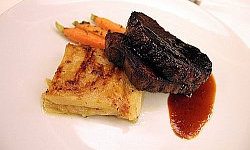 Oak-fired Filet of Beef, Dauphinoise Potatoes with Smoked Bacon, Ginger-scented Carrots, and Teriyaki Barbecue Sauce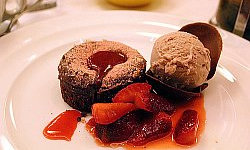 Valrhona Chocolate Cake
Chocolate Creme Brulee
Press Pot of Tea
Our waiter, Justin, was from Rhode Island, and had a thick New England accent. He was a pretty cool guy. Our only issue was that sometimes he'd start to make conversation but then seemed disinterested in our replies. His service was good, though. We didn't feel rushed, we didn't feel forgotten, and Justin knew a lot about the food.
Appetizers
Neither of us felt like having alcohol, so I ordered an iced tea and Luis had a Sprite.
With our drinks came a bread basket: the bread was average though it got better when spread with the sea salt sprinkled butter.
For an appetizer, Justin recommended the Sonoma Goat Cheese Ravioli with Sun-dried Tomatoes, Pesto, Shiitake Mushrooms, and Basil. We ordered it, thinking the dish would consist of two or three smaller ravioli, but instead it came with one giant ravioli. I loved it - because I love goat cheese! The sauce was a thin oil-tomato mix that took away from an otherwise excellent appetizer.
Luis is a big fan of anything squash or pumpkin. He was in luck because the seasonal soup at most of the Disney signatures restaurants was then either squash or pumpkin soup. He ordered the California Grill's seasonal selection: Cinderella Pumpkin Soup with Bacon, Apple, Pumpkin Seed Croutons, and Cider Creme Fraiche. Although he liked it, he didn't taste much in the way of pumpkin. It seemed to him a generic squash soup.
Entrees
For the main course, we also took Justin's recommendations.
I ordered the Seared Rare Tuna with Szechuan Peppercorns, Buckwheat Soba Noodles, Cashews, and Ginger Miso Broth. The tuna was exactly as I imagined it - seared to perfection. But I wasn't as happy with the rest of the dish. I know that the sauce had miso in it, but it was too salty. I regretted my choice of an Asian-style dish, as I quickly discovered I wasn't in the mood for it. I still did finish most of the tuna, though.
Luis ordered the Oak-fired Filet of Beef, Dauphinoise Potatoes with Smoked Bacon, Ginger-scented Carrots, and Teriyaki Barbecue Sauce. He usually orders his steaks medium-well, hoping for just a little pink, but Justin asked if it would be acceptable for the chef to butterfly the steak so it would cook faster. Luis agreed, then realized in hindsight he'd made a mistake as the filet came out a bit past medium-well. Not a big deal for Luis, since the filet wasn't burned, but for some foodies it might have been an issue.
Luis felt so-so on most of his entree, except for the sauce - he thought it outstanding. He let me taste it and I agreed! Justin had told us that it was a very special sauce, 'known throughout the cooking world', and it did live up to the hype. We just wish that the rest of the dish had lived up to the sauce.
Dessert
Confession time: dessert is my favorite part of every Disney meal, whether I'm eating it at a signature restaurant or at a quick-service counter. My dessert at the California Grill - Valrhona Chocolate Cake - was one of the best I had on the entire trip. It came with chocolate ice cream and fruit compote. I can't even tell you how good it was - it was GOOD!
Luis was also happy with his Chocolate Creme Brulee. He doesn't like pound cake and so didn't care for that part of his dessert, but the rest he enjoyed. He must have enjoyed it because he mentioned it to me often during our vacation!
As we were waiting for dessert, I saw a press pot of tea at another table, and exclaimed to Luis that I had to have some. I didn't think to to ask if it was included in our dining plan (it was - at least at this restaurant). I also didn't think to ask for an actual tea menu, but when Justin said green tea, that sounded good, so that's what I got. I thoroughly enjoyed it with my chocolate cake.
A Sunny Send-off?
Due to the weather, the fireworks that night were canceled, but Justin told us we could return on another night that week to see them.
We knew we probably wouldn't make it back, but we weren't upset because we've seen lots of fireworks at the Magic Kingdom. In fact, the lightning over the lake during our dinner was almost as good as the actual fireworks show! And besides, the restaurant became very quiet once the 'fireworks lurkers' had left, and we were then able to enjoy the rest of our dinner in peace.
Strange but true: We arrived for dinner at 7:42 PM. I checked my watch as we were leaving and was amazed to read 9:42 PM, exactly two hours from the time we sat down.
Here's how I rate the night:
Atmosphere Noisy until the bar and fireworks people left. The decor reminded us a bit of California Pizza Kitchen. Not really all that impressive. We give it a 2.5.
Service Justin was a good waiter. I'm not sure I'd take all of his recommendations again, but he gave us good service. Carol in the elevator was nice, and we got seated on-time. We give it a 4.
Food Although my appetizer and the desserts were delicious, the California Grill was not among our top three dining experiences for this trip. It's not fair to compare a signature with a non-signature, so we're looking at it in comparison to our other signature meals. Therefore, we can't go higher than a 3.5.
Total (out-of-pocket) cost before tip: about $155.00.
Overall rating? We'd go back again, but not with our initial enthusiasm. I'd still like to see the fireworks there someday.

Don't stop there! Check out more Disney Dining Discourse...