Daily DIZcovery
About the Column
Back in the old days, it was actually possible to visit every site on the Internet about Disney. Nowadays, it's not even possible to count all the sites on the Internet about Disney. I visit quite a few of them compiling the Hullabaloo, and often I find gems - digitally buried treasure - maintained by folks who love Disney so much it doesn't matter that the traffic to their sites may be a trickle. In Daily DIZcovery, I'll pick a different dynamite Disney site every day, typically one you've never heard about, and hopefully turn their trickle into a torrent.
Disney Swag: The T-Shirt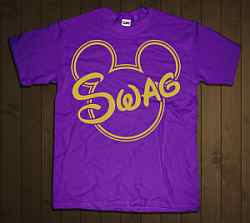 Get yours now!
Disney Swag: The T-Shirt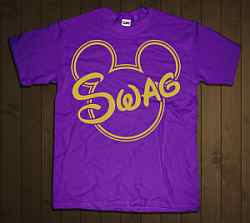 Get yours now!
Classic Disney Dispatch Content
Disney Dispatch Columns
Subscribe to Disney Dispatch Digest
And receive a daily email summary of new stuff on the site.
Daily DIZcovery: Judy's Disney Blog
Not John's, Not Joan's, JUDY'S Disney Blog
I purposely went looking for a new Disney blog last night.
Here's how I did it: in Google, I typed 'Disney World blog', clicked Search, and then randomly went to page 6 of the results.
At the very bottom, I found Judy's Disney Blog. I went there. And even though it lacked a proper header or logo or even a banner, I decided to make it today's DIZcovery.
Here's the best I could do for a site header:

It's an odd but friendly little site, with no posts of any kind (at least not that I could find) but lots of short guides to each of the Disney theme parks. Some of the information is out-of-date, and it's presented in a linear, stream-of-consciousness style.
Instead of actual park photos, Judy uses relevant photos of Disney pins - of which she seems to have hundreds.
Navigation is non-existent. You start on one page, scroll down to the bottom, and then click to the next page. Your other choice is to return to the homepage.
Frustrating? Nah. Endearing!
Judy's hard work and love for Disney need no stinkin' navigation.
I think I'll do this more often!

For more, visit the homepage for DAILY DIZCOVERY