FROM: Celebrity Disney Published Sundays
Seen at Disney: Jennifer Lopez
I admit to being biased, as once I had a huge crush on Jennifer Lopez, back sometime in the early 1990s, but you can count on me to lampoon any diva behavior on the part of this diva when in Disneyland with her kids. Problem is: there wasn't any.
Jenny is a long way from the block.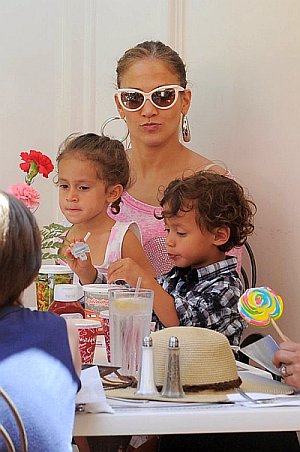 Last weekend, Jennifer Lopez took her twins Max and Emme, and a small family entourage, to Disneyland.
Lopez didn't crack a smile in any of the pictures taken of her, favoring photogs instead with pursed lips.
If I were reading those lips, I'd translate the purse as: "Leave me the hell alone, I'm here with my kids, and I want to enjoy the day without your camera in my face."
Seems reasonable.
Disney seems to have hooked the family up with a private tour guide, but despite the special treatment, Jennifer's group looked not much different than most of the other families in the park that day.
Those are my favorite kind of park celebrities! The ones there for the magic, not the media.
More: CELEBRITY DISNEY
Comments