FROM: Celebrity Disney Published Sundays
Seen at Disney: The Rock
Hey, jabronies: do you smell what the Rock is cookin'? He had a special spicy treat for his millions and millions of fans at Disneyland, where he took the people's FastPass onto Splash Mountain and layeth the splasheth down on that nasty Br'er Fox.
FINALLY!
The Rock has come back to Disneyland!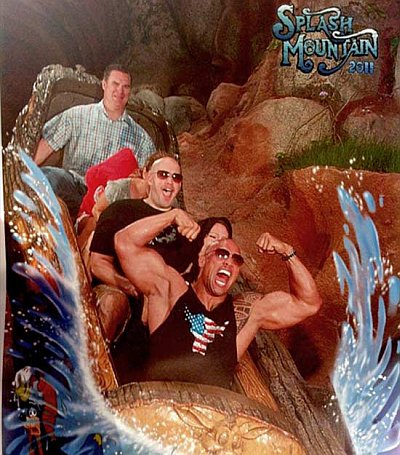 Dwayne Johnson, better known as former professional wrestler and current action film hero The Rock, brought his bazooka-sized biceps to Disneyland earlier this week, where he was caught by Disney's hidden camera hurtling down the side of Splash Mountain.
(Did you know that Cast Members at 'picture rides' like Splash Mountain keep a special book for shots of celebs caught on camera?)
The Rock looks to be in great shape, and it looks like he was accompanied on the ride by a junior Rock who's got the glasses down cold but could use a little more time in the gym working on those arms.
And check out ol' Dad sittin' stoic in the back!
Before the Rock boarded the boat, he thought he was the baddest mofo in the park that day.
I think he just caught a whiff of what the Rock was cookin'...
More: CELEBRITY DISNEY
Comments