FROM: Because I Stinkin' Love Disney World Published Thursdays
Flights of Wonder Live Show
Ashley talks about some of the hardest working birds in show business - the performers in the Flights of Wonder show at Disney Animal Kingdom.
Disney's Animal Kingdom is known for many things. Yeti's , animals, Nemo, and birds. Yeah, I said birds. If you are thinking about those beloved Florida natives that swoop in to eat abandoned French fries and stare you down for a bite (MINE…sorry I had to!) the answer is no. Today I am talking about birds with a purpose. Birds who put on a show and give us something to "ooh and ahh" over. Today, I am talking about the live show "Flights of Wonder" . I don't know if you have ever taken a bit out of your day at DAK to take in one of the shows but, it is actually a really cool thing.
The first time we ever went to the Flights of Wonder show, it was actually by accident. We were headed to eat lunch when we noticed the cast members standing outside holding live owls. That was pretty cool. We decided to step in and see what this show was all about, thinking that we might avoid the craze that is the lunch crowd and so we took our seats under the big tent. Birds may have been perched backstage but, this girl was perched in the audience camera at the ready to snap a couple of shots to take back to my sweet kindergarten kiddos.
That particular year we had assumed the role of ornithologist (ps teaching kindergarten is the BEST!) and this fit in perfectly with our inquiry. So there I am third row deep expecting to see a few birds…forgetting about that whole flight thing. Out comes our host and the show begins.
There are funny moments and jokes and we were all having a ball. I got pictures of chickens, parrots, a bird that thrashed a fake lizard, mice, and then it was time for the flight of the owl.
While it was cool I will be first to admit that if that bird few straight over my head, I would lose it. Apparently two of my lucky audience mates weren't so scared and they willingly volunteered to sit inches away from the landing pad of a ginormous owl...even that was not worth a photo to me. There were other duck and cover moments in the show for example, the flight of the hawk. I'll just say that I got a lot of ant's eye view as I perched cowering between the bleacher seating. I wasn't alone down there though! I saw grown men scream like girls, for real. Seriously though, I had the best time. I enjoyed learning new things, I laughed at the jokes, and I got some seriously amazing photographs.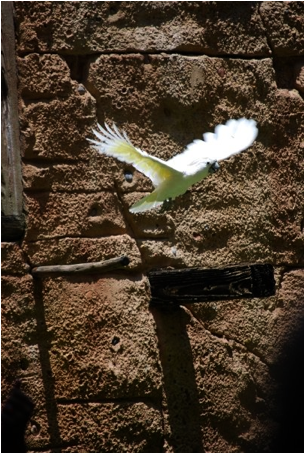 This exciting show lets you get up close and personal with some of the rarest and radical birds around. You'll learn, you'll snap photos, you might even get pooped on…I hope not though! From the laughs provided through a humor filled presentation to the tricks the birds perform you are sure to have a good time under the Flights of Wonder Tent.
So next time you rush past that bird show off the beaten path, take a moment to experience the wonder of Flights of Wonder!

More: BECAUSE I STINKIN' LOVE DISNEY WORLD
Comments