FROM: Because I Stinkin' Love Disney World Published Thursdays
Patriotic in the Parks
You don't need a grill, burgers, and beer to prove your patriotism this Memorial Day. If you happen to be at Disney World, you won't even need the sparklers; what you will need is right here: Ashley's suggestions for finding America in the parks.
It seems like just yesterday that I broke out my brand spankin' new 2011 calendar, and now Memorial Day is almost here.
Memorial day is a special day for Americans. Yes, it is the unofficial kick-off to summer, the end of school is in sight, and the barbeque is going full steam. But Memorial Day is really a time for us to stop and take a moment to remember those who have given their lives protecting our freedom.
Sure, we can have fun on this day, but we should also reflect on what it means. I am so grateful for all of the men and women who
have given the ultimate sacrifice, for me - and for you. I am proud to be part of this amazing country!
So let's take a look at some of my favorite patriotic things to do at Disney World. From attractions to experiences and, of course, to the delectably good eats, these are perquisites for any patriotic guests in the parks on (or even not on!) Memorial Day.
Patriotic Provisions
I could sing the praises of the Magic Kingdom's Liberty Tree Tavern all day. I love this restaurant, especially the family-style meals served for dinner.
With menu offerings like Declaration Salad and the Patriot's Platter you know you're in for a treat. The spread includes roast turkey, carved beef, and smoked ham, with sides of mash potatoes, seasonal vegetables, stuffing, and macaroni and cheese. And what good ol' American meal would be complete without - you guessed it - apple crisp on a pillow of vanilla ice cream.
The Liberty Tavern is fit for any patrio and so delicious you'll want to come back for more (Memorial day or not!).
American Attractions
The Magic Kingdom is filled with Americana from Main Street, U.S.A. to Liberty Square and Frontierland. You'll find plenty of patriotic things to do. One of my favorite is a short cruise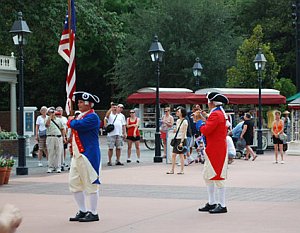 on the Liberty Belle, from the decks of which you see can the various scenes along the river and wave to guests aboard the rafts heading to and from Tom Sawyer Island. I really enjoy rolling on the river, American style!
You can't go through World Showcase in Epcot without experiencing the American Adventure Pavilion, mostly because it's the heart of the Showcase and because it would be a cryin' shame not to participate in something so truly patriotic! One of my favorite features of the American Adventure Pavilion takes place outside: the Spirit of America Fife & Drum Corps. I get a surge of patriotism every time I hear the twirl of patriotic tunes floating from their flutes and fifes, or the booming firecracker bellow of their drums.
It makes me want to get a flag and join in the fanfare.
So wear that red, white, and blue. Do patriotic things and enjoy your friends and family, but don't forget to remember those who gave it all for us and be thankful for those who are out there right now.
Being patriotic in the parks is very doable, Memorial day and every day!
From: Guide2Disney on YouTube
More: BECAUSE I STINKIN' LOVE DISNEY WORLD