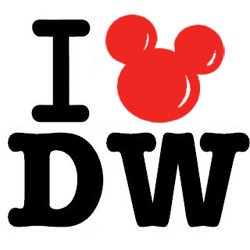 Because I Stinkin' Love Disney World
About the Column
Ashley Metz keeps a special book in her South Carolina chateau. It's called the Disney Book of Stinkin' Love. Into that book she pours her passion for the parks, her devotion to Disney World, and from that book, every week, she'll draw forth with characteristic exuberance a chapter exclusively for Disney Dispatch. Ashley welcomes questions, but no matter what you ask, the answer will always be the same, and it will always be correct: Because I Stinkin' Love Disney World!
Learn about the author, too!
Disney Swag: The T-Shirt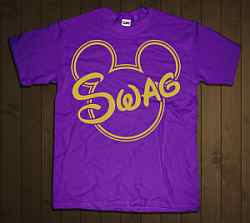 Get yours now!
Disney Swag: The T-Shirt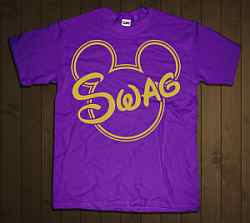 Get yours now!
Classic Disney Dispatch Content
Disney Dispatch Columns
Subscribe to Disney Dispatch Digest
And receive a daily email summary of new stuff on the site.
Date-worthy Disney Desserts
Ashley Metz shares some sweets to share with your sweet
Ashley Metz continues her February theme of 'love letters' from Disney World with an essential dessert primer for couples. Dessert is much more fun when not eaten alone, and Ashley has some suggestions for Disney sweethearts looking for sweets.
Dessert is a necessity. Especially when you are on vacation. In fact, my vacation mantra is "ain't no diet strict enough, ain't no calorie high enough, to keep me away from food."
So it should come as no surprise that I am a Disney dessert lover!
I especially love the Disney Dining Plan because it takes the guilt away - the dessert is part of the package and I would hate to waste. Plus, I heard a rumor that I would call 'CONFIRMED' that Disney magic removes all fat and calories from desserts before they come to your table. True story.
This week's article will tempt your sweet tooth. In fact, you should leave your computer right now and find a ration of chocolate to get you past the next few paragraphs.
Think of this post as a 'dessertgram' from Disney World, complete with my five favorite 'two forks, please!' desserts.
So snuggle up to your sweetie and take a bite out of these decadent treats all the way from my favorite place.
You've already heard enough just by reading the title. Maybe we should call it a day.
No seriously, it is SO good.
The Ooey Gooey Toffee Cake comes highly recommended by the wait staff and you don't want to miss out. The combo of warm cake and cold ice cream will work magic on your taste buds. Ooey Gooey Toffee Cake reminds me of fresh baked chocolate chip cookies: the warm chocolaty, toffee goodness is hugged by a scrumptious vanilla cake shell.
Next to the taste, the best thing about this treat is the colorful Mickey sprinkles and Heath bits spread over the top (and the caramel and fudge drizzle doesn't hurt either, right?).
This dessert can be found at one of my favorite restaurants in the Magic Kingdom, the Liberty Tree Tavern. Next time you're there, you must order it. You won't be sorry. From the moment you spoon meets cake, there will be a love connection.
Oooh Weee! This is some good cake.
Now, if you are thinking that Sunshine Seasons is not a 'fine eating experience', think again because what Sunshine Seasons lacks in formality it makes up for in deliciousness.
The Chocolate Mousse Cake is ah-flippin-mazing. Imagine chocolate on chocolate garnished with chocolate. This is a chocoholic's dream. The best part is that you're served up a huge slab - perfect for sharing! With alternating whipped chocolate mousse, dark chocolate ganache, and a dense chocolate cake, this cake would tempt even Richard Simmons.
I love to finish off the rich cake with its accompanying white and milk chocolate curl. I feel so fancy eating this dessert - even if it is served on a cafeteria tray!
Have you ever had dessert envy? I have. Especially when my mother ordered the Tiramasu at Tony's Town Square in the Magic Kingdom. I should have been content with my gelato, but the instant that our waiter laid her plate on the table, I completely lost it.
I eyed her order from across the table. Perhaps it was the espresso-laden lady fingers. Maybe it was the mascarpone cheese. I don't know, it could even have been the shavings of chocolate. And seriously, the cocoa powder castle design was pretty tempting, too.
Whatever the reason, I needed that deliciousness.
So, after much drooling and even a bit of groveling, my precious mother offered me a taste. YUM! This dessert is worth extra crunches and squats. In fact, I would do squats while eating the tiramisu in order to eat more tiramisu. For real.
Vanilla and Chocolate Swirled Soft Serve in a Waffle Cone
Dinosaur Gertie's Ice Cream of Extinction | Disney's Hollywood Studios
There is something about a June day at Disney World that makes you love Gertie's soft serve. The smooth texture of this ice cream is such a rich experience. When I saw the line in front of Gertie's, I remembered what cool goodness awaits me there, and so what do I do? Hop in line, of course.
Finally, we are in the six inches of shade under Gertie's mid-section and I am faced with choices. Vanilla? Chocolate? Both? Sugar or Waffle cone? I was confident in one thing. I needed that ice cream.
So, I made like Hannah Montana and got the 'best of both worlds' with the swirl option in a waffle cone. It was delicious. I would like to caution that I am not an ice cream cone 'share-er': the cone to mouth contact freaks me right out. Spoons (two here) make me the happiest. Just sayin'.
Premium Mickey Ice Cream Bar

All over Disney World!
I have saved the absolute best for last. Because I am extremely devoted to this dessert I am going to stipulate that it should be consumed on a solo basis (one bar per person). Sharing would only create issues resulting in a fight.
The Premium Mickey Ice Cream Bar is the perfect concoction of deliciousness and fun. I crave this ice cream when I am away from the parks. The luscious thick chocolate coating provides the ying to the creamy vanilla ice cream's yang. The snap when you first bite into a premium Mickey rekindles the kid in you while allowing your sophisticated adult self to indulge in the perfect treat.
I promise you this will be the favor at my Disney wedding. I LOVE them!

Don't stop there! Check out more Because I Stinkin' Love Disney World...