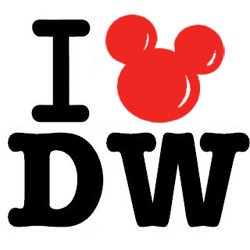 Because I Stinkin' Love Disney World
About the Column
Ashley Metz keeps a special book in her South Carolina chateau. It's called the Disney Book of Stinkin' Love. Into that book she pours her passion for the parks, her devotion to Disney World, and from that book, every week, she'll draw forth with characteristic exuberance a chapter exclusively for Disney Dispatch. Ashley welcomes questions, but no matter what you ask, the answer will always be the same, and it will always be correct: Because I Stinkin' Love Disney World!
Learn about the author, too!
Disney Swag: The T-Shirt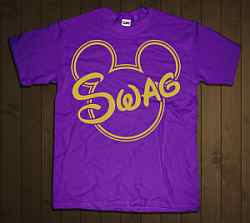 Get yours now!
Disney Swag: The T-Shirt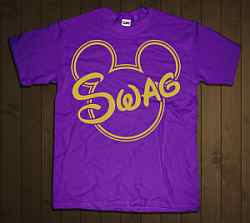 Get yours now!
Classic Disney Dispatch Content
Disney Dispatch Columns
Subscribe to Disney Dispatch Digest
And receive a daily email summary of new stuff on the site.
Love is Magical (at EPCOT)
Ashley Metz finds love at a pin trading event
Ashley Metz has a theme: it's love! And through the month of February, she'll spread the love right here on Disney Dispatch, starting with her coverge of Disney's Love is Magical pin trading event to be held this Sunday at EPCOT.
A love note from Disney World...
February has finally arrived! Thank goodness!
In honor of February, I have decided to bring even more love to this column because, well, I LOVE Valentine's Day and I want to celebrate it all month long!
So, my articles this month will be in the form of love notes from Disney World to all of us. Full of love, romance, and magic!
Love is Magical
Disney's next official pin trading event is called Love is Magical. I am in complete denial about this whole event. You see, it takes place at EPCOT on Saturday, February 5 - just two days from now! And I likely won't be there.
But I am absolutely convinced that tomorrow morning I will wake up to a surprise. I won't be going to work. Instead, I'll be going to Disney World in time for Love is Magical. (Valentine's Day is my thing, you know!) So, let's talk about all the lovely things I am going to do this weekend... (wink, wink, wink).
The Love is Magical pin trading event centers around the magical romance created by Disney. It's being held at the Wonders of 'Love' Pavilion and participation requires both admission to the park and admission to the event ($50 per person). From 10:00 AM - 6:00 PM, you'll enjoy special activities designed especially for the pin lover, including a chance to pre-purchase limited edition items, three coupons for themed trading activities and games, a silent auction, and a meet 'n greet with Disney pin developers and artists.
But my favorite part is the dessert buffet. I am head over heels for this menu! From Puppy Love Chow (with popcorn, chocolate, and caramel - because let's get serious, those are the only important food groups) all the way to 'Love Punch', this menu knows that the way to my heart is through chocolate and dessert!
Valentine Pins
The twelve new pin creations available at the event are so cute and many are sure to send your heart a-flutter. You'll find a set of six pins in the shape of roses, a pin in the shape of a hinged key featuring Mickey and Minnie sharing a kiss, Duffy the Bear dressed as Cupid,
and many more. Check out Disney's preview of all the new pins.
My favorite pins are part of a set called Box of Chocolates. Each of the five pins in the set is a hinged 'free-D' pin with a famous Disney duo enacting the theme of 'Love is...'. I am gaga for the Wall-E and Eve (Eve-ah - you know you just read it that way) pin called Love is Timeless. Cost: $74.95.
Other cute sets include the Language of Love (with princesses!), Puppy Love, and the quintessential villains set called Love is Heartbreaking.
And if you're up to spending some serious dough on your Valentine, make sure you check out the items available at the silent auction.
PS
Today's P.S. to my Disney love letter is sealed with a kiss especially to you and includes information on the Sweetheart Trade.
I love this idea! Guests at the Love Is Magical Event can make a 'Sweetheart Trade'. If you're a guest, you'll be able to trade any regular Lanyard pin for a special jumo pin. Sounds like a deal to me!
I love pin trading and I love Valentine's Day. Put 'em together and you'll understand my stinkin' love for Love is Magical!

Don't stop there! Check out more Because I Stinkin' Love Disney World...